Build to rent group confident following interim results announcement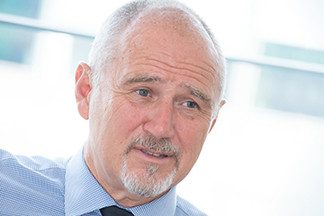 Rental income improved in the six months to December 31, 2022, but pre-tax profits declined at PRS REIT, the Manchester private rented sector housing group.
The results show rental income rose 22% from £19.865m to £24.171m, but pre-tax profits of £14.713m were down from £38.550m the previous year.
The company said the fall in profits was anticipated and reflected the significant difference in gains from fair value adjustments on investment property as well as the maturity of the delivery programme.
During the period 127 homes were completed, taking the company's portfolio to 4,913 completed homes with an ERV (estimated rental value) of £50.7m per annum at December 31, 2022 and a further 613 homes under way. Four development sites were acquired, which will deliver 97 homes once completed.
Occupancy was 97% – or 98% including homes reserved for applicants who have passed referencing and paid deposits – and rent collection also stood at 98%.
Arrears remained low at around one per cent of annualised ERV, while net rental income was up 20% to £19.6m.
Dividends amounting to 2p per share were declared in the first half, the same as the previous year. The total dividend target for full year 2023 remains 4p per share, which is expected to be almost fully covered by earnings on an annualised run-rate basis by the financial year-end.
Between January 1, and March 10, 2023, 68 new homes were added to the portfolio, taking it to 4,981 completed homes with an ERV of £52.2m pa. A further 545 homes were under construction at March 10.
PRS REIT said rental demand for high quality family homes remains very strong nationally and is expected to grow against a background of structural under supply, interest rate rises and cost-of-living pressures.
Steve Smith, non-executive chairman, said: "The PRS REIT's portfolio of high quality, professionally managed, build-to-rent family homes continues to perform very strongly.
"Demand, affordability, occupancy levels and rent collection are all high and arrears remain low. This supports cash generation and predictable income flows as our portfolio nears completion."
He added: "On 10 March 2023, the portfolio reached 4,981 homes and expects to reach 5,000 completed units by the end of March. Once delivery is fully complete, we expect the portfolio to comprise around 5,600 homes, with an estimated rental value of £58m per year.
"Market factors remain strongly in our favour, and our sector – single family rental – is very robust.
"This reflects lack of supply, strong rental growth, and the benefit of multiple individual counterparties, which reduces concentration risk. Our homes are affordable for ordinary families up and down the country and we remain very confident of prospects for the PRS REIT."
The group also announced the appointment today of Geeta Nanda as senior independent director of the board, with immediate effect.
Geeta joined the board as a non-executive director in March 2021, bringing more than 30 years of property sector experience to the role of senior independent director.
She is chief executive of Metropolitan Thames Valley Housing Association (MTVH), having previously led its formation in 2017 with the merger of Metropolitan Housing Trust and Thames Valley Housing Association, where she was chief executive.
At MTVH, Geeta is responsible for the management of 60,000 homes, with 120,000 residents, and an ongoing new-build programme of more than 1,000 homes a year. She also has significant experience of PRS, having established 'Fizzy Living', the London PRS subsidiary of Thames Valley Housing Association in 2012.
Investment bank, Panmure Gordon, reiterated its Buy call on PRS REIT's shares after today's announcement.
Analyst Miranda Cockburn said: " The delivery programme is in its final stages and management is making good progress with completions (expected to reach 5,000 by the end of March).
"The completed assets are performing strongly with occupancy as at 10th March at 99% (including qualified applicants) and rent collection also strong at 99%. No new news on any debt refinancing, management having extended the RCF to July and currently undertaking positive discussions with a number of parties."
She added: "The shares are down 10% year to date underperforming the sector which is down two per cent. At 80p they are trading on an unjustified wide 32% discount to the reported NAV and offer a five per cent dividend yield. We retain our Buy rating."