£200k loan helps logistics firm gear up for future expansion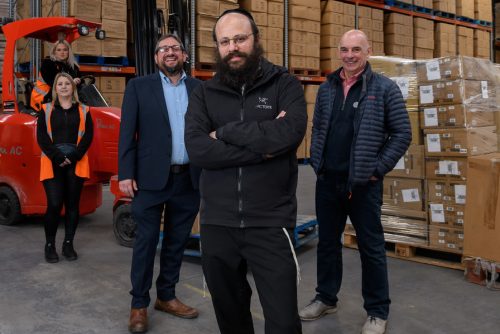 A £200,000 loan has enabled a Manchester logistics firm to expand its warehousing operations in Wigan and recruit new staff.
Warehouse Box provides fulfilment services for e-commerce businesses, particularly online retailers, ranging from smaller local businesses to big overseas companies which need warehouse space in the UK.
The loan is from NPIF-Mercia Debt Finance, which is managed by Mercia and is part of the Northern Powerhouse Investment Fund.
It will fund completion of the fit-out of the Wigan warehouse and the recruitment of three staff.
Warehouse Box offers rapid turnaround times, despatching orders and processing returns within 24 hours, and has its own software which enables customers to track the location of their products and orders.
In addition to its current premises in Hindley, near Wigan, it also operates a warehouse in Poland to help businesses which need a facility within the EU.
Warehouse Box was founded in 2019 by brothers-in-law Josh Gluck, 33, and Mendel Rosen, 42, who have a background in freight forwarding and logistics, and initially operated from premises in Oldham.
However, the business grew rapidly as it expanded its services and especially with the pandemic boosting demand for its clients' products – in particular children's trampolines, games, cosmetics and pet accessories.
Warehouse Box has more than doubled its revenue in the two years to the end of 2022 and expects to have to triple its capacity in the next three to four years.
Its current 45,000 sq ft warehouse on Greenbank Industrial Estate, Hindley – which it moved into a year ago – offers scope to boost capacity both within the existing warehouse and on adjacent land.
Director, Josh Gluck, said: "Our growth is driven by a number of factors. In recent years many smaller businesses have entered the e-commerce market and need fulfilment services.
"We also have European companies who need to fulfil orders from the UK, and UK companies who need fulfilment services in Europe. While our existing clients continue to grow, we have new clients coming on board, who are attracted by our rapid fulfilment times and our software that gives them full visibility of their products.
"The finance package will enable us to complete the fit-out of the warehouse and provide additional working capital for growth."
Gary Whitaker, of Mercia, said: "Josh and Mendel run an impressive operation and have expanded steadily by identifying the challenges facing e-commerce operators and offering solutions. For many online retailers, they have become the 'go to' guys within the fulfilment sector.
"The funding will enable them to expand capacity and continue the growth of the business."
Maxim Cohen, of HMB Finance in Manchester, provided fundraising advice to the company.