Challenges of leadership – pull rather than push teams back into the office

A packed room at Alliance Manchester Business School were treated to a volley of leadership insights and experiences from a stellar panel, with a global audience watching online.
All of us had gathered to consider the volatility and uncertainty of the changing world. How trends towards values driven organisations have accelerated, just as they've rubbed up alongside the challenges of implementing hybrid working.
We started by discussing how business leaders have been thrown an enormous challenge accelerated by technological change, a pandemic that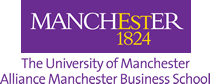 overturned working habits overnight, and profound reappraisals of what people want from careers and work. How this impacts on motivation, design of incentives, working spaces and how leaders can take their teams into the future?
In particular the move to offices has been an immediate challenge for both Lisa Shaftesley, the head of people at Booking.com, the online travel business, with 1400 people working out of a Manchester city centre hub.
"It gave us an opportunity to rethink the space with hybrid working in mind. I'm in HR, so I need confidential spaces, but we also needed social spaces. The idea was to draw people back into the office by creating somewhere attractive, we'd rather have a pull rather than push."
As a partner at professional services firm Deloitte Jo Ahmed recounted how a lease break on a traditional office in Spinningfields coincided with the lockdown, and gave the firm an opportunity to temporarily move into a funkier WeWork space designed for Amazon, before customising their new home and having time to think what their workforce needed, all 1400 of them, and growing. 
"It meant we could try before we buy, and we've been on an interesting journey," she said. "Our new build will be taking the best bits of traditional working, but recognising the need for flexibility and social spaces. 
Dr Courtney Owens, lecturer in leadership and organisational psychology at Alliance MBS reflected on the how the discussion aligned with the conversations in her leadership tutorials and were typically much more about people than process – "there is a greater focus on social spaces, which can facilitate meaningful dialogue in teams."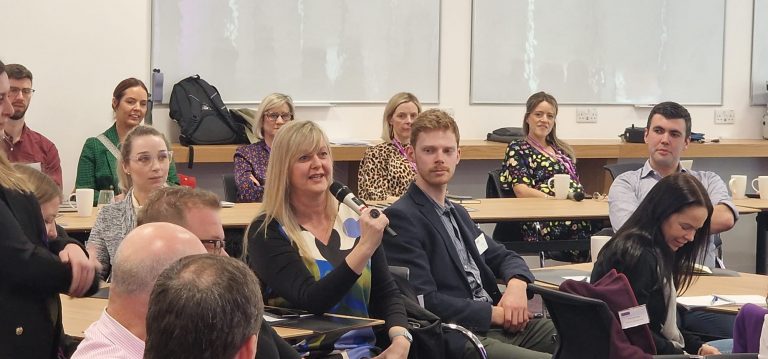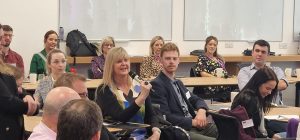 When the floor opened for questions, Katie Bray, deputy chief executive of the North West Business Leadership Team wanted to know why young people like her own daughter were turned off business, partly from watching TV shows like Succession, which give business such a bad image. 
There were further questions about the four day week experiment, the culture of leadership and the balance of power in workplaces, and whether hybrid working facilitates international co-operation.
A recording of the video broadcast of the event can be found here on the Alliance Manchester Business School's YouTube channel.