Property round-up: Artis Park; Lowton Business Park; Versori; Northstone; New Care; 2 Stockport Exchange; Gilbanks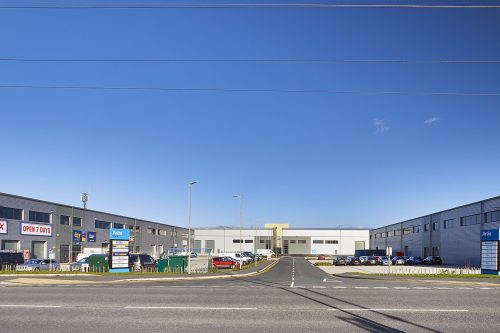 Acting on behalf of the Albert Gubay Charitable Foundation, The Derwent Group has secured two new occupiers at Artis Park on Winsford Industrial Estate in Cheshire.
H&S Electrical has taken 4,124 sq ft and Europlas PCVU has agreed to take 4,108 sq ft, both on 10-year leases as the companies look to expand their operations in this area with new store openings.
The 6.7 acre site comprises 13 modern industrial buildings totalling 124,500 sq ft of accommodation and is home to a number of occupiers including Screwfix, British Red Cross, Ross Care, Gemco, Toolstation and City Plumbing.
Only one unit remains available of 13,000 sq ft.
James Maule-Ffinch, senior asset manager at the Derwent Group, said: "Following the Albert Gubay Charitable Foundation's £22m acquisition of Artis Park last year, the Derwent Group has significantly enhanced the income generated from the scheme with these new lettings and we are delighted to welcome both tenants to Artis Park."
Legat Owen and Gerald Eve are the retained letting agents.
::
Development and investment vehicle, Pitalia Real Estate, and Property Alliance Group have formed a new 50/50 joint venture partnership.
Following the recent acquisition of Lowton Business Park in Wigan, Pitalia has taken a 50% equity stake in Lowton Alliance – a new special purpose vehicle initially formed by Alliance.
Pitalia and Alliance, with the support of an undisclosed debt facility from Close Brothers, will be delivering a refurbishment of the multi-let site, which will include upgrades to its sustainability credentials through the potential installation of solar PV.
Lowton is home to firms like ATG Airport and Far Logistics, and comprises 25,000 sq ft of managed office space, 30,000 sq ft industrial space and outdoor container storage.
Greg Ball, development and investment director at Pitalia Real Estate, said: "Since we launched, a core element of our approach was the formation of strategic partnerships. And Alliance, as one of the North West's pre-eminent developers with a strong track record for delivering high quality sustainable development schemes, are an ideal partner.
"The vehicle we've created at Lowton reflects our investment ethos of focusing on good quality assets where there is opportunity to add value and improve sustainability outputs."
Rodney Hunt, investment director at Property Alliance Group, said: "Pitalia has quickly built and grown a portfolio of quality assets, demonstrating the extensive expertise of Greg and the team in action.
"By joining forces with Pitalia and Close Brothers on Lowton, we have been able to accelerate our investment strategy to seize this opportunity as the market moves into a new cycle."
::
Versori, the any-to-any system integration platform, has opened new headquarters at Anchorage, Salford Quays. The new office will serve as the base for the firm's expanding team of engineers and support staff.
Versori's integration platform, Switchboard, has seen tremendous growth since its commercial launch in November. The company has been working with large enterprises in the retail space to connect multiple systems, including omni-channel integrations.
Sean Brown, Versori, CEO, said: "This move represents a significant milestone for our company as we continue to expand our operations and grow our team of talented engineers."
Versori's success has been recognised by investors, including Y Combinator and various other investors, who have backed the company's efforts to continue building an any-to-any system integration platform.
Dan Jones, Versori CTO, said: "Our mission at Versori is to make it easy for businesses to connect all their systems, no matter what they are, so they can focus on their core operations. Our new headquarters will give us the space we need to continue developing our platform and support our growing customer base."
The new headquarters at Anchorage, Salford Quays, provides Versori with a prime location for its team and easy access to Manchester's vibrant tech scene.
An Anchorage, Salford Quays spokesperson, said: "We're thrilled to have Versori join our community here at Anchorage. Their innovative approach to system integration is impressive, and we're excited to see what they will achieve from their new headquarters."
::
Homebuilder Northstone is doubling down on its commitment to delivering mix-tenure communities, striking a new deal with Torus, the North West's biggest affordable homes provider.
The deal – facilitated by Squire Patton Boggs – will see 106 Northstone homes made available for shared ownership, split evenly across its Tulach community in Wigan and Glisk development in Ellesmere Port. Torus will also manage a 'Jacob's Place' home – Northstone's adapted property type for families with additional care needs – at each location.
It's part of Northstone's mission to deliver sustainable, energy-efficient new homes and broaden tenure choice to meet local housing demand. It means, in both Wigan and Ellesmere Port, there will be design-led two-, three- and four-bed new build homes available for sale, shared ownership and rent.
Jo Allen, head of partnership and development, at Northstone, said: "There's a nationwide housing shortage and, wherever we create our communities, we want to ensure we're responding to local demand. We're doing that by not only building some of the most high quality and energy-efficient properties on the market, but offering genuine choice. It means more people will be able to a call a Northstone house their home than ever before.
"This deal with Torus expands on the strides we've made in the last 12 months to break down barriers that have previously prevented many people accessing sustainable, high quality new builds."
Claire Smith, head of housing growth and partnerships at Torus Developments, said: "As a group, Torus understands the power of housing-led regeneration and how building homes that meet the needs of local communities galvanises positive change – both for residents and the area – which is why we're thrilled to be working with Northstone to bolster access to bespoke, fit-for-purpose homes in Wigan and Ellesmere Port."
When complete, the brownfield sites in Wigan and Ellesmere Port will boast 268 and 218 homes, respectively, with the properties set within biodiverse surroundings, with community green spaces and lush planting.
Since establishing in 2019 Northstone, part of Peel L&P, currently has more than 1,300 homes in the pipeline on sites totalling around 150 acres.
::
Build is progressing well at New Care's new state-of-the-art £11m care facility in Grappenhall which is now just a few short weeks away from completion.
Work continues at pace at the 70-bed care centre located on the site of the former Springbrook Pub, off Knutsford Road in Grappenhall, with practical completion forecast for the end of April.
The external brickwork and roof tiling are complete meaning the building is now watertight, and the team of contractors and tradesmen on site are working hard on the interior to ensure the development remains on schedule as it edges closer to completion.
The new care facility is the latest for New Care, one of the UK's leading care home operators and part of Altrincham-based award winning McGoff Group.
When complete, it will cater for the aspiring needs of residents in Grappenhall and the surrounding areas offering person-centred residential, dementia and 24-hour nursing care delivered by an experienced team and enhanced with high end hotel-style services including fine dining and a programme of daily events and activities.
Commissiong director at New Care, Dawn Collett, said: "Work at Grappenhall is progressing well – we are now less than four weeks away from practical completion and it's exciting to see the building taking shape. Our care facility has been expertly designed to offer outstanding care in a comfortable and stylish environment and we are already starting to recruit the 100-strong team and take enquiries from our first residents."
::
Industrials REIT, the UK multi-let industrial property company, is the latest business to move in to 2 Stockport Exchange.
They were visited by the local authority's cabinet member for economy and regeneration, Cllr Colin MacAlister at their new offices and welcomed to the popular business hub.
Industrials REIT will join a stable of high profile businesses already reaping the benefits at 2 Stockport Exchange, including global chemical company BASF, O'Neill Patient and musicMagpie.
The new HQ will house the company's 32-strong team based in Stockport, as well as act as a regional hub for the broader business. Industrials REIT is one of the UK's leading investors and operators of multi-let industrial properties, with a 7.1 million sq ft portfolio comprising 104 estates serving the country's main towns and cities.
It has taken 4,327 sq ft at the business district, reinforcing the company's commitment to its footprint and operations in the region.
The striking 61,500 sq ft six-storey building sits next to the highly successful 1 Stockport Exchange. Once complete, the wider Stockport Exchange development will have delivered up to 375,000 sq ft of office space and 28,000 sq ft of commercial retail and leisure floor space.
The £145m Stockport Exchange development is being delivered by Stockport Council, and Placemaker Muse and forms part of Stockport's Town Centre West £500m regeneration masterplan, being delivered by Stockport Mayoral Development Corporation (MDC), alongside its public and private partners.
Cllr MacAlister said: "We are continuing to attract high calibre businesses to the town who are looking for an easily accessible location with great town centre amenities on their doorstep."
Paul Arenson, CEO of Industrials REIT, said: "Our presence in Stockport is central to the company's long term success, as it allows us to have a conveniently located hub to access and service assets and customers in the region. I am confident that our new office will help us grow Industrial REIT's business and improve customer experience."
::
The design and fit-out of Manchester's newest high-end flexible office space has been completed and is set to welcome its first tenants.
Gilbanks, at 11 York Street, offers 22,000 sq ft serviced offices over two floors of the new-build Grade A building. Commercial building, project and sustainability consultancy Jones Hargreaves acted as employer's agent, project managing the scheme from concept to design and fit-out process. The contractors were ADT Workplace.
Work completed this month after a five-month fit-out process to transform the vacant space into high specification flexible offices for businesses of two people and above on 12-month terms. Gilbanks has a wealth of facilities on site including a business lounge, meeting rooms and sound-proofed video call booths.
Jones Hargreaves led the programme of works having previously supported Gilbanks managing director Alex Duckett on the design and fit-out of the Leeds office in 2018. It is the second project for Jones Hargreaves in Manchester's business district, having also completed the £1m refurbishment of 42 Fountain Street. The independent commercial building consultancy, which opened its North West office this year, has also recently completed industrial schemes in Trafford Park.
Nick Twigg, partner at Jones Hargreaves in Manchester, said: "We've worked hard to create and deliver a luxury office space which can be tailored to the needs of tenants, who can proudly welcome their employees and visitors to this thriving area of the city."
The 80,000 sq ft 11 York Street building is owned by Aviva Investors, which has since signed up several tenants including Gilbanks and Rolls-Royce SMR. As well as office space, Gilbanks members will benefit from an events space which will host yoga sessions, and a sky suite on the eighth floor to host events with views of the city.
Alex Duckett, managing director at Gilbanks, said: "It's fantastic to reach practical completion for our new Manchester base, which is perfectly designed as a productive workspace for professional people. We've had really strong interest already and I'm thrilled to be able to welcome our first tenants. This is a premium full service concept which has the ability to attract dynamic, exciting companies to the city."