People: BGF; ANS; Savills; Tritax Symmetry; CRJ Services; Holdens; Mann Roberts Solicitors; Pareto Financial Planning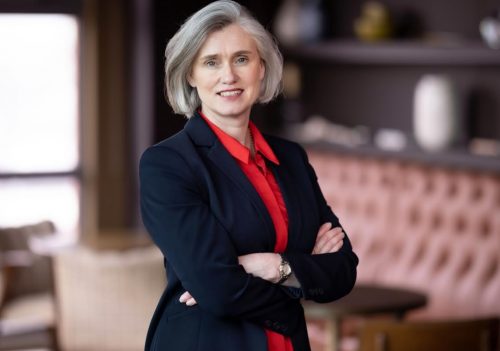 BGF, one of the largest and most experienced growth capital investors in the UK and Ireland, has expanded its North West team with the senior appointment of Helen Bartley.
Helen joins BGF's direct origination team in Manchester, bringing more than 20 years' experience in corporate finance to the role. She has worked across small, medium and 'Big Four' accountancy practices, followed by five years in industry, specialising in disposals, acquisitions and complex partnering arrangements.
At BGF Helen will be responsible for identifying and connecting the investment team with entrepreneurs and management teams across the North West, who are looking for patient, minority-led capital to help support their growth plans.
Neil Inskip, head of BGF in the North West, said: "Our team plays an integral role in helping the region's most exciting businesses to fulfil their long term potential. Helen has a strong network within the local marketplace and a wealth of experience in identifying and positioning companies for growth. We're delighted to have her on board."
Helen Bartley said: "BGF is one of the most experienced backers of growing companies and I'm looking forward to working closely with a diverse range of North West businesses who have the drive and ambition to scale their businesses."
Last year, BGF invested £53m into the local North West growth economy, completing seven new deals in 2022. It was also a record year for realisations in the region for BGF, having completed three highly successful exits, with an enterprise value of £400m and a combined money multiple of more than 3.7x.
::
Digital transformation specialist ANS Group has made another major addition to its group board with the appointment of Colin Bain to the role of chief operating officer (COO).
As COO and then managing director of QuantiQ, Bain played a key role in growing the company to become the largest independent Microsoft Dynamics 365 partner in the UK, before the firm's sale to global Microsoft solutions powerhouse Avanade in 2021.
Prior to becoming part of Avanade, QuantiQ won the prestigious Microsoft Business Applications Inner Circle award for five consecutive years.
A CIMA Chartered Accountant, Bain has vast experience in the delivery of software and tech services and has worked with Microsoft Dynamics since its inception. He takes responsibility for the largest division within ANS, with a brief covering professional services, managed services and transformation.
The news follows the appointment of new CFO, Alex Hodgson, as ANS strengthens its group board in preparation for the next phase of its growth.
Bain said: "I've always loved working with technology and the pace of the industry. At ANS I see a business with a brilliant focus on its people and the opportunity to make decisions that make a difference."
Following the acquisition of Preact, a 65-strong Microsoft Dynamics 365 CRM Partner and Power Platform Expert, ANS now employs more than 800 people.
The Manchester-based firm offers public and private cloud, hosting, security, DevOps, applications and data services to thousands of customers, from enterprise to SMB and public sector organisations.
ANS CEO, Rich Thompson said: "Colin brings with him an incredible amount of experience and a proven track record of creating the conditions for growth in our sector. Colin is the perfect person to take on the role of COO at ANS and fine-tune our operations to ensure we're maximising experience and value for every customer."
::
Savills has appointed Jonathan Ainley as head of its Manchester planning team.
Jonathan, who was promoted to director earlier this month, will also sit on the firm's Northern Planning Management Board – a combination of the firm's planning teams in Manchester, Leeds and Newcastle, who collectively make up the wider Planning North team at Savills.
Since joining Savills in 2017 as an associate, Jonathan has forged strong links with residential developers throughout the North west and will now continue to do this at the helm of the nine-strong team in Manchester.
Prior to joining Savills, Jonathan spent nine years in local authority as both a planner and senior planner, overseeing plans for major developments in the North.
Jay Patel, who led the Manchester planning team for the previous four years, will continue on the management board with an ongoing focus on growing the urban regeneration/mixed use sector and identifying business opportunities arising from the Government's Levelling Up agenda.
Jonathan said: "Under Jay's leadership, we have won some excellent projects and developed strong relationships across the region, and this is something we intend to build upon.
"We have a strong breadth of experience and knowledge within the team, complemented, of course, by the wider Savills network. Working more collaboratively with our colleagues in Leeds and Newcastle will help deliver an even higher quality service to clients in the future."
Jonathan Steele, director and head of regional planning at Savills, said: "I would like to congratulate Jonathan on his promotion and his new role, both of which are richly deserved, as well as thanking Jay for his excellent contribution as head of the Manchester team.
"The opportunities to collaborate across a number of sectors and initiatives across the north of the country are significant and I am sure Jonathan will build on the strong reputations that he and the teams have established over the years to ensure that the service we provide our clients remains the best in class."
::
National logistics developer, Tritax Symmetry, has appointed Katie Brereton as an associate development director.
Katie joins the company's Manchester office from The Arch Company where, as head ofdDevelopment, East, she was responsible for all development projects across North and South East London. Prior to joining The Arch Company, Katie held various positions at Network Rail, where she qualified as a Chartered Surveyor in 2015.
Katie's appointment comes after Kate Howe joined Tritax Symmetry as development director at the beginning of the year.
Katie said: "This is an exciting time to be working in the North and be involved large scale, highly sustainable logistics schemes across the country from identifying sites through to completion."
Kate Howe, development director said: "Tritax continues to deliver some of the largest and most successful logistics centres across the North, with several major projects either on site or due to come forward in the coming year. Katie is highly talented in her field and will support the Manchester team as we seek to secure new opportunities as part of our ongoing acquisition strategy."
Tritax Symmetry is part of Tritax Big Box REIT plc.
::
Knutsford-based CRJ Services, the waste, recycling and forestry equipment solutions provider, has appointed Andrew Clarkson as full time finance director to support the business in its next phase of growth.
Andrew brings a proven track record with global brands to his role at CRJ, including five years as finance director at Europe's largest corporate clothing business, where he had responsibility for the UK market as well as operations in five other countries.
During this time, Andrew led the restructure of the firm's UK and international businesses, resulting in the sale of its New York and Aberdeen operations. Prior to this, Andrew was a leading figure in the food processing and food logistics industry.
Andrew joins CRJ as the business experiences a period of sustained success, with the firm reporting 128% growth over the past three years.
He said: "CRJ is a business that I have known for a while and been involved with on its growth journey over the past few years, but now is the right time to join the firm in a full time capacity, working closely with the fantastic team here. I firmly believe that CRJ is a sleeping giant with significant plans in place for the future."
::
Manchester-based creative agency, Holdens, has announced a promotion as part of its new creative leadership team.
The full-service agency, which also has studios in Berlin and Barcelona, has promoted Ryan Gibson to creative lead from senior copywriter. He joins Daniel Thompson as creative lead. Both have been integral to the agency's growth in recent years and together they will lead the creative direction of its clients and the agency.
Holdens was founded in 2011 by brothers Ted and Olly Holden with their late father and renowned creative director, Peter Holden, who passed away in 2018. Having both cut their teeth under Holden senior, Thompson and Gibson will now work together to drive the agency's creative output forward and lead the wider creative team, as well as its freelance network.
The creative duo has already played a pivotal part in some of the agency's early success this year, delivering a high profile rebrand and website for the iconic Loch Ness Centre and helping to bring new clients on board such as Estée Lauder fragrance brand Le Labo, landmark Portsmouth visitor attraction Spinnaker Tower and Liverpool music production and sound design studio soda-sound.
Ted Holden, co-founder and managing director at Holdens, said: "Daniel and Ryan have both been instrumental in getting the agency to where it is today and we have every confidence they will lead our creative department to deliver award-winning work.
"They're both brilliant creatives in their respective fields but make a formidable pairing as a creative team and we're very excited to see the direction they're going to take the agency and our clients throughout the rest of this year and beyond."
::
Liverpool-based dispute resolution specialists Mann Roberts Solicitors has marked its first anniversary with a key hire and a range of new instructions.
Legal director Colin Vickers joins Mann Roberts from global law firm DWF. Colin has a proven track record acting for clients in litigation proceedings with particular expertise in counter-fraud and insurance.
Colin's arrival marks a highly successful first 12 months for Mann Roberts Solicitors in which the firm has provided specialised advice and guidance to specific sectors including construction and engineering, agriculture and energy. Mann Roberts has also been identified as a firm to watch by leading independent legal directory, the Legal 500.
Mann Roberts Solicitors was launched in March 2022 by managing director David Mann, who left Aaron & Partners in Chester, where he was a partner, to launch the business.
Since qualifying as a solicitor in 2008, David, who is ranked as a Leading Individual in the Legal 500, has built a strong reputation advising on complex and high value disputes both in the UK and internationally with a particular emphasis on advising shareholders and partners in owner managed businesses.
Based at No1 Mann Island, Liverpool, Mann Roberts principally advises businesses and entrepreneurs. The firm also has extensive expertise in international matters. In Europe, David Mann and relationship manager Frances Mann last year formed part of a trade mission to Copenhagen while further afield the firm has received instructions from Malaysia.
David Mann said: "During our first 12 months, the business has grown from an exciting start up to a forward-thinking law firm with an extensive range of instructions. Bringing in Colin as legal director is the next stage in our development plan."
In addition to Colin Vickers, Mann Roberts has also appointed associate solicitor Alexander Mullin and paralegal Amanda Chow during its first 12 months. The firm is also committed to developing apprenticeships and will shortly be welcoming its first finance level 2 apprentice.
::
Pareto Financial Planning, the Manchester-based financial services business, welcomed four professionals to the growing adviser team in the past year.
Pareto Financial Planning's team, which is now in excess of 70, grew turnover by 22% and exceeded £1bn of assets under its management in financial year 2021/22.
Chris Issac joined Pareto at the beginning of 2022 as a Chartered Financial Planner having started his career as a paraplanner. Before Pareto he was previously with Hearnden Associates. He said:"I joined Pareto as my values and views on how the financial planning profession is changing align with Pareto's vision as a forward-thinking firm."
Lettie Cartwright joined Pareto from Wetherall's Corporate as an independent financial adviser with an interest in all things financial and in particular inheritance tax planning. She was attracted to Pareto for "its diverse team and the opportunity to learn in a fast growth company."
Chartered Financial Planner, Courage Ruwanza, joined Pareto following eight years with Equilibrium Financial Planning. Courage specialises in retirement planning, inheritance tax planning and trust planning. Courage said: "I'm delighted to join Pareto, who are a dynamic and forward-thinking business and I look forward to developing new client relationships in my role as a financial adviser."
Martin Collins joined Pareto at the beginning of this year as a Chartered Financial Planner having started his career more than 20 years ago. Before Pareto he was previously with Hurley Partners who were subsequently bought by Mattioli Woods in 2020. He said: "I joined Pareto because of the opportunity to work for a dynamic company with a culture that puts their client's interests at the heart of everything they do."
Stuart Carswell, director, Pareto Financial Planning, said: "We're delighted to have Lettie, Chris, Courage and Martin join the growing and talented team at Pareto. Our core principles are strong and this is evident as we continue to attract the next generation of client focused advisers."