Tech company, Sticky, raises £1.5m in seed funding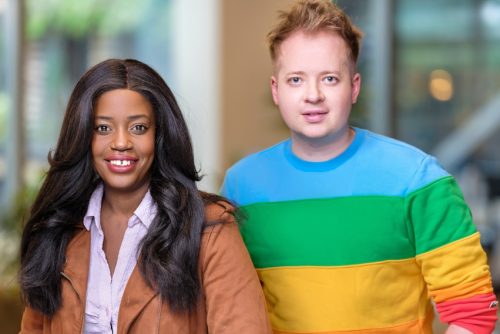 Manchester technology company, Sticky, has raised £1.5m in seed funding to accelerate customer growth across leisure and retail markets around the world.
The business specialises in solving companies' inefficient and often unprofitable physical spaces.
The fundraise, led by Manchester-based Praetura Ventures with backing from Cornerstone VC and follow on funding from SFC Capital as well as new angel investors, will enable Sticky to become the de facto solution for leisure and retail businesses, helping them increase revenue across their physical locations without increasing spend, something that's vital to the future of both sectors after several challenging years of trading.
Sticky will also use the investment to continue to build its strong partner ecosystem which has already given the company customers in charity, fitness, access to work and live events.
Sticky customers use creative branded stickers – 'stickies' – which house NFC-based technology. The no-code low-code self service platform is already used and trusted by large customers in the leisure sector.
The stickies can be placed anywhere within customer sites, stores, the home and other physical spaces to increase efficiency and let customers get things done quickly. The company's operating system lets their customers create 'flows' – solutions to problems in physical spaces – in minutes, including taking a payment with one simple tap of a phone. Every flow takes a consumer 10 seconds or less.
A report by business adviser pwc claims 41% of consumers are willing to pay more for a product they can purchase quickly and conveniently, yet frictionless real-world sales experiences have so far failed to replicate the speed of innovation online.
The UK, for example, has more than 150 million sq ft of unused retail space as a result of the pandemic.
Sticky's solution bridges the current online-offline divide and makes physical spaces engaging and profitable.
Technology entrepreneurs James Garner and Priscilla Israel are the co-founders of Sticky.
Priscilla Israel said: "Sticky offers a no-code low-code solution that helps businesses innovate at speed. We help our customers see their physical space as an asset and as a way to make more money. The future of physical spaces is well debated but at Sticky there is no debate about their future or value – they are where we all live and work."
She added: "Tapping a sticky is as easy as a contactless payment so there is no need to open a camera, have high connectivity or enter any data, things which cause friction for businesses when relying on QR codes, apps and card machines.
"With one tap of a sticky an interaction or payment is complete in less than 10 seconds. By applying this technology to their payments stack or replacing it entirely, our customers can turn anything into a point of sale, increasing revenue, speed of service and customer satisfaction."
Sticky is used to up-sell and cross-sell without the friction associated with conventional in-store technology.
Using stickies a shop could be shut and still take a payment through the window, redefining the commercial possibilities of window shopping. Every sticky is also unique, meaning businesses can track performance and return on investment more accurately and consumers never have to choose a location, store, table or collection point.
James Garner said: "Just like online, there are no geographical limits to Sticky and consumers can even choose their language meaning everywhere they go their experience on Sticky is localised. All without an app or sign up.
"It's a kind of magic and universal communication – as easy as a hello or a smile. Every sticky is environmentally friendly and designed to last for 10 years, replacing a significant amount of hardware that is expensive and goes out-of-date. Our seed funding will help us reach more leisure and retail businesses and help the world build software for physical spaces 10x quicker than before. We won't stop until every interaction in a physical space can be 10 seconds or less."
David Foreman, managing partner at Praetura Ventures, said: "Sticky has taken a visionary approach to the problem of unused retail space and online engagement in offline environments, and that is what attracted us to invest in the business.
"Given the growing tech expertise we have at Praetura, including our operational partners and Praetura Ventures partner Andy Barrow, who was the former CTO at cloud giant ANS, we are looking forward to joining Sticky's growth journey and playing our part in helping the company scale and break into new industries and verticals."
Rodney Appiah, managing partner at Cornerstone VC, said: "Sticky's innovative platform brings the rich functionality and customer experience of low-code platforms to physical spaces.
"Its remote configurability, ease of use and reliability in low connectivity environments lowers the barriers to digital adoption for a range of businesses and provides a versatile toolkit to drive customer engagement, retention and revenue."
Stephen Page, CEO at SFC Capital, said: "The team's exceptional resilience during the pandemic when we first invested highlights their strong dedication and commitment to innovation in the face of adversity. It's a privilege to back our winners."