Glimmer of hope for Piccadilly and Oxford Road unblocking as other rail projects get funding promise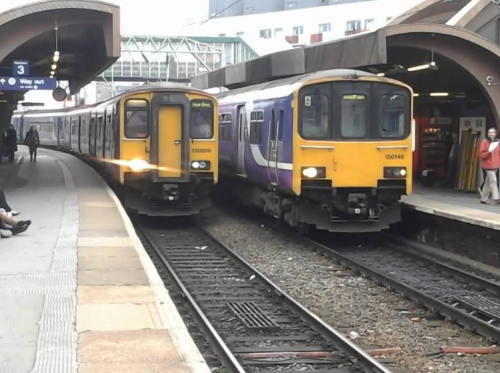 The government and Network Rail is reopening a consultation on removing the bottleneck between Piccadilly and Oxford Road by withdrawing its current planning application.
Due at Manchester Victoria Station this morning (25 May), Rail Minister Huw Merriman is to reveal four infrastructure upgrades worth £72million, designed to ease widespread passenger misery across the beleaguered regional rail network.
Andy Burnham has given a cautious and qualified welcome to this initial investment and described it as a "welcome next step".
The package of government money includes funds for a third platform at Salford Crescent station and track improvement work across north Manchester after delays, bottlenecks and station overcrowding have plagued passengers. 
Manchester Victoria Station is to get extra entry and exit points to platforms, easing dangerous overcrowding at busy periods.
Mayor of Greater Manchester, Andy Burnham said: "There is a massive opportunity to change rail journeys for people and businesses in Greater Manchester and the North for the better, and this infrastructure investment is a welcome next step to help make that happen. 
"Through the Task Force and our Trailblazer deal, we will continue working with Government and the industry to help shape the comprehensive package of improvements needed to transform rail travel and support our growing economy, so that we can create more jobs and homes."
Transport Secretary Mark Harper said the investment was evidence of a commitment to transforming journeys across the North by delivering much needed infrastructure improvements in Manchester.
Citing HS2 and the TransPennine Route Upgrade and Northern Powerhouse Rail, he said it "demonstrates our pledge to improving opportunities for passengers across the region and leaving a positive impact for generations to come."
The scrapping of the plans to build platforms 15 and 16 at Piccadilly has been a long standing grievance for local MPs and campaigners. The creation of the Ordsall Chord to allow more trains from Victoria through Oxford Road to Piccadilly only worked with that investment.
Network Rail's removal of a previous Transport and Works Act Order application today (25 May) for Manchester Piccadilly and Oxford Road station means the Department for Transport has asked Network Rail to develop alternative options. 
Network Rail's Tim Shoveller said the Salford and Victoria funding was "really positive" and said more plans would be considered for the bottleneck between Piccadilly and Oxford Road: "We also have ambitious plans for the future of Manchester Oxford Road. We're removing our previous planning application so we can move forward with a new approach, something we'll be consulting residents and businesses on later in the year."
Emma Antrobus, director of the Institution of Civil Engineers North West said: "Today's funding is welcome in alleviating bottlenecks that cause the congestion, delays and cancellations which regularly impact on so many people across the North.
"Effective infrastructure is key to improving rail journeys, and our members are the people who will be delivering it, but we mustn't lose sight of the bigger picture. We need a coherent transport strategy with effective leadership and accountability, an integrated approach to sustainability and levelling up, and certainty from the government to deliver it.
"Although the Manchester Task Force has its work cut out, the partners are ideally placed to help deliver services that will have a real impact across the region."
Salford City Mayor Paul Dennett said:  "We're looking forward to getting into the details of what sits behind today's announcements and engaging further with Network Rail and Government on the prospect of new train services calling at Salford Crescent.
"Today's announcement also comes at a time when contractors are on site at Salford Central undertaking works to existing platforms to improve passenger experience and accessibility. However, what we want to see, is more trains and more reliable services – so today's news is a positive step in the right direction but it also underlines that there is still so much more to do to deliver on our rail ambitions for Salford and Greater Manchester."