Design specialist retained by council for key canal-side leisure development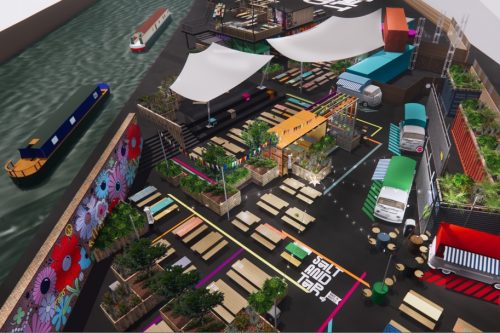 Warrington-based concept design firm, DV8 Designs, has again been reappointed by Sefton Council as lead designer for its Salt and Tar scheme.
The site is an exciting new social destination offering live entertainment and a foodies' delight in Bootle.
The 3,000-capacity event space maximises on expansive waterside views, utilising canal-side access to provide additional opportunity for leisure experiences.
Salt and Tar will also be home to an exciting food and social destination offering a mix of artisan street food with vendors ranging from Greek, Italian and American in addition to bars providing an eclectic selection of drinks.
Working in partnership with Sefton Council, the design embraces a mix of colourful and upcycled elements, complemented by lush greenery to offer a vibrant and dynamic event space, where visitors can indulge in a diverse range of flavours while enjoying live performances and a bustling social atmosphere.
Cllr Ian Maher, leader of Sefton Council, said: "The new Salt and Tar branding and design of the site, combined with an exciting and developing programme of events for the coming year, will help to cement the area's role and contribute to the revitalisation of The Strand and wider Bootle town centre economy."
The vision for Salt and Tar builds on the shift towards environmental sustainability, showcasing stacked containers that create a unique ambiance, combining rustic finishes, with recycled structures and materials. These converted shipping containers will also serve as canvasses for playful graphics in bright colours, while feature signage, lighting and rooftop gardens aim to add further charm to the overall aesthetic.
The overall design incorporates feature lighting that accentuates the space, and pays homage to Bootle's industrial past, in keeping with the new branding and name 'Salt and Tar' which refers to the town's rich industrial heritage, with the Brotherton's Tar Distillery on Hawthorne Road and the area's historic link to the salt trade.
Lee Birchall, MD of DV8 Designs, said: "This is a hugely exciting opportunity for the area, and we are proud to have been appointed once again as trusted concept designers for regeneration projects for councils. Our experience and expertise in this area has proven to be a strong conduit to driving revenue into the local economy."
DV8 Designs has previously been involved with the EngineRooms at the award-winning Birchwood Park, and the £1.4m successful regeneration of Southport Market.
The Salt and Tar project is due for completion this summer, and will open for major events, seasonal festivals, and weekend trade.