Progressive ditches hotel from revised Salford planning submission
Progressive Living Developments, the Manchester based property developer, has submitted revised plans for its site on Gorton Street in Salford.
The planning application, which has been presented to Salford City Council for consideration, details revised proposals for the 0.42-acre site which includes a 41-storey co-living residential tower located next to the River Irwell in the Greengate area of the city.
This application supersedes a previous submission made by Progressive to Salford City Council in 2021, for a mixed hotel and co-living scheme which also included the repurposing of the eight adjacent railway arches alongside a 36-storey tower.
Progressive is working on a separate planning proposal for the arches, which will complement the public realm proposed, and will present plans in due course.
Designed by BDP, the property aims to achieve a BREEAM Excellent rating and will comprise 568 self-contained studio apartments.
The building also includes four floors of amenity space offering residents' lounges, a cinema room, games room and makers' space, communal cooking and dining areas, a gym and wellness centre, co-working spaces and meeting rooms. A landscaped roof terrace and a sky bar will be accessible to residents on the 37th floor offering views across Salford, Manchester and beyond.
Externally, the building is formed from two rectilinear towers of different scale and height. The façade is made up of full height glazing, and terracotta red and silver white cladding to differentiate the towers and act as a contemporary reference to the rich industrial heritage and materials traditional to Salford and Manchester.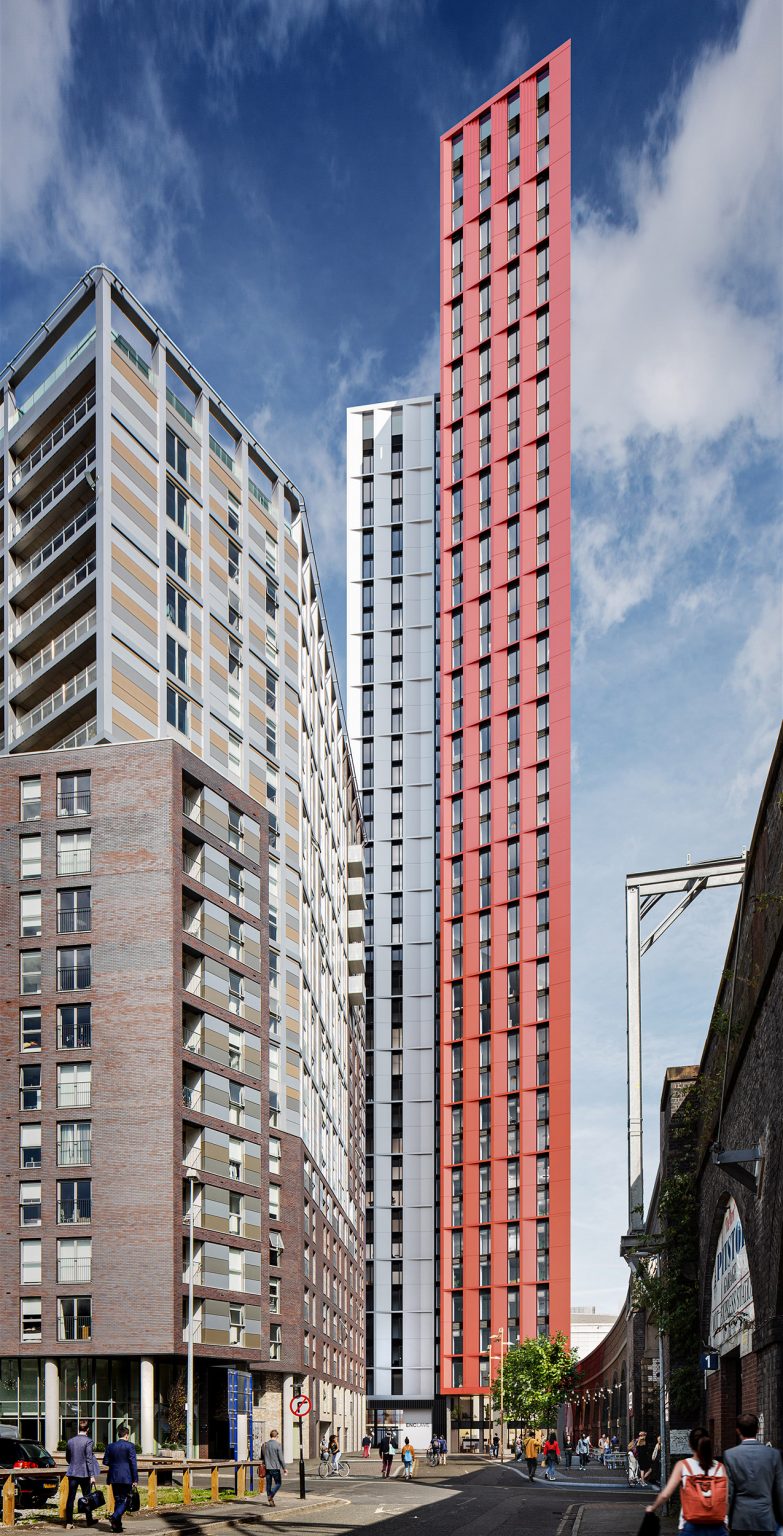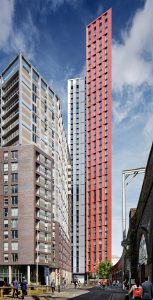 High quality public realm improvements also feature in the planning application and have been designed to increase pedestrian and cycle access to the existing riverside walkway and the proposed Greengate Park.
A start on site is planned for spring 2024.
David Fairclough, director at Progressive, said: "Currently being used as a surface level car park, our vision for Gorton Street presents an opportunity to redevelop a forgotten pocket of land in a way that will positively contribute to Salford's wider regeneration strategy for the Greengate area and deliver sought after co-living accommodation that will provide quality, affordable places to live for young professionals.
"We have been working on proposals for this site for some time now and are excited to finally share this high quality development. We believe it will create a vibrant community through the array of communal spaces available to residents and promote wellbeing through its focus on lifestyle amenities. The scheme's co-living offer will complement the mainly BTR tenure of adjacent towers in Greengate and bring a more affordable entry into city centre living."
He added: "We are in advanced discussions with both a co-living operator and a funder for the project and hope to make announcements shortly."
The professional team working with Progressive on the scheme include: BDP (architect), Renaissance (civil and structural), Zerum (QS/PM), Turley (planning), Novo (MEP), OFR (fire strategy), GIA (RoL/daylight), Exterior Architecture (landscaping), Hann Tucker (acoustics), Eddisons (transport) and Hydrock (air quality) CGI's (Our Studio).