People: EMG Solicitors; Vincents Solicitors; Hall Brown; Praetura Investments; Armstrong Watson; Forbes Solicitors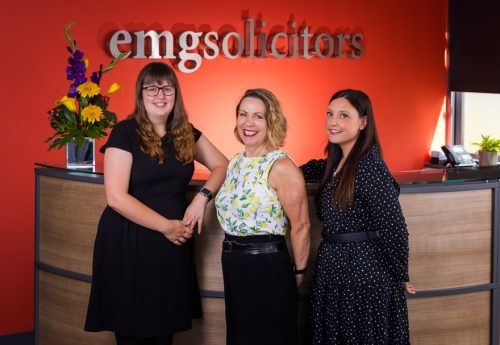 Durham-based EMG Solicitors has opened a new division in Altrincham. Led by director Ruth Wright, the team is being strengthened with two new appointments, client executive, Katy Parrott and team administrator, Rachel Snowdon.
The Manchester office initially focuses on EMG's primary specialism of Court of Protection (COP), with Wills, trusts and probate, family, dispute resolution, residential conveyancing, and commercial property being serviced by team members from other branches, with plans to recruit in these areas in the coming months.
The new base takes EMG's office footprint up to five.
Having worked in Manchester for more than nine years, Ruth Wright has a strong reputation in being able to manage some of the most complex Court of Protection cases. She said she was happy to have the opportunity to join the EMG team: "Not only do they have an enviable reputation in the market, not least for their specialism in COP, but they have fantastic values and a really great ethos, too.
"I love that EMG is also a female-led business. Both Emma Gaudern and Jemma Morland who founded the business back in 2014 have created somewhere special with an open and transparent culture where everyone is valued."
She said both Katy and Rachel's appointments support the firm's ambitious plans for the Manchester office over the next few years as it looks to build and expand the team further alongside its areas of expertise.
Emma Gaudern, EMG Solicitors' managing director, said: "Opening an office in Manchester has always been a personal dream having worked in the area as a practising lawyer for many years in my earlier career. It really is wonderful to have Ruth, Katy and Rachel in our team who bring with them a wealth of experience."
::
Vincents Solicitors has appointed apprentice solicitor Drew Barrow to the corporate and commercial department as part of an expansion drive. Drew will support corporate and commercial director, Michael Sandys, at the firm's head office in Winckley Square, Preston.
Drew joins Vincents from the Crown Prosecution Service where he worked for seven years as an administration assistant, paralegal and, latterly, a solicitor apprentice.
He has now been offered a full time position with Vincents following a 12-month secondment working with the firm's commercial property and residential conveyancing team in Lytham and the corporate and commercial department at head office.
Drew said: "The secondment gave me the opportunity to broaden my experience in the law and I really enjoy the variety of clients, sectors and challenges within corporate and commercial work. After eight years in criminal law with the CPS I was ready for a change."
Vincents will provide in-house training and support Drew in completing his degree with City University in London, from where he will graduate and qualify in summer 2024.
Michael Sandys said: "We continue to attract new clients and so Drew has come on board at just the right time. He has the legal knowledge and the strong people skills which make him a great addition to the team."
::
Hall Brown Family Law has recruited two new members of staff and rewarded three of its young legal talents with training contracts.
Mike Swanick has joined the Manchester office as an associate solicitor, while Isobel Culf is made a paralegal in Hall Brown's rapidly expanding team in Sheffield.
Meanwhile, Hannah Durkin, Rebekah Fender and Alexandra Marshall have all progressed from their roles as paralegals to become trainee solicitors.
Co-founder and managing partner, James Brown, said the changes were a direct response to a rise in caseload across all four of its offices and the development of the firm's junior ranks: "In Mike, we have been able to find another very capable all-rounder, who can deal both with the challenges thrown up by children's law cases and the complexities of high value divorce.
"Isobel is our latest very promising appointment, someone who follows in the footsteps of so many very hard working and ambitious juniors whom we are fortunate to have had work with us.
"As Hannah, Rebekah and Alexandra illustrate so well, the people who join us realise that they have a chance to make their own very real contribution to one of the strongest family law specialists in the country."
Including its latest appointments, the firm now employs a total of 62 people, 47 of whom are fee earners.
::
Manchester-based provider of alternative investment solutions, Praetura Investments, has appointed Caroline Flagg, Peter Marsland and James Rochfort to its business development team, as it looks to grow awareness of its EIS, VCT and BR qualifying offerings and connect with a greater number of investors and advisers across the UK.
In her new role, Caroline will support Praetura's fundraising efforts by maintaining relationships with direct investors, family offices and Praetura's Venture Partner network, made up of high net worth individuals and angel investors.
Peter will manage relationships with financial advisers in London and the South East as the firm increases its outreach following its recent expansion into Wales and the South West.
James will head up the new internal business development team, as Praetura looks to help advisers across the UK with all of the resources they require.
The trio will continue to grow the business across the firm's investment offerings, including the Praetura EIS Growth Fund, the Praetura Inheritance Tax Planning Service and Praetura's latest offer, Praetura Growth VCT, which is seeking to raise an initial £10m to invest in growth businesses primarily based in the North of England.
All three new appointments are highly experienced business development professionals, having been part of the Octopus Investments business for approximately a decade each in various senior roles and departments.
Prior to this, Caroline worked for Huntress Group and Goodman Masson. A former international rower, Peter's CV also includes work for Schroders, while James previously worked for Distribution Technology before joining Octopus, where he latterly became part of the management team.
Jon Prescott, partner at Praetura Investments, welcomed the trio, saying: "I am excited to be working with them again having previously been part of the Octopus team. They are joining the existing business development team at an extremely exciting time and their appointments reflect the significant growth the business has undergone over the past five years."
::
Fifty one trainees and graduates have taken up their new roles at Armstrong Watson.
Among the new starters are 17 AAT students and two ATT students who will be working towards their apprenticeship qualifications in accounting and tax compliance. There are also 28 ACA graduates who will work towards becoming Chartered Accountants. In addition, the firm has recruited two ACCA students in restructuring and insolvency as well as two payroll apprentices.
Based at the firm's offices across the north of England and Scotland, the trainees and graduates will receive hands-on experience throughout their studies as they work towards their qualifications.
Richard Andrew, partner and head of accounting, said: "We continue to invest in our training programme every year and develop talented accountants of the future. I'm so proud of the training, support and development our students receive from our dedicated training manager Karen Blaylock and really believe our programme, and the experience our trainees receive, is unrivalled in the sector."
CEO and managing partner, Paul Dickson, said: "Our training programme provides us with an incredible pool of talent, many of which go on to have successful careers within the business."
::
Full service law firm, Forbes Solicitors, has welcomed its latest cohort of trainee solicitors.
In total, 13 new trainee solicitors have commenced training with the law firm in September, including graduate, and under-graduate, apprentices and trainees undertaking a Period of Recognised Training (PRT). Forbes now has 22 trainees in total within the business, a growth again on previous years.
The apprenticeship route and SQE system of exams was introduced in September 2021, meaning that for the first time, people can train to be a solicitor without having to complete a law degree or the Legal Practice Course (LPC). Via the apprenticeship routes, prospective solicitors complete one day per week at law school as part of a three or five year course, giving them real insight into the business, as well as supporting their further study.
Kella Bowers, a partner and the graduate training principal at Forbes Solicitors, said: "Welcoming the next generation of talent is always a particularly exciting time for Forbes and even more so this year with the arrival of a larger number of trainees undertaking an apprenticeship. We passionately believe in opening up access to the legal profession to attract the best talent and support diversity and inclusion, and the apprenticeship routes really help with this."
Forbes Solicitors has 11 offices across England including Lancashire, Manchester, and Leeds.