Last orders for Rosso as footballer's favourite Cibo moves on prime city site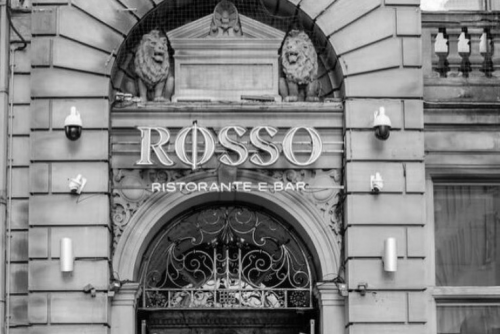 A staple of the glamorous side of Manchester's restaurant scene has closed.
Rosso restaurant on King Street, owned by former footballer Rio Ferdinand and the Boohoo owners the Kamani family, called time on their joint venture on Monday.
However, theBusinessDesk.com understands that the prestigious site in a renovated banking hall is to become the new home for popular Cheshire restaurant Cibo, which operates two Cibo restaurants in the Cheshire golden triangle suburbs of Hale and Wilmslow.
The same owners also have Sasso Italian restaurant in Disley and are soon to open a Gran Cafe in Wilmslow.  
Our restaurant business insider Thom Hetherington said: "I'd expect such a prime site to be snapped up, if indeed a deal with a new operator hasn't already been agreed. The appetite of new operators to come into the city is as strong as ever. Consumer demand and spend remain high, and there are plenty more openings to come, from big names like Sexy Fish, Maya and Chotto Mate to a slew of diverse and ambitious indies such as Fenix, House of Fu and North Westward Ho."
In a statement shared on the Manchester Confidential website, a spokesperson for Rosso said: "We are looking at it as a championship boxer bowing out in triumph after many years of winning belts.
"We want to assure everyone that the staff will be paid, the suppliers will be paid, and everything will be above board. We are now focusing our efforts on exciting new endeavours.
"It is with mixed emotions that we announce the closure of our Rosso Restaurant & Bar.
"Last night, after nearly 14 years, we were delighted to hold a final service for our wonderful customers.
"It wasn't an easy decision to close this wonderful restaurant which has flourished into an icon of the Manchester restaurant and social scene. It feels like the right time to go out at the height of our popularity and look ahead to new horizons." 
Rosso was half owned by Nurez Kamani, with Suleman Kamani and Rio Ferdinand owning a quarter of the venture each.
The restaurant came to symbolise a particular type of Manchester weekend experience, even appearing on specialist 'football tours' of the city due to the Rio Ferdinand connection.
As one tour guide described it: "With its luxury interiors and delicious food, Rosso is a celebrity hotspot, and has often been graced by the likes of other sports stars such as David Beckham, Wayne Rooney, Amir Khan and David Haye."