Halstead pleased with 'very respectable' results as sales grow but profits flat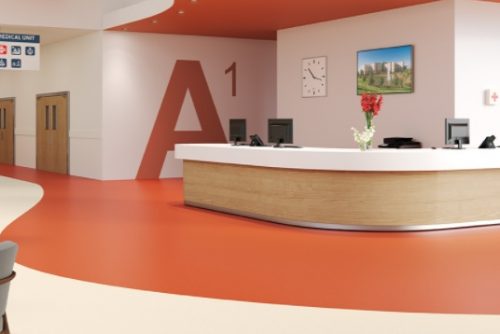 AIM listed flooring manufacturer James Halstead has reported record revenues for the year at £303.6m (2022: £291.9m) including a contract win to supply the Media Centre for the Paris 2024 Olympics.
The company reported profit before tax for the year of £52.1m (2022: £52.1m) a slight increase on the previous year due in large part to escalating energy costs, severe difficulties as a result of the lack of timely availability of international shipping and increased transportation costs.
Export sales grew over the year as demand increased and as well as Paris, projects also included Castlerock Farm in British Columbia to The Centre for Autism Research (CFAR) at the King Faisal Specialist Hospital & Research Centre in Riyadh.
The UK business was less buoyant and chairman Anthony Wild said the business had been challenged by industrial action at the Radcliffe plant and by continued government cuts to education spending on the schools estate.
"Our UK business is far more focused on commercial flooring and repair, renewal and refurbishment and consequently less exposed to consumer spending. Nevertheless, there are budgetary constraints on renewal spending. Indeed, the Chairman's report of September 2016 noted UK government spending restrictions on refurbishment in the education sector and this continues to be case.
"Undoubtedly, it was overall a commendable year at our UK manufacturing sites. These businesses supply not only the UK, where turnover was 4.2% ahead of last year, but also our overseas subsidiaries and direct export customers. Profits were also ahead of the prior year despite the challenges of increased input cost, massive energy cost increases and industrial action by part of the workforce in Radcliffe.
"Riverside output and sales increased with a near 14% increase in turnover. In the UK the increase was 10%, sales to our own overseas subsidiaries were down 10% but sales to the rest of the world increased by 36%.
"Export demand was restricted for the early part of the year by availability of timely shipping though this was greatly improved by the year end. It was also the case that the "bottlenecks" of international transport delayed and restricted supplies to our overseas subsidiaries; local stock helped to minimise the effects on sales but opportunities for greater sales were lost."
Mr Mark Halstead, chief executive, said: "Against a challenging backdrop, I am pleased to announce a very respectable performance across the Group and another record sales performance. Good demand across a number of our key markets has continued to drive the positive top line. Consequently, we are also pleased to report a record level of profit and record EPS, creating even more value for our shareholders.
"We continue to invest in driving process improvement and developing our product offering, with a view to also improve output efficiency. It is this approach and our tested business model which position us resiliently in the inflationary environment that has been seen across global markets.
"We ended the year with a robust balance sheet and in a position to propose a record dividend to our shareholders. Whilst inflationary issues and spending constraints remain, I and the Board remain confident in the Group's progress going forward and look ahead to the future with confidence".