North West business briefs: Lounge; University of Salford; Hydes Brewery; John Farrer & Co; Squaser; Embryo
Property group Grosvenor has announced that underwear brand, Lounge, is to launch a Christmas pop-up store in its Liverpool One retail site, open on South John Street in a 4,000 sq ft space from early next month until December 23.
After a series of successful pop-ups, Lounge made its first foray into permanent bricks-and-mortar retail earlier this year and has set its sights on opening seven further locations over the next 12 months. Lounge's Liverpool One location promises to deliver a premium shopping experience, championing its 'Comfort Made Sexy' tagline and featuring its latest collections of high quality underwear, sleep and apparel.
The fit-out of the South John Street space is set to signify an extension of Lounge's 'modern luxury' approach, featuring neutral-toned interiors with wooden accents and carefully curated lighting to spotlight its lavish collections of lingerie. Fully trained Lounge Fit Experts will be on hand to advise on fit and style.
Rob Deacon, asset management director, Grosvenor, said: "Lounge is becoming increasingly renowned across the UK and internationally, so the launch of the upcoming Christmas pop-up at Liverpool One is a hugely exciting moment for us. We are seeing a growing amount of successful online retailers like Lounge seek physical locations, so we are very pleased to be welcoming them to South John Street in their city debut, re-emphasising Liverpool One as the go-to destination for expanding, innovative retailers, and the continued resilience of the high street."
Mel Marsden, founder of Lounge, said: "As Lounge continues to expand into physical retail, we have been seeking locations that not only have high footfall numbers, but also align with our dedication to providing the ultimate customer experience, and Liverpool One's core visitor-centred values and loyal consumer base made it the ideal home."
Metis and CBRE acted for Liverpool One. JLL represented Lounge.
::
Energy supplier Utilita has joined forces with the smart technology innovator Hildebrand, the University of Salford and the Data Communications Company (DCC), to demonstrate how a new 'Smart Energy Control' Internet of Things (IoT) device can completely automate a home's energy use in response to periods of cheaper, and cleaner energy availability.
The revolutionary trial is being funded by the Department for Energy Security and Net Zero to innovate the functionality of the smart meter system in the interest of reaching its 2050 net zero obligation. The trial is due to begin in August 2024 and will run for six months.
At the centre of the trial is Hildebrand's new innovation – a Standalone Auxiliary Proportional Controller (SAPC) – a device connected to the DCC communications infrastructure, that communicates with and proportionally controls power loads within the home, including internet-connected white goods, heat pumps, energy storage batteries used in conjunction with solar PV, and the charging of electric vehicles.
The new hub will enable an automatic shift of the power consumption – up or down, or on and off – of connected items in response to the National Grid energy mix, enabling savings for the pocket, and less reliance on fossil fuels for the planet. The innovation will see households better equipped to respond to the UK's Electricity System Operator's (ESO) Demand Flexibility Service (DFS), for example.
Ioannis Paraskevas, lead of the Smart Meters > Smart Homes Lab, Energy House Labs, University of Salford, said: "Monitoring the internal temperature and humidity of domestic buildings could drive high-impact research and innovation and enable data-driven policy making on retrofitting, assessing the thermal performance of the existing housing stock and new-built homes as well as on identifying households in fuel poverty and potentially alleviate this state through bespoke measures."
::
Salford brewery and pub retailer, Hydes, has launched its first new establishment in five years, following the opening of its latest premium pub dining venue, The Harry Beswick, on the Wirral, Merseyside.
The Salford-based brewer acquired the landmark building on Telegraph Road in 2022 at a cost of £1.3m. The acquisition of the building was Hydes' first property acquisition since 2018. Unused for more than a decade, Hydes spent the past six months and invested in excess of £2.3m into transforming the town's former police station into a premium pub dining venue serving a quality food and drink choice.
Hydes has named the pub 'The Harry Beswick' in recognition of the original architect of the building. Born in Chester in 1856, Harry Beswick was county architect for Chester from 1895 until 1926, responsible for designing more than 40 buildings including numerous police stations and school buildings.
The transformation began in early summer this year. The iconic building, originally built in 1911, underwent an extensive renovation, retaining many of the building's original features, with design enhancements and touches reflecting the station's proud police force history. With almost a decade of experience with Hydes at some of its most successful premium dining pubs, Roy Wilson has been appointed as general manager. Roy successfully managed The Hornsmill in Helsby, near Chester, since 2018. Prior to this, he was at The Jolly Thresher in Lymm.
Adam Mayers, Hydes Brewery managing director, said: "The building and restoration is simply stunning and we've created a destination venue in keeping with the area. We have worked tirelessly to ensure The Harry Beswick delivers a memorable experience for customers with a quality, contemporary new design scheme and feel, combined with a premium dining and drinking offering and Hydes' standards of customer service."
::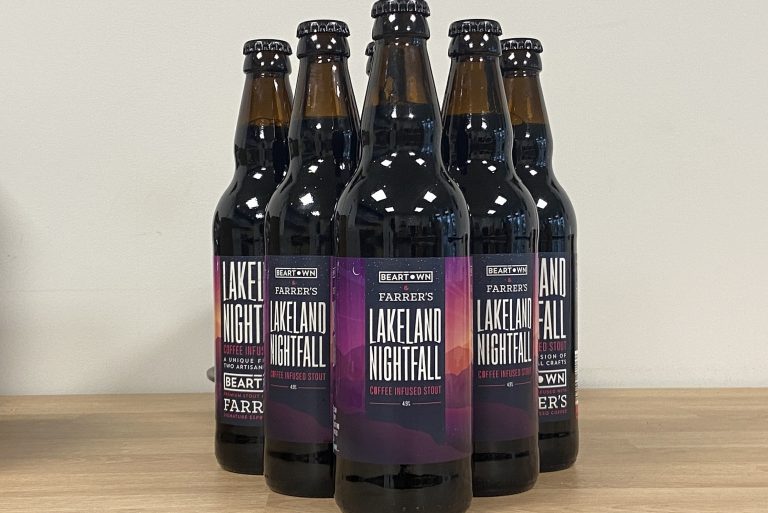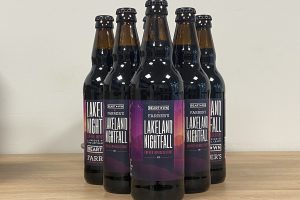 Expert coffee roasters John Farrer & Co, based in Kendal, in the Lake District, have joined forces with multi-award-winning Beartown Brewery, Congleton, Cheshire to craft a beer with a twist.
Keen to experiment with different flavours, head brewer Graham Nelson approached the team at the UK's oldest coffee roaster to see if they would be happy to work with Beartown Brewery to create something just a little bit different. Working with quality ingredients the two businesses came together to craft a beer designed to perfectly marry the rich, aromatic flavours of expertly roasted espresso coffee beans with the depth and complexity of a finely crafted stout and in doing so Lakeland Nightfall Coffee Stout was born.
With a name inspired by old poetic descriptions of the coming of darkness, Lakeland Nightfall fuses more than 200 years of Farrer's coffee roasting expertise with decades of brewing know-how from Beartown Brewery. Every drop of this 4.9% ABV beer delivers a rich and complex full-bodied stout, brim-full of robust coffee flavours, hints of bittersweet chocolate, caramel, and dark fruits including raisins and plums, all rounded off with a touch of vanilla and a subtle smokiness which adds real depth of flavour.
Joseph Manning, Beartown Brewery's managing director, said: "Coffee is the perfect ingredient to add to a stout. It stands out and doesn't get lost in the beer, especially if you take your time to choose the right coffee. I wanted to do something different. I'd done my homework and felt that Farrer's Classic Espresso might work well to infuse our stout with. So between us we thought let's give it ago and get a warming beer ready for winter and Lakeland Nightfall was born.''
Rob Baines, John Farrer & Co's general manager, said: "I was massively invested when Beartown Brewery approached us to see if we could work together, especially as we would be combining our expert coffee knowledge with their considerable skill at crafting award-winning beers. As soon as they mentioned that they were looking to use our Classic Espresso I was on the same page."
::
An innovation designed by a university student which could revolutionise the sport of squash has scooped a £1,500 engineering prize. Mechanical Engineering graduate Gruffydd Gozali, 21, has designed Squaser, a laser line detection system which will help referees to determine if the ball is considered in or out of play.
Unlike tennis and cricket, which have Hawk-eye and Snicko, respectively, squash doesn't yet have the technology to support referees in their judgment calls. Gruffydd founded Squaser while at Lancaster University during a module on Engineering Business Development.
Earlier this month, Gruffydd received the funding through the Big Ideas category at the Engineering in Business Champion of Champions grand final, held at the Royal Academy of Engineering in London. Squaser has already undergone testing at the National Squash Centre in Manchester and been piloted during the final of the Canary Wharf Classic tournament earlier this year.
Gruffydd said: "I'm so happy with the award. Not only is the prize money crucial for further development but it's a real confidence boost to turn Squaser into a business. The event has made me very excited for the future.
"I'm an avid squash player, and watched many professional matches, so the problem immediately stuck out to me. I'd seen laser sensing systems in similar situations used before, so it was not such a hard jump to see them being applied to squash. It will make the sport fairer and more enjoyable for both players and spectators."
::
Digital agency, Embryo, has raised £20,450 for its long-lasting charity partner, Royal Manchester Children's Hospital Charity, an organisation that does vital work helping some of the North West's youngest patients.
Since the partnership began in 2022, Embryo has completed several fundraising campaigns; such as abseiling down the Hyatt Regency Hotel, the Manchester 10k and half marathon, and even the UK's highest bungee jump in Tatton Park. Embryo's managing director, Ross Green said: "It feels amazing to have raised so much for a local charity that provides incredible work and support to our region's youngest hospital patients and their families. The whole team at Embryo values the partnership and it's great to see everyone coming together to play their part and support one another."
Over the next few months, Manchester Foundation Trust Charity, which fundraises for 10 hospitals including the children's hospital, is running multiple events in the city, which Embryo is participating in to help raise funds. Manchester Foundation Trust Charity relationship manager, Michelle White, said: "Embryo's efforts are remarkable and we are extremely grateful for this collaboration. Their commitment to supporting the charity through such a wide variety of fundraising activities is fantastic. We thoroughly enjoy working with all of the team who have shown not only dedication to the cause but have done so in a fun way."
She added: "The donations mean a lot to us and the families we support. It means we can continue helping over 280,000 patients each year, in so many different ways.
"For example, raising £150 could fund a Magic Maker children's entertainment session, giving our young patients a fun distraction at what can be a distressing and unpleasant time, £1,000 could send a child to a week-long residential burn camp to help them build confidence and self-esteem following a burn-related injury, and £10,000 could provide a mini-robot which can act as a physical and educator for young patients, whilst calming children that are undergoing treatment and surgery."