Plans for new Cornish hospital take major step forward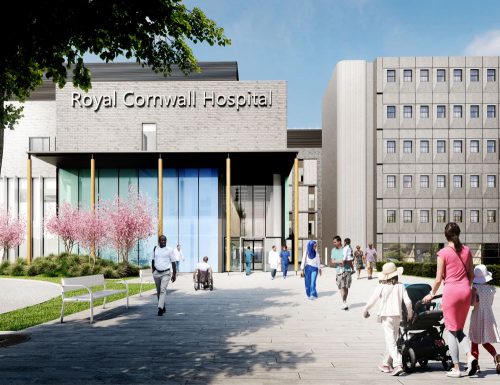 The Royal Cornwall Hospitals Trust is a step closer to being able to deliver a new Women and Children's Hospital for Cornwall.
The trust has appointed building firm BAM as its principal supply chain partner.
The proposed new building has been designed to bring together the hospital's maternity services, neo-natal and paediatric care, obstetrics and gynaecology services within one, state-of-the-art facility.
It will also be the location for the hospital's new main entrance, transforming the layout of the current site in Truro.
The programme, which has expanded in scope since its inception, is starting with the demolition of six derelict houses to create the space for a works compound for BAM whilst major enabling and building works for the new hospital are carried out over the next six years.
Work is also underway to relocate car parking for patients and visitors, another key enabling project in progressing the wider programme.
The Women and Children's Hospital is part of the Government's New Hospital Programme, which is focused on delivering 48 new hospitals across England  by 2030.
These hospitals are being built to national standards using modern methods of construction, with environmental features throughout to support the NHS's carbon net zero ambitions.
Smart digital innovations and enhancements are also planned for the scheme for example, creating sensory and interactive play areas, systems to connect families and carers remotely in the delivery of care, and enhancements to the management of patient call systems.
Graham Kingdon, construction director (Western Region), for BAM Construct UK said: "What makes a building come to life from the outset is the strength of understanding between all the parties.
"That is what drives our ability to innovate, find additional sustainability solutions, and add value to the local economy and communities. Our goal is to deliver the new hospital to agreed timescales,  solving  problems as we go through the intelligent use of technology."
Royal Cornwall Hospitals NHS Trust chief executive Steve Williamson said: "Over the last four years, there has been an immense amount of hard work undertaken behind the scenes, not just here at our hospitals, but also with our partners at NHS England, the Department of Health and Social Care and, more recently, with the New Hospital Programme teams.
"We're delighted to see the plans for our Women and Children's Hospital Programme progress to this stage, and to witness the start of the initial enabling works."
Health Minister Lord Markham said: "This is a significant step for people in Cornwall being able to access a new Women and Children's Hospital to improve the care being delivered to the community.
"The new building will bring multiple services under one state of the art facility, including maternity services, neo-natal and paediatric care and obstetrics and gynaecology services.
"This is yet another example of the government delivering on our commitment to provide state of the art facilities for NHS patients."