Pioneering businesswoman lands prestigious NHS fellowship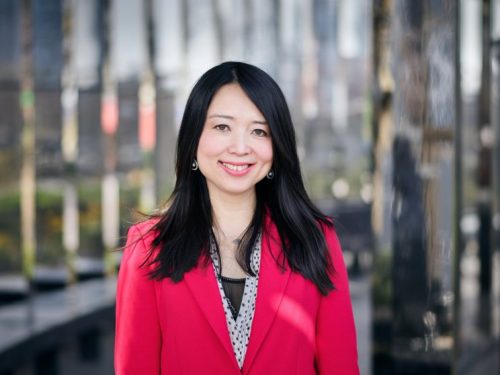 A breastfeeding and parenting support app has been named one of 17 high impact innovations to join the NHS Innovation Accelerator (NIA).
Dr Chen Mao Davies, founder and chief executive of Anya, has been awarded an NIA fellowship that will provide the opportunity to engage with policy makers and leading influencers, to gain a deeper understanding of the needs, challenges and possibilities for digitally enabled care across the health and social care system.
This year's cohort of 17 Fellows brings the total innovations supported to 85, with 60 having scaled internationally.
The Anya app is an innovative solution that uses interactive 3D technology and AI to deliver parenting and breastfeeding support 24/7.
Gloucestershire based Anya delivers evidence-based, expert- backed support and peer communities, helping parents throughout their journey to parenthood, across 1001 days from conception through to toddlerhood.
Dr Davies developed the app after experiencing her own significant physical and mental health challenges with her firstborn.
She developed Anya alongside world-class healthcare specialists, AI experts and visual effects creators, and subsequently left her BAFTA and Oscar-winning Hollywood Visual Effects R&D career to focus on developing this technology to support parents with innovation and empathy.
She said: "After I became a mother, I discovered that innovation is needed in public health. It was always my dream to be part of Hollywood, but I found I could do something more; I could change people's lives.
"The more I spoke to mothers about it, the more it made me feel that this was to become my mission. If I don't do it, who else will?".
Anya has supported parents in over 100 countries and is the top-rated breastfeeding app in the ORCHA digital library.
Independent analysis of NHS pilot data has shown Anya has seen its users breastfeeding at double the national average.
Anya offers support to families when and where it is needed, 24/7.
Following a successful pilot, Anya has secured partnerships with NHS providers and health systems across the UK and is now available to a population of over 4.3m.
Anya is also partnered with employers, and is working with insurers and benefits companies, to provide its innovative support to parents through their employer.
This Fellowship marks the sixth prestigious achievement awarded to Anya, winning 4 Innovate UK funding competitions including the prestigious Women in Innovation Award and the SBRI Healthcare and NHS England Phase 1 funding to tackle health inequalities in maternity care.
The NIA programme will support further Patient and Public Involvement and Engagement (PPIE) and product R&D work, enabling the development of increased AI-powered personalised support, app features that improve continuity of care, and joined-up antenatal and postnatal support.
Amanda Pritchard, Chief Executive of NHS England said: "We need innovation now more than ever before. If we think about the increasing level of demand on the NHS, innovation is not just a nice to have, it's an essential if we are going to do what we need to for today's patients but put ourselves in the best possible position to care for tomorrow's patients as well."