Green energy firm enjoys strong start to year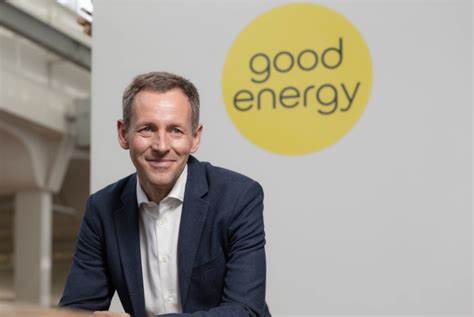 Profits have soared at renewable energy firm Good Energy due to an increase in wholesale energy prices.
Revenue increased 45.6 per cent to £156m in the last six months driven by rising wholesale costs leading to price rises throughout the year.
Gross profit increased at the Cirencester firm by 168 per cent to £32.7m with a gross profit margin of 20.9 per cent.
Gross profit increased due to a strong first half performance and cost advantages from power purchase agreements.
However, the company anticipates a one-off loss in the second half due to lagging commodity costs and tariff reductions.
The acquisition of WessexECO Energy in June, an established UK based solar installation business, was completed  for £2.5m.
Full year expectations remain unchanged, with a strong half performance partly offset with an expected one-off loss in the second half of the year.
Nigel Pocklington, chief executive, said: "Good Energy has hit an inflection point in the past six months. The company is now more than an energy supplier, it's a heat pump and solar installer with over 40,000 customers live on smart export tariffs. Combined with continued strong growth in Zapmap, we are delivering our strategy and well on our way to achieving our mission of helping one million homes and businesses cut their carbon.
"We have made great strides through acquisitions to offer new hardware services and launching new services whilst delivering a positive performance for the first half of the year as we continue to navigate a volatile energy market.
"Our robust cash position serves dual purposes: enabling strategic growth initiatives and providing a buffer against market uncertainties. Whilst we expect some of the energy trading factors which have bolstered profit to unwind through the remainder of the year, we are in a very positive financial position for Good Energy to continue to grow and capitalise on its untapped potential.
"With its legacy as a truly renewable supplier serving one of the UK's largest solar microgenerator customer bases, Good Energy is uniquely positioned to continue to launch and grow services that make it easy for customers to go green. Our goal is to be a one-stop solution for green-minded customers, offering a suite of products that help them reduce carbon, save money, and stay with us longer. By focusing on multiple product areas that function harmoniously, we aim to lower churn rates, cut acquisition costs, cross-sell services and boost the overall lifetime value of our growing number of customers."
Good Energy is a supplier of 100 per cent renewable power and an innovator in energy services. It has long term power purchase agreements with a community of 1,700 independent UK generators.
Since it was founded over 20 years ago, the company has been at the forefront of the movement  towards a cleaner, distributed energy system