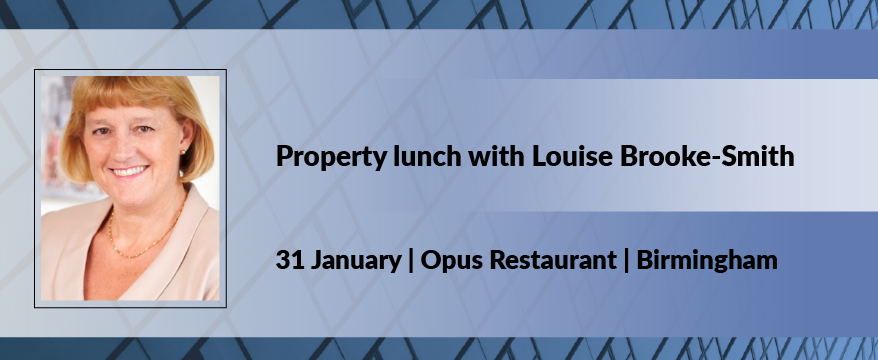 Friday
31 January

12pm – 3pm
£ 45+VAT
includes a welcome drink and two-course lunch

Opus Restaurant, Birmingham, 54 Cornwall St, Birmingham B3 2DE
A commercial property specialist with over 30 years' experience is set to be the guest speaker at TheBusinessDesk.com's next West Midlands property lunch.
Dr Louise Brooke-Smith OBE has worked within two City Councils, a national property agency, a major housebuilder, and the UN – before establishing a national, award-winning planning consultancy firm. On selling that consultancy to Arcadis, Louise became a partner and UK head of development & strategic planning.
She stepped down from the Partnership earlier this year to take up a number of non-executive directorships and international advisory positions, all relating to the built environment, property and infrastructure. Her portfolio includes listed companies and regeneration bodies and her commercial clients include Government departments, major developers, global property investors and sovereign wealth funds.  
In June 2019 Louise was awarded an OBE for services to the built environment and to diversity and inclusion – recognition for her passion for equality across the construction and development industries. 
Louise will be talking about what we can learn from other professions and other locations, and what will be critical for the land, property and construction sector to have in its sights, through 2020 and beyond.