Pebble Mill hospital plan given the green light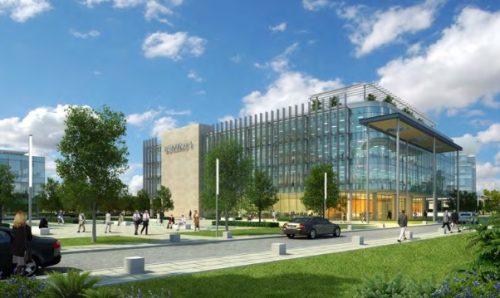 Plans for a new hospital or research facility on the site of the former BBC studios at Pebble Mill has been approved by the city's planning committee.
The new facility is set to form an integral part of the Edgbaston Medical Quarter.
Pebble Mill Investments, a wholly-owned subsidiary of Calthorpe Estates, plans to develop the 5,000 sqm building for either medical or research and development use.
The plans approved replace an approved-development which was never progressed and for which planning consent had lapsed.
The new five-storey building would link into previously authorised infrastructure as well as with the new dental hospital and the already approved Circle Hospital, construction of which is due to start shortly.
The design brief  for the revised development said the context for investment in medical and life sciences had not changed greatly since the last application to develop the site in 2013.
It said there had continued to be investment into the sector, mainly through the Greater Birmingham and Solihull LEP's Local Growth Fund. This has funded a new life sciences academy in partnership with Bournville College and a new life sciences campus adjacent to the University of Birmingham and the Queen Elizabeth Hospital.
"Having considered the surrounding context within which the Pebble Mill site is situated it has become apparent that there are very real opportunities to create effective and efficient links between medical technologies, research and treatment within the overall framework of the Edgbaston Medical Quarter," stated the document.
"It is in this context that Calthorpe Estates wishes to reconfirm the appropriateness of a medical use for this part of the site, as part of the wider Medical Park."
While standing five storeys' tall, the building would still be less of a presence than the former television studios.
The site has been vacant since 2003 when the former BBC studios were demolished. The former regional development agency – Advantage West Midlands – sought the redevelopment of the site to support the wider regional spatial strategy.