St. Modwen submits plans for new leisure quarter at Longbridge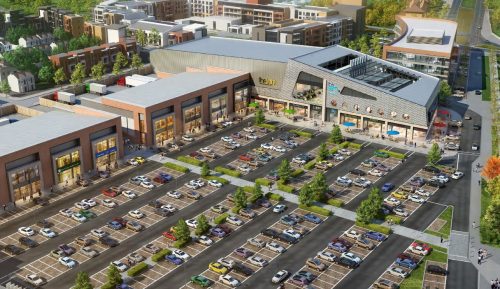 Plans for a massive new leisure scheme at the heart of its Longbridge Town Centre complex have been submitted by developer St. Modwen.
The proposals form phase three of the new town centre and proposals include a two-storey nine-screen cinema – to be operated by The Light, a gymnasium – operated by The Gym – and half a dozen new restaurants.
St. Modwen said the intention was to create a 'leisure quarter' to help sustain the town centre concept.
The application site extends to a total area of 0.66 hectares and is bounded to the north by Austin Park, to the west by Austin Avenue, the project's Phase Four site and the roundabout that links the A38 Bristol Road from the M5 towards Birmingham City Centre with Lickey Road, to the south by the soon to be completed Extracare retirement complex and a site proposed for family housing.
To the east, there will be a new town centre surface car park, with the western half of the parade taken up by large format retail units and their associated service yard.
In its design statement, St. Modwen said: "The application proposals provide for a further viable and deliverable phase of the new town centre, and, continue the wider re-development of Longbridge.
"Although they (the new units) are physically attached to the end unit of the western block of large format retail units (currently occupied by Smyths Toys), forming part of the second phase of the new town centre, they have been designed to be developed as entirely stand alone in terms of both use and function.
"They will ultimately share the service yard used by the western block of large format retail units, but will nonetheless seamlessly integrate with the existing situation and will not prohibit the development of further phases of the wider area over the coming years."
It adds: "With the establishment of the first and second phases of the new town centre, the construction of the Extracare retirement complex, and the outline proposals for residential development immediately south of the new town centre, the most complimentary use for the phase three situation is leisure."
The new development aims to capitalise on the views available within the application site, particularly towards Bournville College and across Austin Park, or towards the Marks & Spencer department store. As such, the proposed buildings would feature large windows.
The restaurant units would be positioned at ground floor with views offering as much 'active' frontage towards the town centre and Austin Park as possible.
The developer has supported the application with a series of reports outlining the environmental impact of the scheme and the use of potentially contaminated land from the car factory which used to occupy the site.