Two national firms make move to Coventry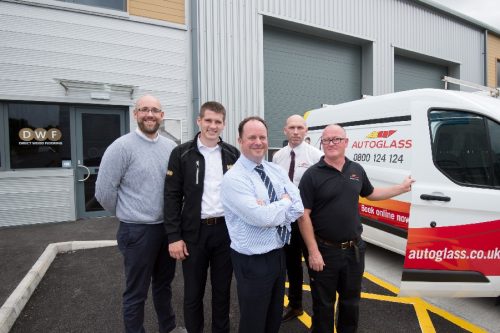 Two national companies, Autoglass and Direct Wood Flooring & Grass Direct, are moving into state-of-the-art units at a trade-only business park in Coventry.
Their arrival means nine of the 14 units at Pilot Trade Centre at Toll Bar End are occupied with "interest strong" in the remaining outlets which range from 1,500 sq ft to 5,500 sq ft, said agent Bromwich Hardy.
Autoglass is opening a calibration centre for Advanced Driver Assistance Systems (ADAS).
Ten specialist technicians will be based at the 2,500 sq ft unit.
Mark Andrews, regional operations manager at Autoglass, said: "We are really excited about the new addition to the Autoglass ADAS calibration network. Many vehicle manufacturers state that the cameras and sensors the systems rely on need to be calibrated following a windscreen replacement.
"We chose to locate at the Pilot Trade Centre because it is close to the Coventry Airport Retail Park and convenient for customers wanting to do a spot of shopping while they wait for the work on their car to be finished."
Direct Wood Flooring & Grass Direct, which will stock wood flooring including laminate and solid and wood floorings as well as artificial grass products, is part of Connection Retail.
The opening of the 5,000 sq ft unit in Coventry in late July or early August follows hot-on-the-heels of its units in Birtley in Tyne and Wear, Bracknell in Berkshire and Thurrock in Essex.
Dan Foskett, managing director of Connection Retail, said the Coventry outlet was part of a strategic move to open 150 units across the UK.
"We have grown really quickly over the last five years and from day one, we have tried as a company to ensure people have a good experience whether shopping online or now in our outlets," he said.
David Penn, of Coventry-based Bromwich Hardy, said enquiries remained high for the remaining units in the second phase of the development at the Pilot Trade Centre.
"We have now let nine of the 14 units to companies who are looking to expand and continue their strong sales growth," he said.
"We are receiving enquiries for the five units that are left so there is still plenty of interest in this second phase of the scheme.
"To have attracted nationwide companies Autoglass and Connection Retail emphasises the calibre of the units which have been built."