Accountancy practice is latest to join growing Baldwins network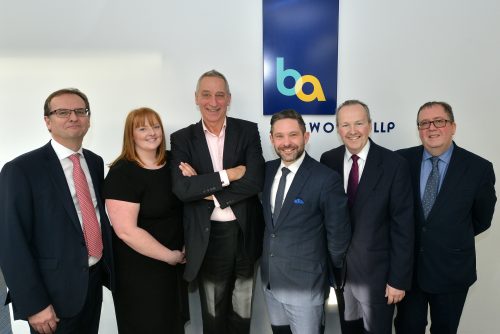 Business advisory firm Baldwins has acquired a Stockport-based accountancy practice, for an undisclosed sum, to strengthen its regional footprint in the North West.
Booth Ainsworth, which was formed in 1959 and has been based on Greek Street in Stockport since 2002, is the latest professional services firm to join the Walsall-based Baldwins Group – a Cogital Group company.
The 60-year-old firm, with a 100-strong workforce, services more than 2,500 SMEs and private clients across Cheshire and Manchester, with an annual fee income of £5,000,000.
The last 12 months has seen Baldwins grow to 84 offices across the country as part of its national strategic expansion plan, employing more than 2,500 staff with an annual turnover of around £170m.
Baldwins' deal with Booth Ainsworth firmly puts the Baldwins Group on the map in the North West, with bases now in Stockport, Manchester, Bolton, Rossendale and Lancaster, from which the group is expecting to continue its growth.
The Stockport-based firm will continue to trade as Booth Ainsworth, part of the Baldwins Group, and will have access to an even greater range of services based in the North West, such as corporate finance, banking and finance, software solutions and restructuring.
All of Booth Ainsworth's existing partners will continue to manage the firm and drive its continued growth, supported by its current workforce.
Don Bancroft, managing partner of Booth Ainsworth, said: "Joining forces with Baldwins gives us a springboard for further growth that will enable the firm to enhance its service offering while providing fantastic opportunities for our staff.
"This opportunity with the Baldwins Group provides us with greater regional coverage and significantly enhances the resources we will have available to us to service our clients, while also providing a one-stop-shop for business advice.
"Making Tax Digital is a prime example where Baldwins, who are backed by The Cogital Group and their technological expertise, will help us deliver client-focused solutions."
He added: "It is business as usual for all of our workforce and clients as we embark on an exciting period of further growth and development."
David J Travis, regional managing partner of Baldwins, who also led on the transaction, said: "Booth Ainsworth has an excellent reputation in the owner-managed entrepreneurial market.
"The acquisition provides Baldwins' North West group with a superb gateway into South Manchester and Cheshire whilst complementing our other North West offices.
"We are delighted that Booth Ainsworth has a very similar culture to ourselves and we all look forward to working together and to the wider opportunities it will bring for our clients and staff."
David Baldwin, director at Baldwins, added: "This is a significant acquisition and is taking the Baldwins Group's expertise to an even greater level in the North West, following the recent acquisitions of CLB Coopers and Cassons in the region.
"We are excited that Booth Ainsworth has joined the Baldwins Group – the firm has a very strong and respected brand across the North West, and this move will give Booth Ainsworth the platform to grow further in the region by capitalising on the resources and additional services provided by the overall group."