Blaze hits former golf club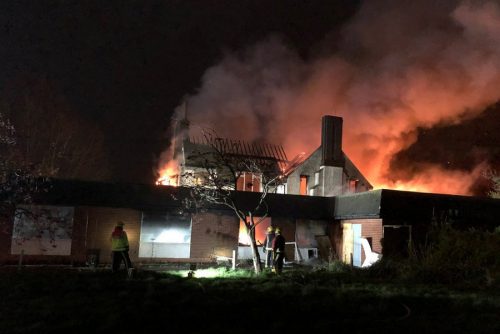 A blaze at a former golf clubhouse took more than 40 firefighters to extinguish, and the
The old North Worcestershire golf clubhouse went up in flames late on Sunday night. According to the West Midlands Fire Service Twitter account, six crews including teams from Woodgate Valley, Kings Norton and Billesley attended the large fire at the derelict clubhouse.
The cause of the fire is unknown and it will be investigated. 15 firefighters remained at the Northfield site yesterday (15 April) to check for hotspots, and stripping away incendiary materials.
The site has been at the centre of a controversial residential plan by Bloor Homes, which has had to scale down plans for the area which contains to golf clubhouse and course in efforts to gain approval for their plans.
Initial plans were rejected in 2018 by the council, and the developer came back with a revised plan for 800 homes instead of 950.
Fifteen firefighters remain at the former North Worcs Golf Club, Northfield where we responded to a fire at 8.41pm Sunday night. pic.twitter.com/rQTxrqQIbS

— West Midlands Fire (@WestMidsFire) April 15, 2019