People: Brace of Birmingham appointments for expanding consultancy; Software testing firm adds to new office; and more
An international consultancy specialising in property and construction has announced the appointment of a director to its expanding operations in the West Midlands.
MDA Consulting has appointed Gary Church, who has more than 30 years' industry experience.
He is a former director of Gleeds, a regional director of Capita Architecture and company sales and marketing manager for Willmott Dixon Construction.
He is the founder and chairman of Business for Birmingham, a members-only networking organisation for construction and property professionals.
Church will be responsible for leading MDA Consulting's Birmingham office and developing the consultancy's work in the education sector nationwide.
The company has also recruited David Hiley from Rider Levett Bucknall, as an associate. A specialist in healthcare consultancy, he spent 26 years at Holbrow Brookes Construction Consultancy, most recently as a senior quantity surveyor.
Church said: "I'm very pleased to have joined such a well established and ambitious consultancy at an exciting time in its development. MDA Consulting has a strong base of clients nationally, internationally and in the Birmingham area where the property sector is currently thriving. The company has a culture of innovation, collaboration and most importantly, an understanding of how to fulfil and exceed our clients' expectations. I'm looking forward to the challenge of steering the strategic direction of the Birmingham office and in building and maintaining relationships in new and existing markets nationwide."
MDA Consulting has worked on a string of high profile projects, including the conversion of the Grade II listed Baskerville House in Birmingham, the hi-tech headquarters of Lloyd's of London and the International Convention Centre Wales on behalf of Royal Bank of Scotland.
:::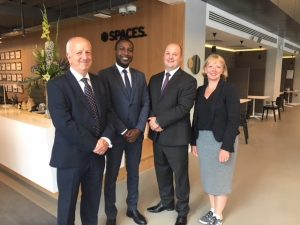 Software testing firm Edge Testing Solutions, part of Eurofins Digital Testing, has taken an office in Great Charles Street Queensway to house its growing Midlands team, including new hires Alex Griffin, business development manager and Justin Brown, service delivery manager.
Since setting up its Birmingham-base in 2014, Edge Testing has created 20 jobs in the region, with the aim of recruiting another 40 new team members over the next 12 months, including test consultants, test managers, test analysts and trainee testers to service its growing client base.
Having increased its team from six to 20, Edge Testing has moved from its Quayside Wharf offices on Broad Street to the larger premises, which offer the software testing company's expanding Midlands team a more central base with additional space to accommodate its continued growth.
David Singleton, regional manager for England and Wales at Edge Testing, said: "We established our Birmingham team five years ago and, over that time, it's successfully grown to become the second largest UK base, after Edge Testing's headquarters in Scotland.
"Our aim is to continue growing and we intend to do that by attracting new talent to the team, and providing the high level of support and service our clients have come to expect from us. To ensure that the business reaches its full potential, and delivers upon its UK-wide expansion objective, we have been significantly investing in our UK workforce, and sourcing experienced and committed team members. We're delighted to welcome Alex and Justin to our expanding Midlands team as they are both dynamic individuals who will help us build Edge Testing's reputation, and identify new business opportunities.
"Our move to this new office houses the whole team in a modern, bright office in a vibrant business zone, close to central transport hubs. It also provides us with comfortable break out areas, improved facilities and spacious meeting rooms for client engagements and presentations."
:::
A Leamington-based commercial property consultancy has added a new team member with more than 25 years' experience in the sector.
Rob Hawkins has been formally appointed by ehB Reeves, having previously worked for the firm on a consultancy basis.
He has been working in the commercial property sector for more than 25 years, in a range of roles including agency work, acquisitions, property disposals, property management and consultancy.
He joins ehB Reeves as part of its ongoing ambitions to grow its business reach, expanding the agency sector and the management portfolio, which is currently valued in excess of £100m.
Simon Hain, director at ehB Reeves, said: "We have ambitious plans to grow the agency and appointing Rob, with his many years of varied and valuable experience, is a step forward for that ambition.
"Rob has a proven track record in all areas of commercial property and we are sure this new arrangement will prove to be extremely beneficial for both parties."
:::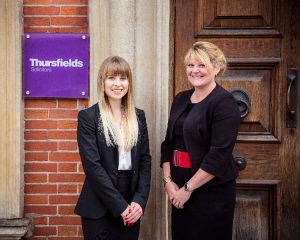 A woman who spent time on work placement with Thursfields Solicitors seven years ago has joined its expanding family team in Worcester as a legal assistant.
Abi Holden's received a first class honours in Law from Aston University and passed a Bar Professional Training Course at The University of Law in Birmingham.
Although she has trained as a barrister and is due to be called to the Bar at Lincoln's Inn this summer, Holden will now study the CILEx qualification to become a chartered legal executive.
She said: "I have decided to pursue the CILEx route into the legal sector as I wanted more client exposure and to be supported by such a successful and supportive team that exists at Thursfields.
"I came across Thursfields back in September 2012 when completing a work experience placement, and I left impressed with the company's high standard of professionalism and client care.
"This was my first encounter with family law and it fuelled my aspirations to become a family lawyer as I wanted to make a difference to people's lives when going through a difficult time."
Shane Miller, director of the family team at Thursfields, said: "We're delighted to welcome Abi back to Thursfields, nearly seven years after we first met her.
"She made an impression when she was on work experience and it's fantastic to see how well she went on to perform in her legal studies.
"We're confident she will make a great team member here in Worcester and I personally look forward to watching how her career continues to grow with us."