Walsall FC chairman steps down after 31 years at the club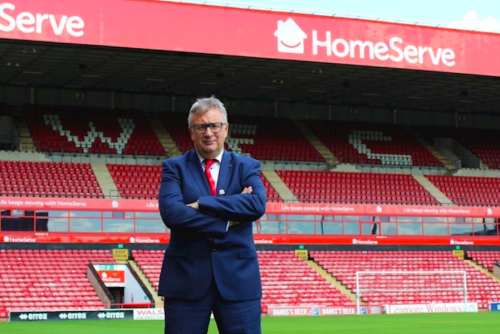 Jeff Bonser has stepped down as chairman and director of Walsall FC after a 31-year involvement with the club and his brother Robert has also stepped down as a director.
Leigh Pomlett has taken over as majority shareholder and chairman of the club after acquiring a 76% Majority Shareholding from Bonser.
As part of the deal the two parties have negotiated an 'Option to Purchase' the freehold to reunite it with the Club.
Bonser joined the club as a Director in 1988 before becoming a major shareholder in June 1991 and chairman the following September.
During his time at the helm, he has overseen the development and subsequent redevelopments of the Banks's Stadium, the acquisition of the club's first ever training ground and the most successful period in the club's history including a first trip to Wembley in 2015.
"I've thoroughly enjoyed my time," he said. "I'm a Walsall fan who grew up watching the Saddlers from the Hillary Street End at Fellows Park. To have been a custodian/Director for over 30 years has been an honour and a privilege.
"I will continue to be a supporter. I am looking forward to spending more time with my wife Karen, who has played a major role in the success we have experienced during our time together at the Club.
Walsall-born Leigh joined the club's Board of Directors in 2010 and is also a Walsall supporter since childhood.
He was Operations Director for BRS before moving on to Exel Logistics where he became President of their Automotive division based in the USA followed by a return to Europe as the CEO for Europe.
Following an acquisition he then became the CEO for DHL in Mainland Europe before moving on to CEVA Logistics as European President based in both Amsterdam and Zurich.
In 2015, Leigh was appointed Executive Director of CEVA and became President of the Freight Transport Association in 2016.
"This deal sees me take over as Major Shareholder and Chairman of Walsall Football Club but, just as importantly to me and the Club, Jeff and I have agreed a deal that will see the Club reunited with the freehold in due course.
"There is a platform here to move this club forward. My takeover of the club has been ongoing for a number of months, which has allowed me to work alongside my fellow Directors in making a number of strategic changes and appointments that have come to fruition.
Leigh will continue to work alongside CEO Stefan Gamble and Club Secretary Daniel Mole, as they review all aspects of the club.