Delay announced to Coventry's year as City of Culture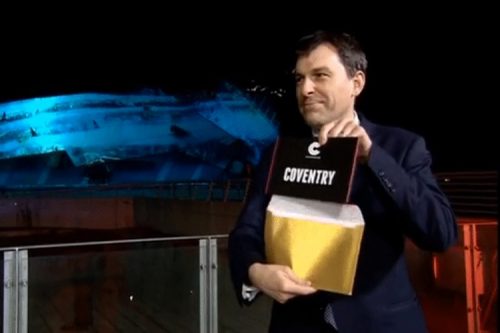 Coventry's year as UK City of Culture has been pushed back and will now start in May 2021.
Coventry City of Culture Trust announced the shift to May due to the Covid-19 crisis, allowing a fuller programme of public events that would otherwise not be possible had it begun at the turn of the year.
It also announced the first details of a major, signature event that will form a key element of the city's year-long party with a purpose which it says will bring a series of cultural, social and economic benefits to the city.
The major new event will be directed by the internationally-renowned Nigel Jamieson and Coventry Belgrade Theatre's Deputy Artistic Director Justine Themen, who played a major role in Coventry landing the UK City of Culture title.
The event, described as a mass city-wide celebration, will be co-created alongside thousands of residents of all ages from across the city whose music, performance and dance will weave throughout the epic event presented across hundreds of structures built by residents across the city.
Themen has lived and worked in Coventry since 2003, and has built a community engagement programme at the Belgrade which has had diversity and talent-development at its heart. She has a strong track record for co-creating work with communities and young people and for promoting and directing the work of writers of colour.
Jamieson is known for his set piece spectacles, including 'Tin Symphony' for the 2000 Sydney Olympic Opening Ceremony, the opening event of the European Capital of Culture celebrations in Aarhus 2017, and the citywide spectacular Roald Dahl's City of the Unexpected in Cardiff in 2016.
The wider Coventry 2021/22 programme is being created with local artists, the city's communities and national partners, and will include major international artistic events, world premieres and commissions across theatre, music, dance, literature, comedy and visual art as well as conferences and festivals.
Further details of the programme will be announced later this year after the unanimous decision to move the start date to May decision was taken by Coventry City of Culture Trust and its cultural, civic and business and funding partners including Coventry City Council, WMCA and the Department for Digital, Culture, Media & Sport.
.
Martin Sutherland, chief executive of Coventry 2021, said: "We are delighted that we will be able to have a year of celebration – a time when the city and country need it most – and that the dates are now set in stone.
"The current crisis has hit our city, our region and our sector hard. Coventry 2021 will attract visitors to our city – creating an economic boost for the region – and will support artists locally. It will be a wonderful opportunity for the people of Coventry to celebrate and enjoy an incredible year of activity.
"With support and resources, the cultural community can play a significant role in the reset of the UK and we plan to shine a spotlight on culture's important role in this recovery."