National Express West Midlands launches first electric buses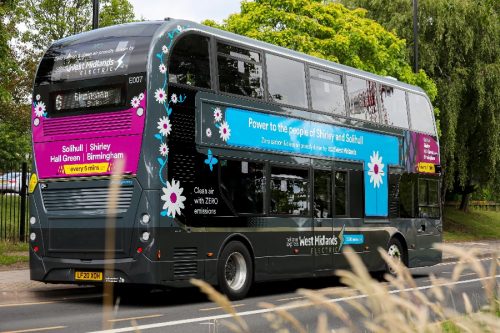 National Express West Midlands has launched its first electric buses on the 6 service between Birmingham and Solihull.
On Sunday, the company's first fully electric double decker left Yardley Wood garage to carry passengers on the route to Solihull via Hall Green and Shirley.
The bus was soon followed by others – there are 19 electric buses based in Birmingham and 10 more are arriving from Scottish manufacturer Alexander Dennis to National Express Coventry and will be out in service this autumn.
Tom Stables, managing director of National Express UK, said: "At National Express, zero-emission is not the future – it's the here-and-now.
"Earlier this year, we announced that National Express had bought its last diesel. Our bus fleet will be zero emission by 2030, and our white coach fleet by 2035.
"We're very proud that National Express is bringing fully electric buses to the people of the West Midlands. I'd like to thank all the drivers, trainers, engineers and managers who have worked so hard behind the scenes to make this happen."
National Express West Midlands was awarded £3m by the government in 2016 to help fund the extra cost of an electric bus and the necessary equipment, and the bus company has invested £11m in the project.
Birmingham City councillor Waseem Zaffar, cabinet member for transport and environment, said: "These vehicles produce zero carbon emissions at the tailpipe and are powered by renewable energy. This is a significant step towards cleaner air in Birmingham and achieving a net-zero carbon by 2030.
"It's a privilege and a pleasure to see them in operation and I welcome the addition of more electric buses on more routes in the future."