'Uber of architecture' set to launch major recruitment drive in Birmingham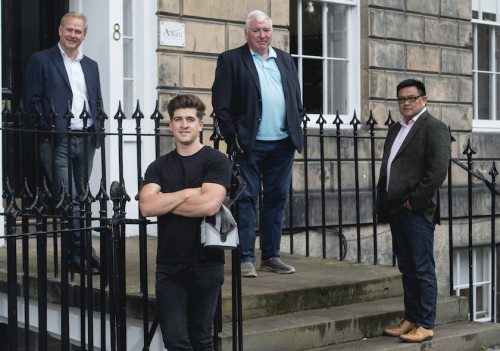 A major cash investment has meant start-up architecture practice HOKO is set to launch a major UK expansion plan – beginning in Birmingham.
A group of investors, led by Warren Gee, the chief portfolio officer at private equity firm Cairngorm Capital, Barclay Gilmour's Donald Wilson and executive director of long-term equity investment business Saracen fund managers, Graham Campbell, has backed entrepreneur Danny Campbell to transform the industry with his platform which has been described as "the Uber for architecture".
The £400,000 raised will allow Campbell to start recruiting in Birmingham, Bristol and London.
Campbell says HOKO is preparing to employ more than 30 people across the UK by the end of the year in a bid to become the UK's leader in residential architecture.
He aims for HOKO to be listed on the AJ100 by 2022, which would mean turnover of more than £4m and more than 30 architects employed.
He said: "This investment will accelerate our ability to scale across the UK. I now have a team of experienced businesspeople behind me, who can help guide me on this exciting journey.
"As an architect, I was incredibly frustrated by residential architecture being an afterthought throughout education, while the customer journey for anyone wishing to extend or convert their home is confusing, inefficient and extremely unfulfilling.
"There's beauty in small projects. We work with homeowners to make their dreams a reality with creative architecture and trusted relationships.
"Our platform makes it easier for architects to spend their time on delivering amazing designs rather than admin, making it more cost-effective for clients and more fulfilling for everyone involved. Our entire process and ethos is built around making homeowners happier in their homes."
After having spent most of his career building technology-enabled businesses, Warren Gee, who played a lead role in building the FNZ group into an international market leader, believes HOKO can disrupt a big, but underserved market.
He said: "I believe people deserve a great service when spending a significant amount of their hard-earned money. Using technology at the core of its process, HOKO simplifies the often stressful and costly customer experience of an extension or conversion.
"I have a passion for seeing businesses develop to exceed their customers' expectations. What excites me most about HOKO is that we won't just help customers, but also create opportunities for architects to build a rewarding career in a sector which is currently struggling. With the simplicity and ingenuity of its process, there's a huge opportunity in the ability to scale."
Donald Wilson, who established Barclay Gilmour Partners in 2013 with a vision to help business growth opportunities by providing experience-based advice and financial support, added: "I believe there's an opportunity for a digitally focused, innovative business model targeted towards extensions and conversions to support the UK residential property market.
"Given the personal attributes and strength of character of Danny Campbell, I believe he's the person to do just that. Danny can drive HOKO to become the UK's most recognised brand for residential architecture."