Jobs set to be created as manufacturer invests six-figure sum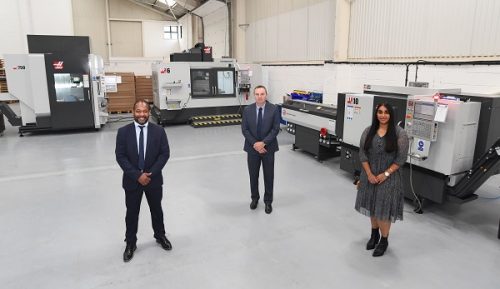 A Warwick-based automotive business has invested a six-figure sum in state-of-the-art machinery and is set to create jobs on the back of the investment.
Opus International Products in Hiron Way on the Budbrooke Industrial Estate, which is an automotive component manufacturer for premium car manufacturers, was looking to invest £340,000 in additional machinery.
Managing director Rob Coles approached Martin Nwangwa at the Coventry and Warwickshire Local Enterprise Partnership (CWLEP) Growth Hub regarding financial assistance and he referred him to Coventry City Council's Economic Development Service team.
That led to a successful application for £50,000 from the Coventry and Warwickshire Business Support Programme's Investment Fund, which is part funded by the European Regional Development Fund.
Opus International Products is now the proud owner of a 5-axis CNC machine, a 3-axis CNC machine and a CNC lathe with an automatic bar feeder for the production of machined aluminium, plastic and stainless-steel components at their manufacturing facility.
The business has started providing training to existing staff in the programming of the machines and the production of the parts, and plans to double its workforce by moving from a single shift operation to a two or three shift operation as demand increases which will lead to six new jobs being created.
Coles said buying the machines meant work no longer needed to be outsourced.
"These CNC machines use the latest technology and we can programme them through our CAD software remotely and leave them running all night," he said.
"We wanted to invest in these machines because we had a great deal of contracts for CNC machined products which we were out-sourcing overseas, mainly to China.
"We have now been able to bring the work in-house which is significantly reducing lead-times, saving on freight costs and providing a greater degree of control over the quality of the products.
"It has also created additional capacity for us to increase the sales of this type of product with our existing customers and to seek new customers within the automotive sector and potentially other sectors.
"Martin at the Growth Hub facilitated a conference call with Coventry City Council, and he assisted us with completing the application because we only had a short deadline before the panel was meeting to assess grant applications and his help was really appreciated.
"Before the national lockdown in March, we had had our strongest sales performance ever and that helped us through the worst of times in June and July when we were unable to trade.
"We used the Coronavirus Job Retention Scheme and we took out a Coronavirus Business Interruption Loan Scheme to put working capital into the business and we're now looking forward to a strong end of the year and in the first half of next year, we think we will be further forward from the levels of pre-Covid so the future is looking positive."
Martin Nwangwa, account manager at the CWLEP Growth Hub, said it was great to see the three new machines in action at Opus International Products.
He said: "The team is now back to full strength and the machines are proving to be a great investment since orders are increasing all the time.
"The application process proved to be very quick and we are always available at the Growth Hub to not only make companies aware of grants that they are eligible to apply for but also to help with filling in the forms which can be daunting if businesses have not done it before."
Kierandeep Bal, business development advisor at Coventry City Council, added: "The Business Support Investment Fund programme is open to businesses throughout Coventry and Warwickshire.
"To accommodate these machines, an increase in production space was required. Opus currently lease units 9, 10 and 11, but there was a dividing wall between units 10 and 11 so the plan was to remove the partitioning wall to open up the usable production space, which increased the current floorspace from 12,000 sq ft to 18,000 sq ft, allowing room for all three machines which is really positive news. It has been a pleasure supporting Opus with their growth plans."