Birmingham hospitality sector urges mayor to form 'united front' against Government proposals

A group of businesses from the Birmingham hospitality industry have urged council leaders and other officials in the West Midlands to form a united front to the Government in the face of any new regulations which are imposed after the English national lockdown ends next week.
The group of almost 40 bars, pubs and restaurants have written an open letting to West Midlands mayor Andy Street saying that the next two days will be "critical" for the hospitality industry.
The letter adds: "[The regulations] pose a significant threat to those remaining hospitality businesses as we struggle to survive the second wave of the pandemic.
"We believe that this significant threat to our survival can be averted if council leaders in the major metropolitan conurbations present a united front in the next two days to question the Government's rationale in determining that hospitality environments present greater risks to Covid transmission compared to, for example, retail environments.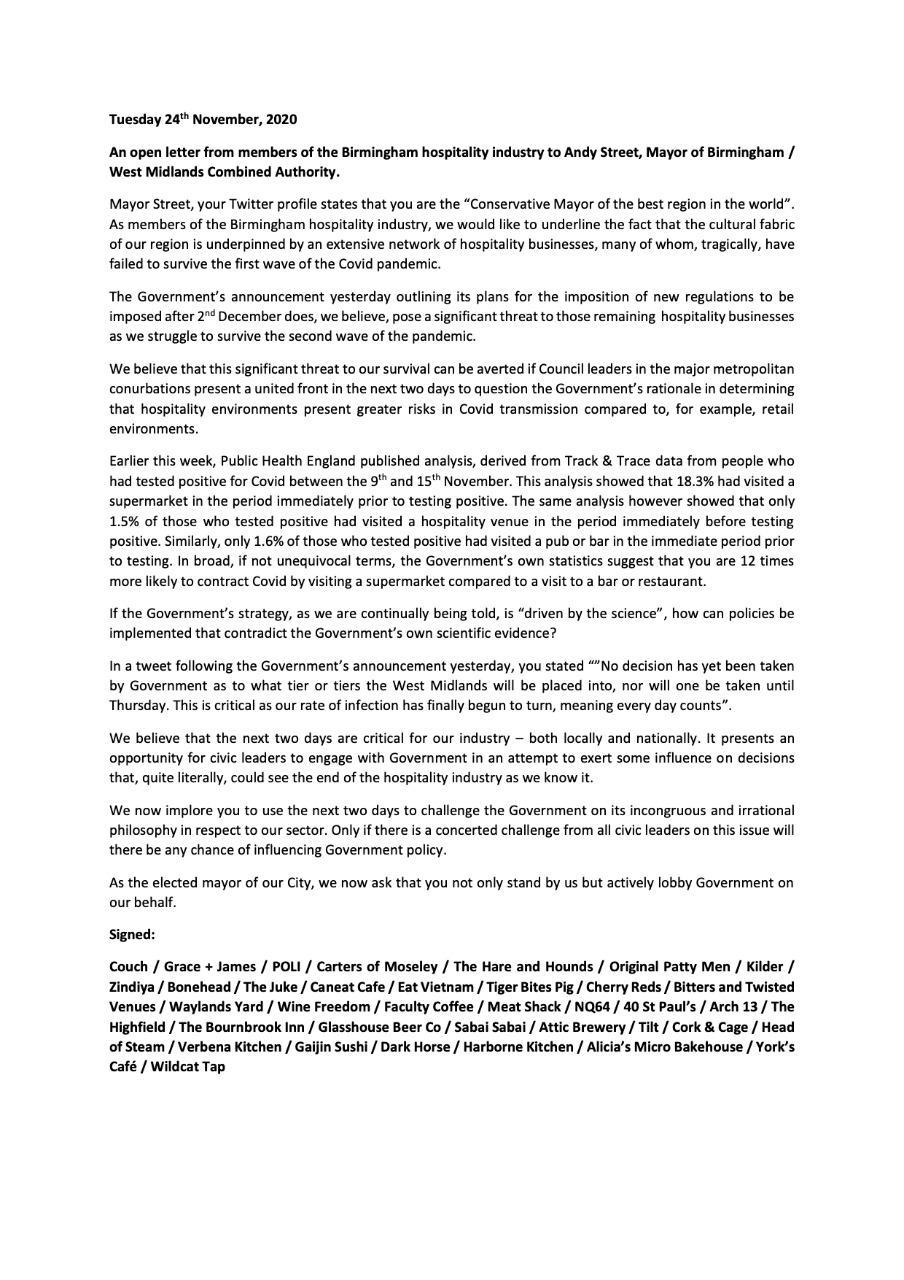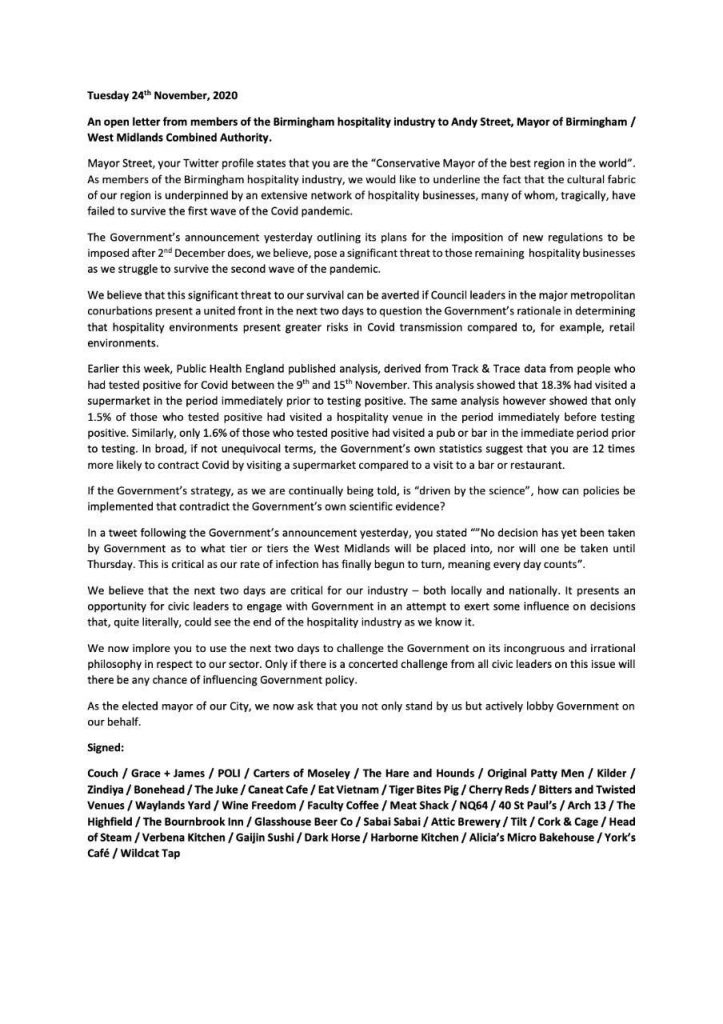 An announcement will be made on Thursday by the Government as to which areas will return to which tiers once the national lockdown ends next week.
The letter continues: "We now implore you to use the next two days to challenge the Government on its incongruous and irrational philosophy in respect to our sector. Only if there is a concerted challenge from all civic leaders on this issue will there be any chance of influencing Government policy.
"As the elected mayor of our city we now ask that you not only stand by us but actively lobby Government on our behalf."
In response, Street put out a statement saying: "Thank you to all of you who have signed the hospitality letter to me. I know how critical the sector is, which is why I fought so hard to get extra financial support when the West Mids first entered T2. The grants secured can be backdated, so please make sure you claim them.
"Thursday's decision by the Government will be made based on the health data, but I am ready to fight for extra financial support again if required.
"However just because I don't rush to a microphone, does not mean I am not fighting your corner. Sometimes it is more effective to lobby and negotiate in private, but I am always standing up for the West Midlands and the people I represent."
The letter has been signed by the following venues: Couch; Grace + James; POLI; Carters of Moseley; Bonehead; The Juke; Caneat Cafe; Eat Vietnam; Tiger Bites Pig; Cherry Reds; Bitters and Twisted Venues; Waylands Yard; Wine Freedom; Faculty Coffee; Meat Shack; NQ64; 40 St Paul's; Arch 13; The Highfield; The Bournbrook Inn' Glasshouse Beer Co; Sabai Sabai; Attic Brewery; Tilt; Cork & Cage; Head of Steam; Verbena Kitchen; Gaijin Sushi; Dark Horse; Harborne Kitchen; Alicia's Micro Bakehouse; York's Cafe; Wildcat Tap.