Andy Street re-elected as West Midlands Mayor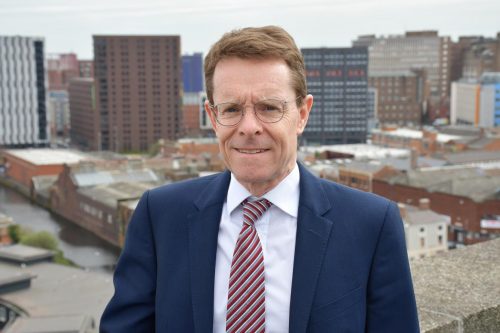 Andy Street has been re-elected as West Midlands Mayor, continuing a strong electoral performance for the Conservative Party.
Street has been a popular mayor amongst the region's business community, and widely seen as having done a good job aided by a Government that looks after its own.
But his margin of victory – beating Labour's Liam Byrne by 47,000 votes in the second round, 54% to 46% – would have been considered a surprise 18 months ago when the mayoral campaigns began.
In his victory speech on Saturday night, Street said: "I want to thank everyone else who has come on board over last four years and shares our vision for – and belief in – the renewal of the West Midlands.
"It's that growing sense of unity and purpose that makes me certain we will succeed.
"There is no question that the West Midlands faces serious challenges after the impact of Covid, and we have no time to waste in addressing the deep-seated issues exposed by the pandemic.
"But equally there is no question that the West Midlands will bounce back strongly and that we will create the dynamic, meritocratic, inclusive society we all crave."
Byrne had been chosen as his Labour opponent and his previous Cabinet experience and distance from former leader Jeremy Corbyn were seen as electoral strengths.
The elections were then delayed because of the pandemic and Street appears to have benefitted from a vaccine bounce that has lifted the Conservatives nationally as well as another underwhelming Labour mayoral campaign.
This time Street fell less than 8,000 votes short of winning on first-preference votes, securing 48.7% of the 614,380 votes cast. Byrne received 39.7%, with the two then going into the second round with 70,693 second-preference votes up for grabs.
Green Party candidate Steve Caudwell came third with 35,559 (5.8%), Jenny Wilkinson from the Liberal Democrats received 21,836 votes (3.6%), and Pete Durnell from Reform UK got 13,568 (2.2%).
Turnout was 31.2%, compared with 26.7% in 2017.
In 2017, Street beat the largely-invisible Sion Simon in the final round of voting by just 4,000 votes out of 470,000, a margin of just 0.8%.
In that election Street ran more on being the John Lewis candidate (he had been the managing director for nearly 10 years before stepping down to enter politics) than the Conservatives, and he has continued to try and stay outside of the party political fray. His official website's home page only references the Conservative Party in its footer.
But his strong performance was part of a good set of elections for the Conservatives, both in the West Midlands and nationally.
It strengthened its control of Solihull and Walsall councils, made gains in Wolverhampton and Birmingham, and won seats on Sandwell Council for the first time in six years.
First round voting
299,318 (48.7%) – Andy Street, Conservative
244,009 (39.7%) – Liam Byrne, Labour
35,559 (5.8%) – Steve Caudwell, Green
21,836 (3.6%) – Jenny Wilkinson, Liberal Democrat
13,568 (2.2%) – Pete Durnell, Reform UK
The top two – Andy Street and Liam Byrne – went through to the second round, with the second preferences of the other three candidates allocated.
Andy Street needed a maximum of 7,827 second-preference votes from 70,963 available, although many voters do not express a second choice so the expected total needed is likely to be lower.
Second round
15,351 – Andy Street, Conservative
23,617 – Liam Byrne, Labour
Totals (First round + second round)
314,669 (54.0%) – Andy Street, Conservative
267,626 (46.0%) – Liam Byrne, Labour