Data centre reaches practical completion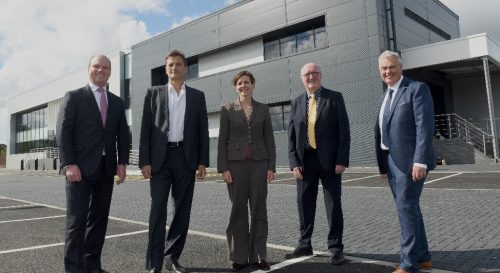 Developer Stoford has reached practical completion of an energy-efficient data centre at Worcester Six Business Park for one of Europe's largest data-hosting companies.
The 43,708 sq ft unit for IONOS, and Fasthosts, its subsidiary UK brand, provides a 30,729 sq ft data centre and 12,978 sq ft of ancillary offices.
Gerard Ludlow, director at Stoford, said: "We've made superb progress on this data centre for IONOS and are pleased to announce we have achieved practical completion.
"We are proud to have delivered Wychavon's first data centre for IONOS and the environmentally friendly facilities are testament to the company's quest for sustainability, something that we at Stoford are also keen to pursue across all of our sites.
"As Worcester Business Park continues to take shape, it has gained a well-deserved reputation as a first-class site that is attracting global names to the region. Its strategic location and excellent transport links demonstrate that companies recognise it as a place to grow and do business."
Sab Knight, head of UK sales at IONOS, said: "The new Worcester site is crucial for IONOS' growth in the UK and shows our commitment to further invest in infrastructure and jobs.
"We are very happy that the building was completed on time and have already started the technical fit out of the data centre in what will be the most modern and environmentally friendly IONOS data centre to date. The Worcester Six site will start operation in the first half of 2022 and will host one of the most advanced cloud platforms in Europe."
IONOS manages more than eight million customer contracts and hosts more than 12 million domains in its regional data centres around the globe.
The IONOS group operates in 15 countries around the world and employs 3,500 people worldwide.
In the past three years, Worcester Six has welcomed Marmon Food and Beverage Equipment, Siemens, Spire Healthcare, Kimal and Kohler Mira.
Once fully developed, the business park will provide 1.5 million sq ft of accommodation.