Embracing healthcare disruption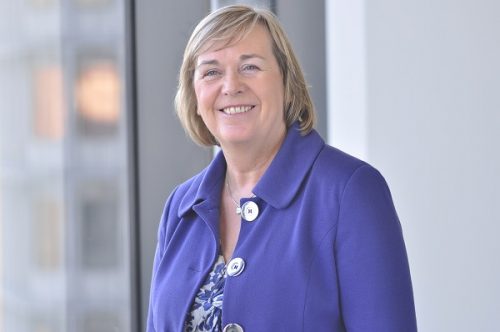 By Karen Taylor – Research Director of the Centre for Health Solutions at Deloitte UK
The last two years have opened the way for disruptive technologies to support the delivery of healthcare across Europe.
In the face of increasing demand – coupled with a decreased capacity to meet that demand – most policy makers and key healthcare stakeholders have acknowledged the case for digital transformation and have developed implementation strategies and policies.
The benefits of digital transformation and disruption within the healthcare sector are trifold: for patients, for clinicians, and for entire healthcare systems. It is already happening slowly in pockets but there is a need for adoption at scale. Not only can patients be empowered to monitor and self-manage their health, but the efficiency and effectiveness of many healthcare systems and processes can be improved.
With these aims in mind, between March and April 2020, Deloitte surveyed 1,781 clinicians to assess their use of digital technologies in seven European countries. Deloitte also interviewed 40 health care leaders from both the public and private sector to find out more about the extent of digital disruption across the healthcare industry.
The survey showed that different countries were at varying levels of maturity in technology adoption (Figure 1). However, our research also found differences in levels of adoption within countries.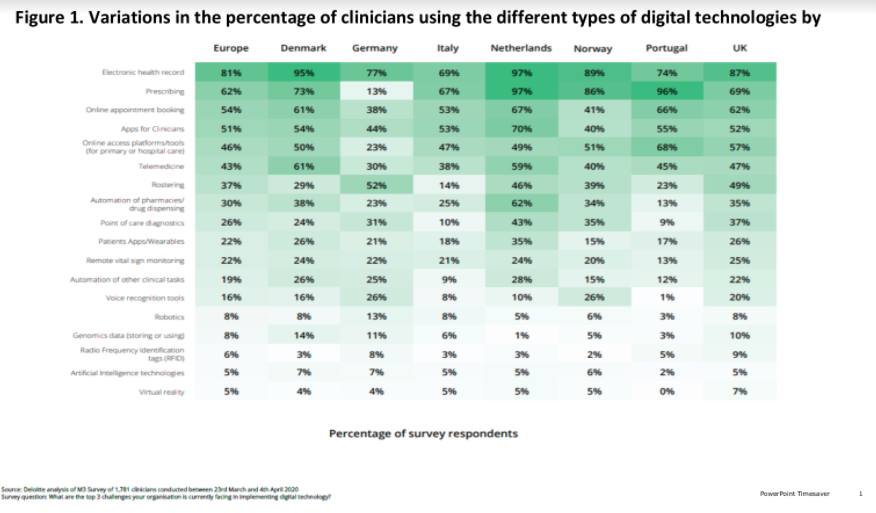 Unsurprisingly, enabling technologies, such as electronic health records (EHRs), were the most commonly used technologies, used by an average of 81 per cent of clinicians. Other technologies, such as on-line booking and telemedicine, were used by 51 and 43 per cent of clinicians respectively (importantly our interviews confirmed that adoption accelerated rapidly during the pandemic). More advanced technologies, such as genomics, robotics and artificial intelligence were used to support care delivery by less than 8%.
Another conclusion that can be drawn from the research is that health organisations across Europe face the same core challenges when it comes to implementing digital technology. For example, 57% of clinicians identified bureaucracy in healthcare as a top challenge facing their organisation, whilst 50.3% said the cost of technology was one of their organisations' top challenges.
In order to overcome these challenges and close the digital gap, healthcare providers need to focus on two main areas of transformation: changing the mindset (through developing the digital skills of leaders and strengthening governance) and liberating the data (focusing on connectivity, Open EHRs and interoperability).
But before these changes can be made, it is important to understand the characteristics that are needed to help improve technology adoption at scale. To summarise these key characteristics, Deloitte came up with the acronym SMART: Straightforward to use; Measurable impact; Agile solutions; Reliant on industry collaboration; and tailored to end-users needs.
What also became apparent, however, was that the pandemic has increased clinicians' willingness and need to work differently, as well as patients and carers willingness to adopt technology and engage with the health system in new ways. This is crucial for realising a future of health enabled by free flowing, interoperable data and open platforms.
Disruption in the healthcare system is inevitable – what matters more is how organisations respond. Ultimately, incumbents must decide whether to innovate as market leaders and drive transformation, or resist change. But with the help of SMART tools, combined with increased willingness to adopt innovative technology, healthcare disruption will undoubtedly continue to deliver improvements for years to come.