Birmingham will be "home to the future of the BBC"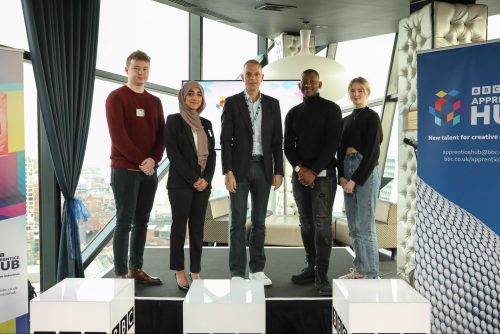 The BBC's Director-General has said that Birmingham will be "home to the future of the BBC".
Tim David discussed the role of the West Midlands at the BBC's new apprentice hub launch in Birmingham.
Up to 50 apprentices will be recruited by the BBC which will manage their learning by placing them with employers in the region's creative industries. It has partnered with Google which will pay other training costs through the Apprentice Levy Transfer Donation scheme.
Mr Davie said: "Together with our partners in the region, we want to build a talent pipeline. We want to produce the skills that will support and sustain the BBC for years to come while developing the growing creative sector in the West Midlands.
"It is a pilot for now and if successful we will roll it out around the country. But where better to test it than Europe's youngest and most diverse city."
Employers such as Covatic and Ubisoft are amongst the eight that have signed up to the scheme so far.
James Steer, Studio Production Director at Ubisoft Leamington Spa: "Being part of this network of creative businesses, and working alongside them to find the brightest new talent across the region, is a great opportunity.
"This scheme will help us to continue to connect with our local communities and open doors into the videogames industry for a wide range of people."
Tim Campbell, best known as the winner of the first series of BBC One's The Apprentice, is also supporting the scheme.
He said: "I'm fully supporting the new BBC Apprentice Hub which gives you the chance to find and develop new local talent who will bring fresh ideas to your business.
"And making sure that local young people get the opportunity to work with the best creative, digital and cultural businesses in the Midlands, a place dear to my heart.
"I would urge you to get involved and to say you're hired to the great diverse talent that we know is in the Midlands. It makes good business sense."
The BBC is aiming to recruit 1,000 apprentices into the organisation each year by 2026. It says that Birmingham has been earmarked as a youth hub with Radio 1's Newsbeat and the Asian Network relocating to the city alongside BBC Three, which already has a base in Birmingham.