Investment in Midlands logistics almost double previous record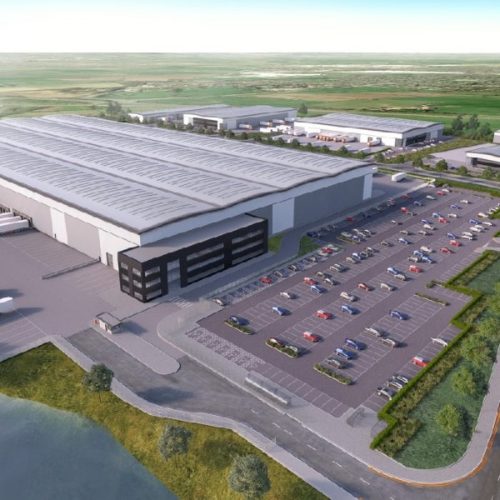 Investment in industrial and logistics assets in the Midlands almost doubled from its previous high in 2020 (£1.6bn) to £3.1bn in 2021, latest figures show.
The key investment deal of the year was Aberdeen Standard Investments' acquisition of the speculatively built 532,500 sq ft warehouse Hinckley 532 from IM Properties for £103m, which was let to Amazon on a 20 year lease from the beginning of 2020.
Colliers reports in its latest Industrial & Logistics Viewpoint that as well as record investment demand for distribution warehouses in the Midlands also produced a record of 19.7 million sq ft of take up during the year, up 9.4 per cent on the previous record in 2020, and almost 40 per cent of the take-up across the UK. Some 66 per cent of the space that was taken up was Grade A space.
Demand for bigger buildings is becoming more dominant, with nearly 10 million sq ft of space taken up in the 400,000 sq ft plus size band – a record five-year record high.
However, supply for the sector is currently tight with only 4.5 million sq ft available, down 57% y/y, and equates to less than four months of supply. This lack of supply is pushing rent levels up from £6.75 per sq ft to £7 for large distribution warehouses, with schemes in the prime Midlands Golden Triangle beginning to quote upwards of £7.75/£8 per sq ft. Smaller industrial assets in Birmingham and Solihull are also reaching rents of £8.25 per sq ft.
Simon Norton, a director in Colliers the industrial and logistics team in Birmingham said: "Right now rents are moving very quickly particularly with the flight to prime that it's actually difficult to capture an average price, it's a very fast-paced market.
"There's a continued push from e-commerce sector, not only from the bigger name brands but also those smaller companies as well. And with the worldwide pressure on supply chains businesses are holding more inventory, so they need more space to hold this stock, accentuating the race for space and hence rental rises.
"Were expecting continued interest from investors in the area, particularly with the area being ideal for creating national mega-hubs."
Andrea Ferranti, head of Industrial and Logistics Research at Colliers added: "The performance of the UK industrial market is breaking numerous records, driven by occupiers expanding operations, eye-watering rental growth figures and investors betting on the long-term performance of the sector. Increasing rents and land values, construction costs, logistics and labour costs will not dissipate in 2022 and occupiers will need to act swiftly to secure a deal. From an investor perspective, there will be more bidding at uncomfortable levels and purchasers might need to consider speculative funding to seek higher returns due to yields being at historic lows.
"The warehouse of the future will require more highly skilled people, a robust power supply, a good pool of labour and also Grade A workspace to not only attract and retain talent but also investors. More ESG regulations will also be introduced which will further affect the sector from a cost perspective as investors seek to purchase net-zero properties and occupiers are required to adopt more sustainable technologies."