Eurovision 2023 host city shortlist revealed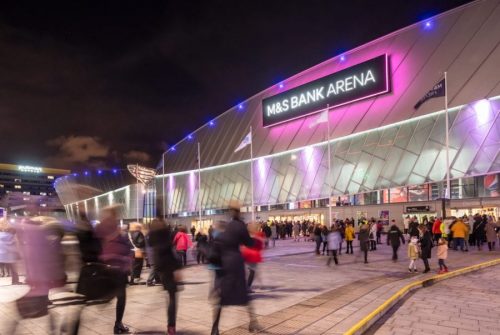 Birmingham, Glasgow, Leeds, Liverpool, Manchester, Newcastle and Sheffield are all in with a chance of hosting next year's Eurovision Song Contest after organisers revealed the shortlist to stage the event.
Aberdeen, Belfast, Bristol, London and Newcastle are among those to miss out after this morning's announcement.
20 cities sent in an expression of interest, although Nottingham, Cardiff and Brighton chose not to submit a bid.
Ukraine's entry from Kalush Orchestra, Stefania, won this year's contest and usually the winning country hosts the following year. But it was decided by the European Broadcasting Union (EBU), that next year's contest could not be held in Ukraine due to the ongoing war with Russia.
The UK's entry, Sam Ryder's Spaceman, came second in Eurovision 2022, leading to the decision that the UK would host the contest in 2023 on behalf of Ukraine.
It will be the ninth time Eurovision has taken place in the UK – more than any other country.
It was staged at Brighton Dome in 1974, London's Wembley Arena in 1977, Harrogate's international centre in 1982, and at Birmingham's National Indoor Arena in 1998.
The host city for 2023 is expected to be announced by the autumn after the shortlisted cities submit updated bids.
There are a number of requirements the host city must meet in order to be considered, with the BBC saying: "The final decision on selecting the host city will be based on a city or region's capacity and capability in meeting the BBC's and the EBU's requirements, as well as availability of resources and general experience in hosting a large and complex event such as the Eurovision Song Contest.
"For example, last year the EBU's host city criteria was based on providing a venue able to accommodate at least 10,000 spectators (as well as a press centre), that should be within easy reach of an international airport and with ample hotel accommodation."
Sacha Lord, the night time economy advisor for Greater Manchester, said: "Bringing Eurovision to Greater Manchester 2023, would be huge for our city region. We're globally known for our music and I'm confident the right people would give it the full support, to make this happen."
Leeds City councillors, James Lewis and Jonathan Pryor, said: "We are extremely disappointed that Ukraine will be unable to host in 2023, but it would be an honour to host on behalf of them, especially given that West Yorkshire is home to a large number of Ukrainians. If we are successful with our bid, we will be looking to get the local Ukrainian community involved with our plans as much as possible."
Liverpool's assistant mayor and cabinet member for culture and visitor economy, Cllr Harry Doyle, said: "Making a major event like this possible in such a short timeframe is complicated and is going to need some careful and creative planning, but we think Liverpool would be the perfect stage to celebrate this unique Eurovision."
However, there are fears that a successful application could lead to huge disruption for the winning location.
Claudio Santucci, head of show for this year's event in Turin, said organisers will need access to the winning venue for several weeks, which would require that venue bosses cancel shows already booked for that time period.
A range of the hopeful hosts all have major bookings at their respective venues at the time of next year's competition.
Leeds First Direct Arena is staging shows by, among others, Magic Mike and André Rieu, the Liverpool M&S Bank Arena is hosting the likes of Elton John, Magic Mike and André Rieu, while the Manchester AO Arena could have to cancel, or rearrange, shows by Celine Dion, Rob Beckett and Josh Widdicombe, and Magic Mike.
Whichever location receives the nod to host Eurovision will face a significant cost – the BBC says it will have to pay between £8m and £16m for the 2023 event.
But the huge interest in the event is expected to pay dividends, attracting tens of thousands of people to the host city. The 2022 event had a TV audience of 161m for the three live shows.