Enter the inaugural West Midlands Business of the Year Awards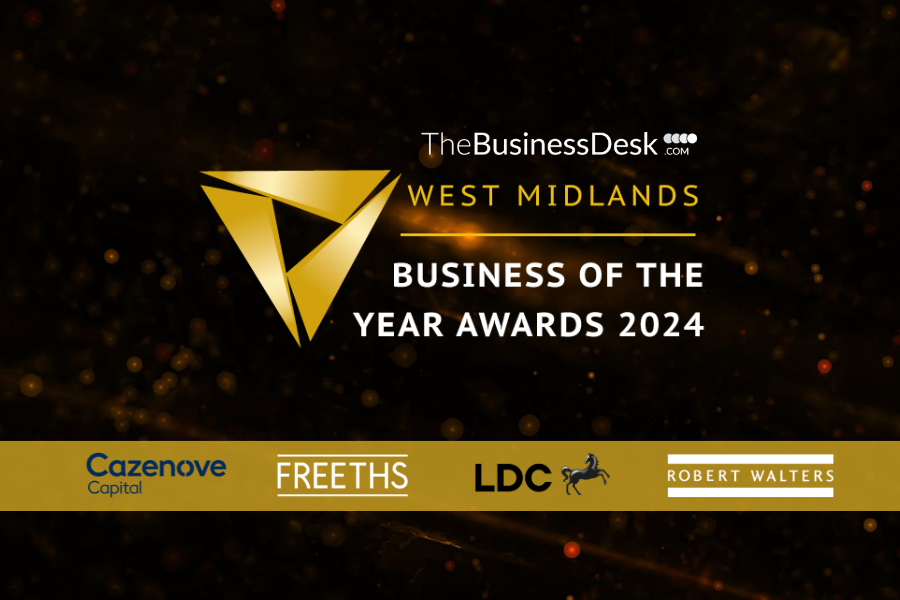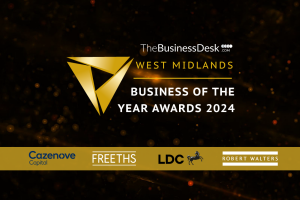 TheBusinesssDesk.com's annual West Midlands business awards ceremony is returning in 2024 and this year it's going to be even bigger and better.
The annual awards ceremony is a key event in the business calendar and recognises companies that have demonstrated outstanding achievements in their industry and continue to contribute to the West Midlands business community.
This year the Business Masters will return as the West Midlands Business of the Year Awards 2024, backed by headline sponsors LDC, Robert Walters, Cazenove Capital and Freeths.
The awards will celebrate and honour the very best of businesses of all sizes and sectors across the region.
For the first time, the 2024 awards will also include a rigorous judging process that will see all the companies visited by members of our judging panel, before a shortlisting process.
Each company on the shortlist will then be invited to present to the judges why they should win an award, with the winners revealed at a high-profile awards evening at The Macdonald Burlington on February 22, 2024.
TheBusinessDesk.com's joint managing director Alex Turner said: "The West Midlands Business of the Year Awards will be a collaborative effort between TheBusinessDesk.com and our partners LDC, Robert Walters, Cazenove Capital and Freeths.
"We are looking forward to reaching more businesses than ever before and, with the new judging process, choosing shortlists and winners that really represent the very best performers in the region.
"It remains challenging for many businesses but businesses across the North West have also shown great resilience by pushing through to become stronger and better and we are looking forward to hearing from them."
There are 15 categories to enter and as with previous years, the Ambassador will be chosen by the judges.
Start Up
Innovation
Sustainability
Employer of the Year
International Trade
Investment
Community Impact
Property Business
Family Business
Small Business (up to 50 employees)
Medium Business (51-250 employees)
Large Business (251+ employees)
Fast Growth Business
Chief Executive of the Year
Ambassador
The deadline for entries is July 7, 2023. For more information and to download your entry form please visit our dedicated awards website businessoftheyearawards.co.uk.


LDC
Chris Handy, Partner and Head of West Midlands at LDC, said: "These awards are all about showcasing the incredible and varied achievements of the West Midlands business community, and the people who make the region such an exciting place to be.
"LDC has been partnering with ambitious management teams here for nearly 35 years, helping businesses achieve success targeting international expansion, delivering effective acquisition strategies, boosting their ESG credentials, and much more.
"We know there are many businesses across the region doing great things right now, and we can't wait to hear from them."
Robert Walters
Habiba Khatoon, Director of Robert Walters West Midlands comments: "Over the last year, businesses in the West Midlands have had to grapple with continued uncertainty – both in the economy and more widely, in the global community.
"But thanks to those trailblazing individuals who consistently go above and beyond for their teams and organisations, there is much to be celebrated.
"We are proud sponsors of the CEO category and the pioneering leaders paving the way for a new era of the CEO!
Cazenove Capital
Dave Price, Regional Head – Midlands at Cazenove Capital commented: "We're thrilled to sponsor the Business of the Year Awards to celebrate and support the outstanding achievements of businesses in this region. Its' these businesses, whose innovation, resilience, and vision continue to inspire us all.
"The Midlands business community has established itself as a resilient and successful centre of entrepreneurial activity. Despite the challenges businesses have faced over the last few years with COVID 19, spiralling inflation infecting supply chains and the cost of raw materials, the Midlands still manages to adapt and flourish and be a home to innovation, start-ups and multi-national corporations alike.
"At Cazenove Capital, we understand the vital role that thriving businesses play in driving economic growth and creating opportunities and we look forward to hearing the stories behind these businesses and meeting the owners that make this happen."
Freeths
Lee Clifford, Head of Corporate at Freeths Birmingham says: "We're proud to co-sponsor the West Midlands Business of the Year Awards 2024. At the heart of the UK, the West Midlands is not only recognised as a centre of excellence for engineering and manufacturing, but is recognised globally as a region of exciting growth and opportunity in many other sectors.
"With ever growing interest from UK and overseas investors, regional businesses continue to thrive and attract top calibre talent in one of the UK's most diverse, innovative and dynamic regions".
Leanne Fryer, Corporate Director at Freeths Birmingham goes on to comment: "With a strong presence and reputation in Birmingham, Freeths is a national law firm which is passionate about supporting communities in the areas we reside and we're proud to sponsor an event that gives local businesses the recognition they deserve".