Gowling WLG x West Midlands Growth Company roundtable: Accelerating sustainable construction in the built environment
The decarbonisation of the built environment, which represents around 25% of the UK's carbon emissions, is key to unlocking the nation's net zero goals. Home to significant expertise in sustainable construction – from its world-class professional services talent to engineering and research and development – the West Midlands has the potential to lead this transformation of practices across the sector while realising new commercial opportunities along the way.
On the morning of Tuesday 27th June, international law firm Gowling WLG and the West Midlands Growth Company (WMGC) brought together some of the region's leading experts from the public, private and higher education sectors to discuss the steps needed to improve industry collaboration and accelerate the sustainable construction evolution.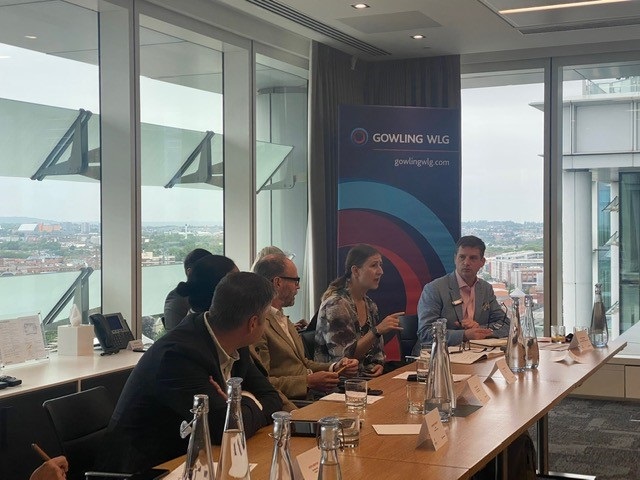 Roundtable Chair Ben Stansfield, Sustainability Partner and Head of ESG at Gowling WLG, kicked off the conversation by asking what level of ambition and commitment they are seeing from their clients when it comes to driving forward the sustainable construction agenda. Dan Smyth, Principal at BDP, commented that despite decarbonisation being high on the agenda of many across the West Midlands' built environment sector, there's an urgent need to accelerate the pace of change:
"Increasing political support and public awareness of the climate crisis is helping to create a sustainable construction supertanker in the region and the tiller is beginning to move. However, ongoing issues such as risk transfer and challenges around testing new materials mean that we're still not moving quickly enough and more needs to be done to truly realise this opportunity."
Director of Bruntwood, Rob Valentine, discussed the importance of future-proofing new developments by looking beyond a building's short-term use and building in flexibility:
"In half a century, we'll be left with around 50% of the West Midlands' existing built environment, so we need to be thinking now about how to make the most of it. While such flexible designs often come at an additional cost, we've found that our occupiers understand the importance of this approach and are willing to support us."
Ben extended the topic of demand for green construction to the residential development market, asking whether they are seeing more customers looking to invest in sustainable homes. Debbie Howes of St Joseph Homes Ltd made the point that while there is a consumer appetite for such properties, more ambitious ESG investment and policymaking is required from government to boost confidence amongst developers and inform decision making.
Conversation then moved on to consider obstacles standing in the way of the industry adopting more sustainable construction materials. Alex Housden, Development Manager at MEPC, commented:
"Despite the growth of the ESG agenda across the West Midlands' construction industry, many organisations are still taking a conservative approach when it comes to the take-up of innovative building materials."
James Watts, Associate Director at Arup, added:
"In reality, the only certain way to achieve net zero construction is to not build at all – there's no 'one size fits all' approach. The region needs to turn its hand to more experimental construction techniques, for example, combining the use of timber with more traditional materials, such as concrete and steel, as well as the need for closer collaboration when it comes to retrofitting and repurposing buildings."
Delegates also noted that supply-related challenges and a lack of clarity around insurance cover may be discouraging some developers from committing to alternative, eco-friendly building materials.
The conversation returned to retrofit and reuse, reflecting its emphasis in strategies across the public and private sector. Rob Valentine referred to the broader commercial benefits that retrofit can bring:
"The old KPMG building, known as 'Cornerblock', was a prime example of a retrofitting project where we were able to achieve premium rental rates. As well as there being a commitment to consider environmental impact from the start of the project, retrofitting effectively halved the project timeline compared to building from scratch, accelerating its speed to market and reducing both development costs and planning risks."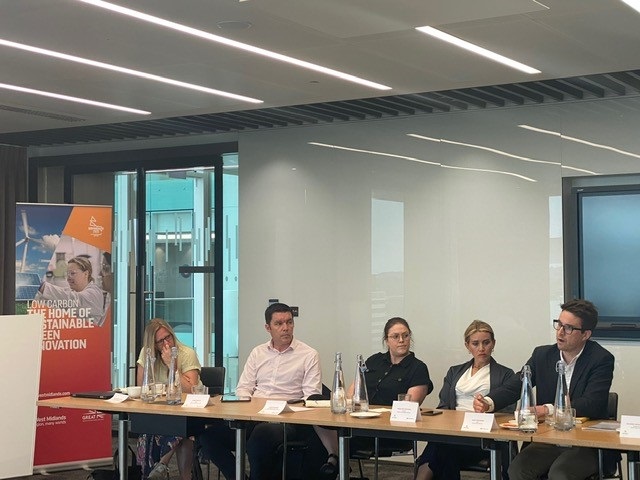 Grace Kneafsey, low carbon lead at WMGC, asked delegates to consider what support is required from local government to help make retrofitting projects commercially viable, for example, using certain levers to help developments achieve higher rents. Dan Smyth said that it's vital for local authorities to facilitate mixed-use settings in order to generate buy-in from developers and create new value. Alexa Woodward, Cordia UK agreed, emphasising that through close collaboration with Birmingham City Council to improve local infrastructure, they've been able to achieve greater financial viability from construction projects.
Mott MacDonald's Paul Webb also noted that the public sector – especially across areas such as justice, healthcare and education – is placing an emphasis on repurposing existing building stock to a high level. Indeed, in many cases, public sector projects in this space are gaining positive recognition and are setting a great example for other areas of the industry.
Professor Chaminda Pathirage from the University of Wolverhampton raised the important role that technology can play in helping the region's construction sector to achieve such transformations:
"Many brownfield sites contain buildings that have the potential to be reused and repurposed with the support of advanced scanning techniques. It's our responsibility to ensure the next generation of construction professionals have the skills to make the most of such technologies, to support the green construction agenda."
As a final topic, Ben encouraged delegates to discuss the significance of stakeholder reporting around net zero developments, opportunities and challenges. Ellie Horwitch-Smith, Birmingham City Council, stated that the sector needs to agree a clearer direction of travel when it comes to measuring embodied carbon:
"A lack of clear policy and guidance means that the industry lacks a consistent approach for measuring embodied carbon. In order to restore confidence and keep the region's net zero developments on track, it's vital that we gain some much-needed direction in this area."
Delegates concluded the discussion by acknowledging that despite the urgency of the net zero agenda, the construction industry is ultimately profit-driven and needs to deliver the outcomes that customers want. As such, it's important for businesses to work out ways of measuring, sharing and aggregating data in a commercially acceptable way in order to strike a balance between sustainability objectives and commercial goals.
A key takeaway from the event is that all areas of the West Midlands' construction industry – from commercial and residential developers to academia and local government – are aware of the need for a sustainable construction transformation and are committed to making it happen. However, there was also a strong consensus that a lack of clarity and support from government and key industries, such as the insurance industry, created a very real risk of slowing the pace of change. With more guidance and a single agreed approach to decarbonising the built environment, the region has the potential to lead the UK into a new era of net zero construction.