Tour de Yorkshire champion Thomas Voeckler backs free bike scheme on eve of race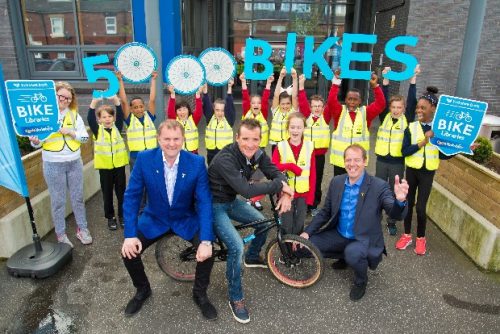 Reigning Tour de Yorkshire champion Thomas Voeckler has given his support to a project which aims to give every child in the region access to a bike.
The Direct Énergie cyclist took some time out ahead of the Tour his weekend to visit Richmond Hill Primary School in Leeds to hand over the 5,000th bike to the Yorkshire Bank Bike Libraries.
Voeckler was joined by Christian Prudhomme, director of the Tour de France, and Sir Gary Verity, chief executive of Welcome to Yorkshire.
Launched as a legacy of the Tour de France and Tour de Yorkshire, the project, sponsored by Yorkshire Bank, has seen the launch of more than 40 bike libraries across the county.
Richmond Hill Primary School was the first school to open as a Yorkshire Bank Bike Library and has since gone on to help hundreds of disadvantaged children ride bikes.
Voeckler said: "It's brilliant the people of Yorkshire have got behind the Yorkshire Bank Bike Libraries. Receiving 5,000 bikes through donations is testament to this. I think that any initiative that gets people cycling will benefit the sport."
Sir Gary said: "It is a real honour to have Thomas Voeckler to present our 5,000th bike to the Yorkshire Bank Bike Libraries.
"We launched the Yorkshire Bank Bike Libraries with the aim of giving every child in Yorkshire access to a free bike regardless of their circumstances, and I am delighted to see that we are moving ever closer to that goal.
"Since launching our very first one two years ago, 36,000 opportunities to ride a bike have been given to children across Yorkshire through the bike libraries, which is truly incredible."