Legal Eagles: Changes for IP and commercial department at Lupton Fawcett; Clarion grows contentious private client team; and more
Lupton Fawcett, the Leeds, Sheffield and York-based commercial law firm, has promoted Clive Lawrence to director and to head the firm's intellectual property and commercial department.
The firm has also welcomed senior associate Ben Clay, former In-house Counsel at the UK's largest dairy company Arla Foods, back to the fold.
Lawrence, who has worked at Lupton Fawcett for the last two years as a consultant, has more than 20 years' experience across the full range of intellectual property law, sports law and media law.
He has acted for numerous household name companies including football governing bodies and Premier League clubs, and individuals on both the commercial aspects of intellectual property and in disputes.
Clay first joined the firm in 2004 before leaving in 2009 to spend eight years in-house at Arla Foods, gaining experience of life on the inside of a large international organisation.
He was most recently the sole in-house counsel for Arla's £2bn-turnover UK business advising on a vast range of matters from building the world's largest fresh milk dairy to promoting leading brands such as Lurpak and Anchor.
Richard Marshall, managing director, said: "Clive and Ben are a tremendous addition to our intellectual property and commercial team. Alongside John Sykes, both make a formidable team and provide top drawer advice to our clients and achieve good commercial outcomes for them. All are highly skilled and experienced individuals who will be able to meet the growing needs of our clients in this uncertain business environment."
:::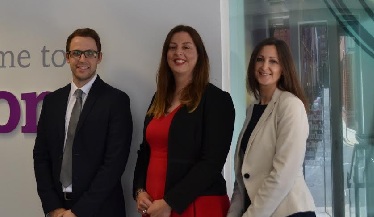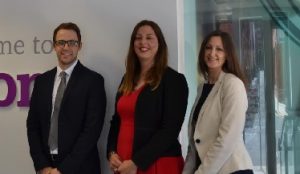 Liam Brooke has joined Clarion's expanding contentious private client team in Leeds as an associate solicitor.
He joins from Irwin Mitchell in Leeds where he worked within the contentious probate team having undertaken a training contract with the firm.
Brooke has experience of dealing with disputes over the validity of wills, disputed inheritance cases and contentious trust matters.
Lynsey Harrison, head of Clarion's contentious private client team, said: "Having specialised in contentious probate for the last 13 years, I've seen a marked increase in demand from clients needing expert advice on navigating this complex field of law and, as a result, we're growing the team. Liam comes to us with a solid grounding in contentious probate and will be a welcome addition to the team."
Clarion's contentious private client team comprising associate Liam Brooke, head of the CPC team Lynsey Harrison, and associate Louise Dodds
:::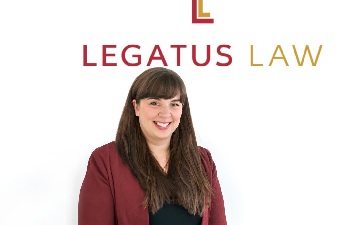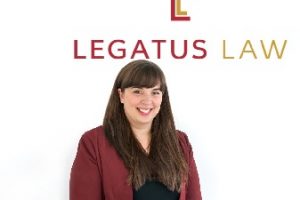 Legatus Law, which has offices in Leeds and London, has celebrated its rapid development and success with the promotion of Mara Gosling from assistant to associate solicitor.
Gosling joined the firm in 2016 as assistant solicitor, following an eight-year career at hlw Keeble Hawson.
Managing director of Legatus Law, Rashmi Dubé comments: "Mara has demonstrated commitment and growth to the firm in her time with us. She has expertise and an excellent manner in which she deals with clients who are going through an emotional time in respect of turnaround and insolvency."