People: Employment tax associate director appointed; Construction firm owner moves firms; and more
Yorkshire-based HMRC-handling and tax dispute specialist Independent Tax has added to its rapidly growing team by appointing a tax specialist with almost 40 years of experience.
Nick Davies of Sheffield, who will be based at Independent Tax's headquarters on the Brackenholme Business Park near Howden, has joined the business from BHP Chartered Accountants.
In May 2018, Davies will have worked in the sector for 40 years. He began his career with HMRC, where he worked for 12 years, initially as a tax collector and later as a tax investigator. The remainder of his career has been spent working at a senior level for a number of high-profile accountancy practices, including in director roles.
His expertise is in employment tax, including expenses and benefits, and handling HMRC enquiries. Nationally, he is a leading expert on company car taxation.
Davies said: "I feel like I'm a very good fit with Independent Tax in terms of what they do and the approach they have."
In his new Associate Director role, he will work alongside Gary Brothers, the managing partner of Independent Tax, and other key members of the team on HMRC disputes, enquiries and tribunals.
Brothers said: "Nick is a very welcome addition to the team. I'm confident that he will help us to drive forward our ambitious plans to make Independent Tax the leading company of its kind in the UK. "
:::
John Totty,the former owner and managing director of Yorkshire based Totty Construction, is the newest addition to the fast-growing team at Leeds based CAPD Complete Build Solutions and will oversee business development.
CAPD currently employs a 24 strong-team, headed up by managing director Gav Sambhi and commercial director Peter Ellis who previously spent 11 years working at Totty Construction.  Veritas Recruitment Solutions, which recruits throughout the construction industry, introduced John Totty to CAPD.
Totty said: "Joining CAPD is a fantastic prospect.  It's a family run business with a very ambitious, hard-working team.  It was clear from my first meeting with Gav and Peter, that we all shared a tremendous amount of business ethics and integrity in respect of our common goals and values; many of the same values that made Totty Construction such a success.  I'm really looking forward to opening up new opportunities for the company, particularly across Yorkshire, Cheshire and beyond.
"It's also an exciting time for the construction sector as a whole, with so many new projects getting underway.  As a result, there are major opportunities out there for an independent, agile and efficient firm that can genuinely add value and expertise, which makes this the ideal time to return to the industry with CAPD."
Sambhi added: "John spent many years building and leading one of the North of England's leading construction companies that delivered outstanding construction projects as well as continually innovating and focusing on quality, which mirrors our commercial goals and ambitions.  He's therefore a very exciting appointment for us and will be a key figure in our growth plans."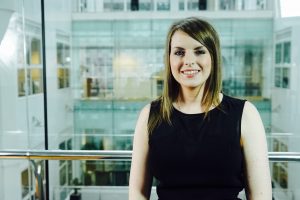 Corecom Consulting has appointed a new director to its leadership team as the company prepares for future growth.
The Leeds-headquartered IT recruitment company has appointed Gemma Robinson as operations director.
Jonathan Sanderson, managing director at Corecom Consulting, said: "Gemma has been with the company for over three years and she is the first female to join the Board of Directors. She has proven herself to be an asset in every aspect of the business, ensuring it runs smoothly, setting financial objectives and budgets, making key strategic decisions and meeting statutory obligations.
"Gemma is passionate about employee engagement. Her key achievements include launching a company Wellbeing Strategy, bringing systems and processes in-house, building a HR and Operations team and introducing an Apprenticeship Academy."
 Corecom Consulting has achieved unprecedented growth and success, forecasting a turnover of over £3m in its current financial year; an increase of 8% since 2016. The firm is looking to expand, with plans to open offices nationally and internationally over the next three years. Their workforce is set to increase from 17 to 25 over the next 12 months with a regional office opening in January 2018.