Yorkshire's declaration of retail independence

Independent store openings across the country are on the rise and Yorkshire is no exception to this booming trend.
According to OnBuy.com, all regions across the UK saw increases in independent openings except for the East and South West. Yorkshire and the Humber, along with The North West and North East, hold the highest vacancy rates.
Revealing the statistics, Cas Paton, managing director of Onbuy.com, said: "Keen business men and women have their eye on vacant spaces across the country and we must support our local independents, bricks-and-mortar businesses. It's the only way for retail to survive."
Meanwhile, Jackie Mulligan is taking Britain's nation of independent shopkeepers online. From her base in her home town of Saltaire in Bradford she has created and runs an e-commerce platform that aims to recreate the feel and vibe of the local high street.
ShopAppy.com began life in Yorkshire, where it is providing a platform for independent retailers – delivering an online space for local shops to trade.
It is now live in places including Saltaire, Otley, Northallerton, Barnsley, Ilkley, Guiseley, Tickhill, Thirsk and Shipley and is spreading its wings across the UK.
It also aims to bring people physically back into those shops and the towns they serve through its click and collect service.
Mulligan explained: "The aim was to create a site that provided the personality of the shops with the products and addressed the need of many towns to attract more visitors.
"We're looking to level the playing field and we've just launched in our 10th town.
"The High Street is having a difficult time. We want people to have a choice and the chance to buy local. It is important that we keep and support our independent traders. It is about sustaining towns.
"We use the digital platform to drive footfall. That has got to be the way forward. If we can make it easier for customers to get their shopping and more inspired to get into town we can help reverse the decline."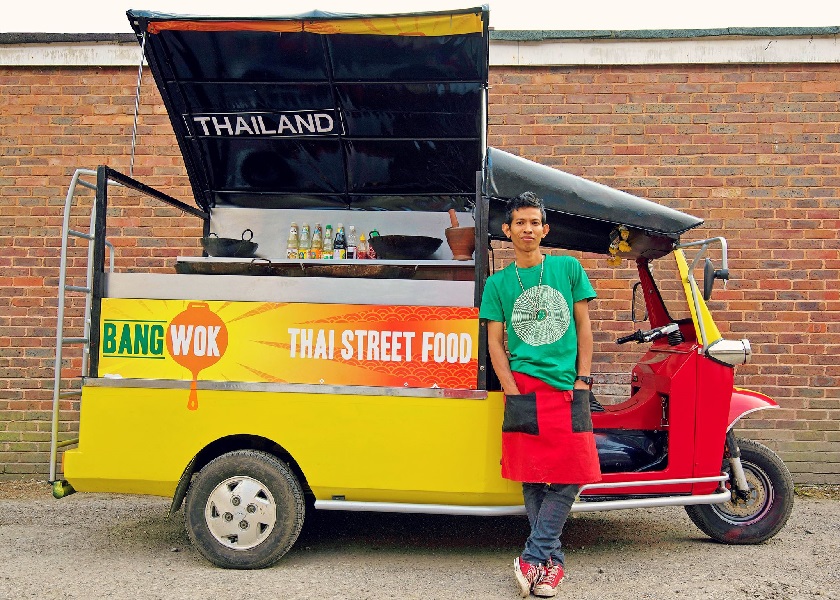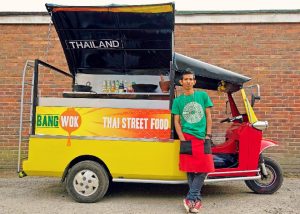 Pop up shops are also on the rise across the region, offering retailers the opportunity to showcase their goods and are proving popular with consumers.
Trinity Kitchen in Leeds rotates several new food retailers every few weeks, offering visitors a vibrant mix of restaurants, bars and street food vans,offering flavours from across the globe.
Dan Wharton, marketing manager at Trinity Leeds, said: "From day one, Trinity Leeds has strived to offer shoppers something they simply can't get anywhere else.
"People want more than just a trip to the shops nowadays – they want a memorable experience.
"From installing a super-sized slide and a 3 metre-high birthday cake to seeing Darth Vader and Boba Fett battling on the roof, Trinity Leeds continues to serve up surprises and get shoppers' attention.
"Trinity Kitchen also offers a unique experience, serving the very best street food from across the UK with a rotating line-up of independent vendors changing every six to eight weeks.
"The staggering number of shoppers supporting us proves there is an appetite for this.
"We've welcomed 120 million visitors since opening just five years ago, helping generate £150m to the city's economy every year."
Independent retailers are also finding homes in alternative venues where they are able to thrive away from the cluster of big chain names on the high street.
The Grade I listed Piece Hall in Halifax is proving a hit with specialist retailers following its re-opening in August after a £19m restoration. Nicky Chance-Thompson, the CEO of the Piece Hall,
said: "I am passionate about understanding how we support the
town of Halifax. I know that footfall in surrounding shops is already up 20-30% and house prices are rising; so we are already seeing the positive economic impacts the Piece Hall can deliver.
"We are the start of a really important renaissance and that is just phenomenal. When people go to a destination now, they want something interesting and different – for us, that's independent retailers which sell Yorkshire and UK produced goods."
Independent specialist retailer Gin Lane has more than 100 varieties of the botanical spirit to choose from, and Joseph Chance, selling entirely UK made accessories and gifts for men, can be found on the Rustic level of the Georgian former cloth hall.
The Gin Lane retail shop is a second business for Gavin Morton and Michael Astin, owners of the already popular bar of the same name on the lower Arcade level of The Piece Hall, spilling out into the piazza.
The retail side of the business, a 294sq ft space on the floor above the bar, sells all of the local, traditional and limited edition gins, prosecco and coffee that can be enjoyed in the bar below and more.
Returning to his roots in The Piece Hall is local councillor Marcus Thompson.
He said: "My father used to have a stall here when I was a kid so I'm probably one of the few people still around that used to actually sell cloth at The Piece Hall."
Inspired by his father and named after his grandfather Joseph Chance, a speedway legend and entrepreneur, the shop sells an exclusive collection, stocking an entirely British, personally selected selection of scarves, ties, cufflinks, leather goods, hip flasks and belts.
Read more in the State of the Region series.