People: Director promotion at Forgemasters; New solicitor appointed at firm; Clarion announces further hires; and more
Sheffield based engineering specialist Sheffield Forgemasters International, has promoted Gemma Allchin to the position of HR director.
The promotion takes Allchin from the role of HR manager, a job she has held for four years, to become the tenth member of the executive management team.
Allchin has worked at Forgemasters for nine years. She started out as HR officer, and is now focused on delivering a cohesive HR strategy for Forgemasters' 680 employees to tie in with the company's five-year business plan, and reporting directly to the CEO, David Bond.
David Bond, CEO at Sheffield Forgemasters, said: "Gemma has moved from the operational side of HR to working alongside our other divisional directors to create and deliver our HR strategy, which forms a crucial part of the company's five-year business plan.
"I am delighted that we have the opportunity to promote someone of Gemma's calibre who has the requisite skills to step up and work at the top tier of our divisional management. We are delighted to see that our investing in talent strategy is paying off by promoting Gemma and hope that this latest appointment to the executive team will inspire other members of our staff who want to progress within the business."
Sheffield Forgemasters has undergone a raft of senior management changes in 2018, to establish an entirely new executive board with the appointments of David Bond as CEO, Stephen Hammell as CFO, Paul Cahill as COO, Colin Smith as chairman and Brendan Kendrick as sales and marketing director.
Allchin said: "This is a great opportunity for me and I am very much looking forward to building the HR strategy.
"We have already done work through focus groups across the business to get the workforce more involved in ways that they can input into the development of the company.
"It is a significant shift in approach towards our people and business culture creating greater dialogue and establishing clear company values and behaviours that our staff will help to develop and work towards."
Sheffield Forgemasters has developed a strong apprenticeships programme, with 49 apprentices currently employed at its Brightside Lane headquarters.
The company also has a track record of encouraging progression within its ranks, with people like Gareth Barker, director of operations, who started at the company as an 18-year-old apprentice.
David Bond added: "The future of this business is inherently linked to how we recruit and develop our staff and Gemma and Gareth are great role models for our employees, demonstrating that if they show initiative and talent, we will help them to progress as far as they want to go."
:::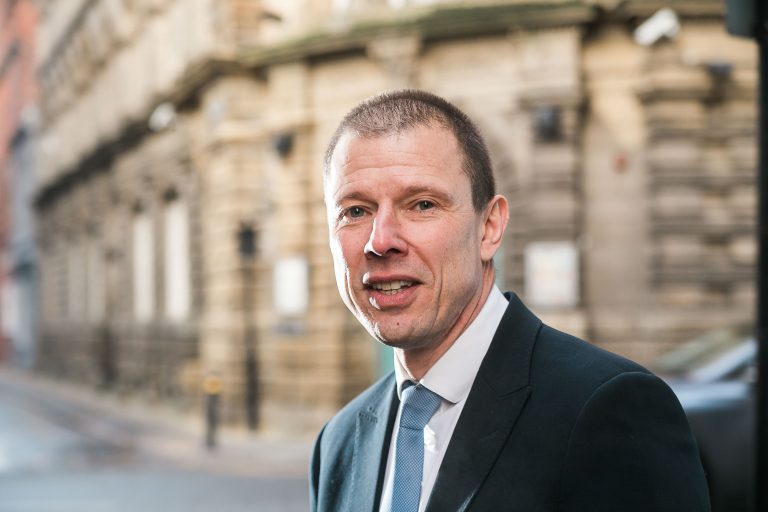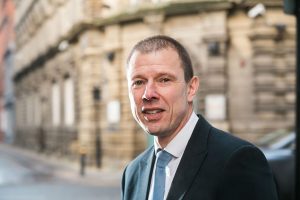 Experienced solicitor Mike Farr has been recruited to East Yorkshire's largest defence advocacy team.
He has joined Williamsons Solicitors which has offices in Hull, Beverley, Driffield and Bridlington, bringing a wealth of experience to the firm which employs more than 130 people, with 18, including support staff, working in criminal law.
Farr said he was attracted to the new role due to Williamsons' reputation for the highest quality representation and its long-standing client base. "I got hooked on defence work during my legal training contract more than 20 years ago and have never looked back. It's a fast moving, exciting and rewarding area of law," he added.
Following working in the food and manufacturing industries, and then a spell in the military, Mr Farr returned to college to study business at the age of 21, subsequently studying law at Sheffield Hallam University and the York Law School.
"My work has encompassed all types of criminal defence work from road traffic offences to high-profile cases. What links them all is a strong desire to provide the best representation for clients."
Bill Waddington, a director at Williamsons Solicitors and head of the defence advocacy department, said that Farr was an excellent addition to a strong team. "We all pride ourselves in our work, and for that reason, along with his experience, Mike is a great fit."
Farr, who is police station accredited and an experienced duty solicitor, added that defence advocacy is suited to people who want a dynamic career. "You never know what is around the corner in this job. No two days are ever the same."
:::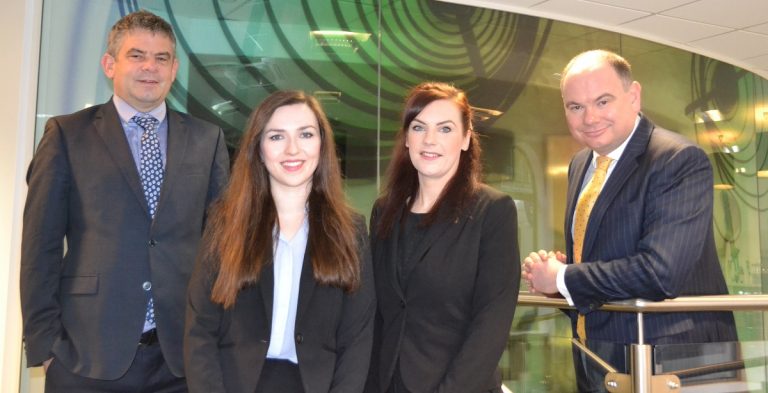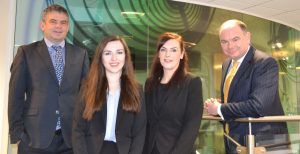 Clarion is continuing to build on its ongoing commitment of investing in new talent with the appointment of Wendy Catterall and Hannah Nelson as associates in the firm's Corporate team.
The appointments form a key part of Clarion's growth strategy and will further advance the Corporate team's strong trackrecord for delivering high standards of client service and fast turnaround.
The continued expansion of the Corporate team follows another successful year which saw the practice recognised as the top Yorkshire legal transaction adviser by Experian Market IQ.
The Corporate team's success has been aided by support from the rest of the firm's specialist teams including Intellectual Property, Commercial Contracts and its ever-growing Banking and Finance team which recently won a Legal 500 award for the best finance team outside London.
Jonathan Simms, partner in the Corporate team, said: "Recruiting top talent like Wendy and Hannah demonstrates our focus – as a team and as a firm – on cultivating Clarion's next generation of lawyers and future partners. It is fantastic to be surrounded by such a talented team and I believe that Wendy and Hannah will add an additional layer of support to the other 12 members of the corporate practice, further enhancing our reputation for delivering outstanding standards of client service and legal advice.
"Clarion continues to go from strength to strength, with double-digit year-on-year growth, and our investment in these latest two new associates demonstrates our high confidence in our future success as a firm."
:::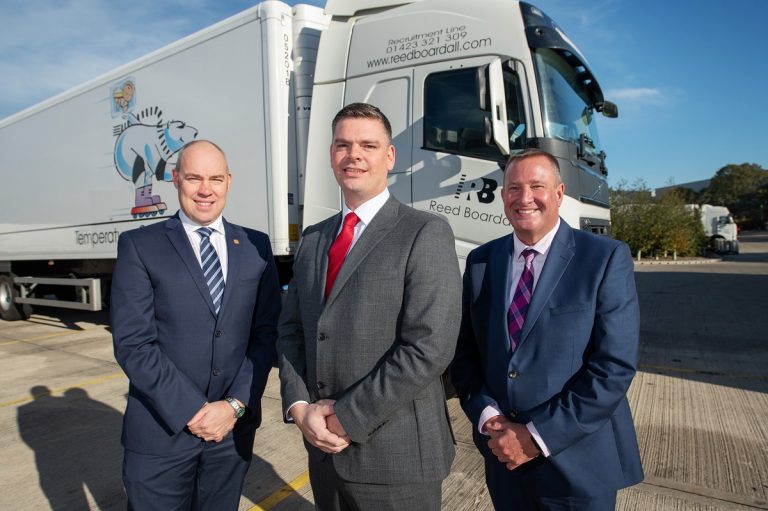 Yorkshire-based temperature controlled storage and distribution business Reed Boardall has appointed Stevland Town as business development manager.
Since joining Reed Boardall in 2001 in an administrative role, Town has progressed through a number of positions including spending eight years as warehouse manager and four years as operations manager.
In his new role, Town will work closely with the directors of the group's cold storage and transport divisions to extend services to existing customers as well as identifying and developing new opportunities with other food processors and retailers throughout the UK.
Marcus Boardall, chief executive, said: "Having spent 18 years with Reed Boardall and risen through the ranks, Stev understands our business inside out and, therefore, he is ideally placed to work across the group, highlighting efficiencies and benefits for both existing and potential customers.
"Stev is a fantastic example of one of our many long serving team who through hard work and talent has built a career with us. This latest promotion is well-deserved recognition of his commitment and we are confident that his knowledge and enthusiasm will enable him to succeed in this role."
Town said:  "Reed Boardall is a fantastic family business. With a long-established team who really care about the service we provide to customers, we've been able to continue to grow despite some very tough market conditions. I believe that the integrated cold storage and transport services we provide from a single site offer a unique solution for food companies across the UK who need a reliable and responsive logistics partner, and I'm looking forward to getting the message out there."
Reed Boardall is one of the largest temperature controlled food distribution businesses in the UK, storing and delivering frozen food from manufacturers across Britain, Europe and further afield to all the UK's best-known supermarkets.  Operating 24/7, its 170-strong fleet of vehicles moves an average of 12,000 pallets a day and it stores around £100m worth of products on behalf of its customers.  It employs over 750 staff at its single site in Boroughbridge, Yorkshire.
:::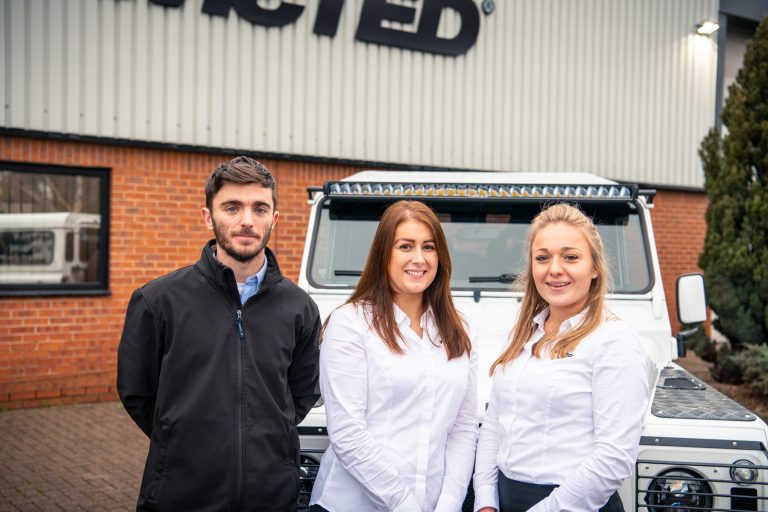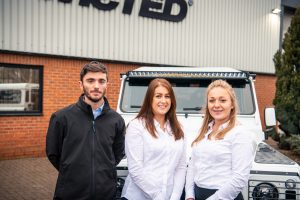 Twisted Automotive has brought in three new additions to its North Yorkshire business, in order to strengthen its customer facing team.
The move follows the announcement of Twisted's rebrand and growth in product offering in 2019, to map out the future of the company and broaden its business model with the creation of three divisions of 'Remake History', 'Make History' and 'Rework History'.
With the business, based in Thirsk, gearing up for further growth in 2019, the decision has been made to strengthen capacity across three key areas of the business: sales, marketing and exclusive Twisted parts sales, following years of new product development and a significant increase in web sales.
New marketing and sales administrator Katie Foyle joins Twisted from Thimbleby Farms, where she worked on clay shoots and events.
Meanwhile, Hayley Wreglesworth, who hails from nearby York, is moving across from her sales support manager role to take up the position of office administration and after sales co-ordinator.
Local lad Joe Johnson is a former falconer and M-Sport World Rally Team member, with an excellent knowledge of parts. It's fair to say this highly driven 26-year-old knows a thing or two about being in pole position, as part of a team with several National Championship wins under its belt, as well as two World Driver titles and one Manufacturer.
Johnson, who joins Twisted to take the online store one step further, has big ambitions for 2019: To double the amount of mail order sales the business handles. His focus will be on delivering an enhanced customer offering by building the operation up to a greater awareness of the Twisted developed products – and beyond.
Johnson added: "It used to be a big part of Twisted when the business first launched and I am amazed at the amount of Twisted developed products there are available, so I can't wait to start bringing them to market and be involved in developing more!"
Twisted Automotive founder Charles Fawcett said: "Twisted Automotive has seen continued change and development over the last five years, and particularly since the end of Defender manufacture. This has brought with it great opportunity for the business and in particular the opportunity to become, in essence, the guardian of the final few, unused Defenders available in the UK and perhaps beyond. Our focus on customer service, continued product development and the compounding of our position as the guardian leaves Twisted in a very strong position for future growth."
"It is so important that our business is run, at every stage, by passionate, enthusiastic individuals, who care for the brand, as the journey on which we often find ourselves with customers becomes very personal. So, the three appointments will make significant influences on our customer experience and strengthen our position in the marketplace."