City region requires cohesion, collaboration and 'one voice' to boast about strengths on global platform
X

Register for free to receive latest news stories direct to your inbox
Register
Business and public sector leaders feel there needs to be a collective voice to boast about the region's strengths on a global platform.
Speaking at TheBusinessDesk.com's Leeds City Region roundtable, sponsored by Weightmans and DB Symmetry,  the participants discussed the act that sometimes the region still didn't shout about itself enough and could be seen as too insular.


Charles Johnson, Head of Planning Development at Leeds Bradford Airport, said: "The Leeds City Region has a much, much better story to tell than a lot of other places. We are a lot better at telling that story than we used to be. Whether we are there yet I am not sure, but we are certainly getting there.
"But I think we have a lot of forums and that there's a slight danger that we talk too much and we don't action. But that's a very hard thing to get right."
As a practical solution to this issue, he said that he welcomed Leeds ambassador updates from Leeds City Council
leaders which were sent directly to businesses. He said: "I personally find that very useful so when we're having discussions or when I'm doing interviews or presentations. Having that knowledge directly as to what things that are happening in the region – key facts – is very useful."
A director at CPP, Justine Shaw, agreed, adding: "We [businesses in the region] do want to be more understanding of what's happening in the region because we can be advocates in business talking about it as well.
"It doesn't feel that we are selling the right story all together."
Ben Still, managing director of Leeds City Region Local Enterprise Partnership, said the LEP was grateful to the businesses that did talk about what they do to support the region and raise the collective profile. He added that the LEP would "absolutely like" more to be involved.
Shaw added that the region needed "cohesion and collaboration" to make sure that the region grows across sectors and across all areas of the economy; and that came down to all having a strong combined voice.
Dr Martin Stow, Chairman and Director at University of Leeds Nexus, said he felt this element was still a challenge to address. He said:  "In terms of the biggest challenges for the region, I think part of it is around getting us on the map. Getting the region and all the great stuff and expertise that we have here on the national and international map."
Nick Quin, of Yorkshire Building Society, said that the region had to think about itself as a whole economy, which he felt was something that Greater Manchester "did a long time ago."
He added: "We have an office here [in Leeds] and an office in Bradford. Too often the region talks about Leeds
versus Bradford or Hull. We have got to get away from the parochial stuff that's going on."
Angela Barnicle, Chief Officer – Asset Management and Regeneration, Leeds City Council, asked who had that
mindset. Quin said he felt it was businesses. He added: "I have worked in London where it works amazingly in terms of having an economic geography.
"Since coming back to the region, I think the leadership of the councils has been great. I think we need that devolution piece on top of it. But, a lot of the time, it's the businesses that aren't quite there. I am in rooms that are very different to this, where it's like 'why Leeds getting all this stuff?
"It's really frustrating because I know that it is working at local authority level. Without a devolution bit on top, I don't know how you progress that."
Johnson agreed, adding: "I've been in very similar meetings. We are Leeds Bradford Airport; we're not just Leeds, we're not just Bradford.
"I think that it's very important we have very close links with with the leaders in Leeds and the leaders in Bradford. I 100% agree that at a leadership level, it works very well. But there's always going to be – and it doesn't matter whether it's in a political environment or a big business environment – that what is said at the top of the tree and at the bottom of the tree sometimes can be quite different. That just takes a while to filter through.
"However many years we've been in terms of growing relationships across the region, which works very well, it is still going to take another 12 months, two years, five years. Sometimes, at a business level, it's maybe a little bit of entrenchment still."
Barnicle said she felt this view of "business kind of competing with itself"  was an insular approach. She said: "I would really point to the PwC example about their centre of excellence that they have put into Bradford. They have utilised Bradford's strength and the brilliant talent pool to sit seamlessly with their Leeds office.
"I think that's a really good way of companies using the region to work for itself."
"We need to get a grip of the perspective"
In terms of the city region's voice, Barnicle said: "We have a community – business, citizens, local authorities, public sector – and we need to get our head up and look about anchoring. So we're talking about Leeds versus Bradford. It is not about Leeds versus Bradford – it is the city region versus the Seattle, versus Belgium."
She said there was a programme underway currently with a cohort of eight global cities . "There are two really important points that came out of that programme," she explained.
"When all the cities were exchanging tips and how we can learn from each other, one of Kentucky's issues was how are they going to replace the jobs that have been lost in a coal mining town 200 miles away. 200 miles away from us is London. So I think we need to get a grip of the perspective.
"The second point is Channel Four. The Channel Four reach , whilst people might say but it's only 300 jobs, etc. it is a hugely important brand to get to the city region. It is Bradford and Leeds working together. Having been part of that team who sat with both chief execs in the meeting room, the only reason we won it is because we collaborated and won it together."
She said it boosted the region onto a global stage because people overseas who watched Channel Four instantly could relate to the announcement."They know Channel Four and now they know Leeds," she said.
Dr Stow, also part of the team delivering this programme, added: "Virtually none of those regions had heard about Leeds.
"I think we need to be proud about what we have here, what we've achieved and we need to shout about it from the rooftops. And we don't do that enough.
"We tend to spend too much time introspective in terms of our views. I'm sick of people comparing us with Manchester, for instance. I think we should have the confidence to say, let's put bold visions and views out there in terms of Leeds City Region because a lot of that is about ensuring that we have a lot of passion.
"We have strong leadership here but it's about having that stronger, long-term connected view and how we can enhance that."
Still added: "In terms of the city region raising its profile internationally, I think that happens when you've got a successful things to talk about. It of itself won't generate success.
"But actually what we're seeing now – with the digital skills, the FinTech, with the professional services renaissance, with Channel Four, with the cultural side of things and the sporting side – we are seeing this the city get talked about in circles that it was not talked in before.
"That success, I think, will become a self-fulfilling, virtuous circle."
Barnicle said there were three things to very successful entities. She said: "Number one is to have a clean, polished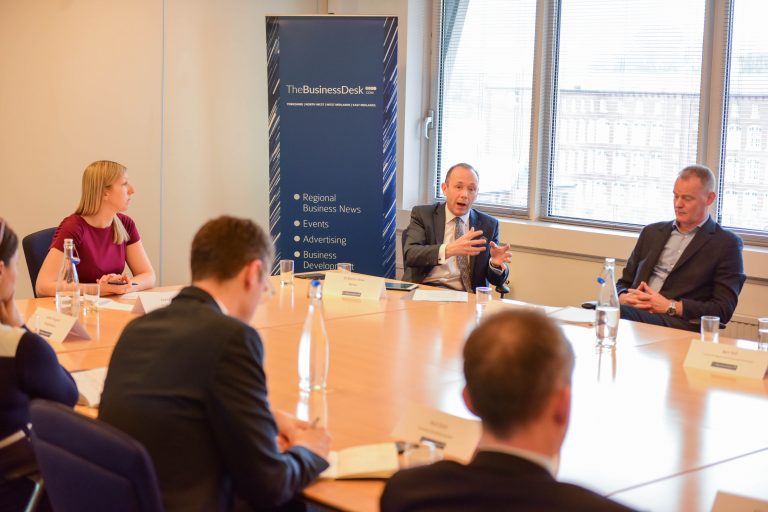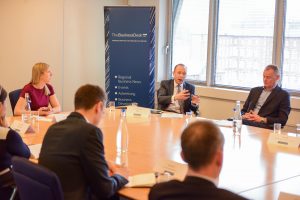 front door. You have to hide your wiring and you have to tighten up the back office. It doesn't matter whether you are the local authority, the local enterprise partnership, city region or business. Primarily, as a city region, that is something we need to work on.
"I think here, collectively, we need to hide our wiring a little bit better so that when we're out on that public platform, we are actually talking with one voice. So for instance, for the station – for the integrated station in Leeds – we have pulled together a business sounding group.
"It's about making sure that the businesses know what's happening in the station before it goes on to site and what we're doing. Because these transport investments take five-10 years to come forward. We know that business can only really wait five to 10 days.
"I think the community needs to come together a little bit more so we can talk and understand the issues, so you don't have to go out on a much broader platform. Having worked in Manchester for a long time – I know the issues are exactly the same but they are better at hiding the wiring from other people.
"It's all about relationships; about people, engagement and trust. And we have to build on that."