Skills: A united approach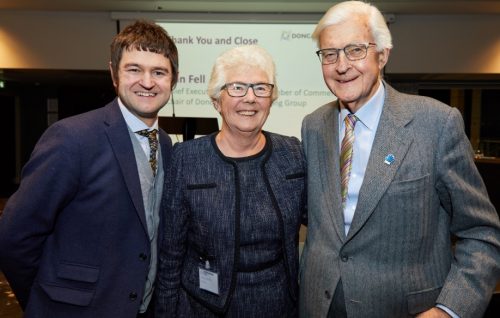 Business, education and local government in South Yorkshire are doing it for themselves – joining forces to deliver the skilled workers to meet the future needs of its economy.
Daniel Fell, chief executive of the Doncaster Chamber of Commerce, said: "We've a strong regeneration story but it has to be more than shiny buildings and capital projects. Good growth has to create better life choices. Skills are a huge focus for the borough."
Fell is also chairman of Doncaster's emerging University Technical College (UTC). It will train up to 750 13-to-19-year-olds in the latest rail engineering techniques, as well as coding and 3-D design skills when it opens its doors in September next year.
It is a prime example of the partnership approach to skills that Doncaster has adopted.
UTCs are government-funded schools that offer young people of all abilities and backgrounds a great deal more than traditional schools. They teach students technical and scientific subjects in an innovative way and prepare them to meet the challenges of employment or higher level study.
Plans for the college have been led by the chamber and the local council, working with both the University of Sheffield and Sheffield Hallam University, alongside leading businesses from across the area, including Volker Rail and Keepmoat.
Doncaster is one of 12 'Opportunity Areas', identified by the government as social mobility 'coldspots', which are receiving a share of £72m to raise aspirations and opportunities for the young people who live there.
Fell added: "You can't talk with any company in a STEM-orientated business without the conversation soon moving to skills as a barrier to growth. It is important that skills are moving up the agenda."
Business involvement will be critical to the success of the UCT, according to Lord Kenneth Baker.
He is chairman and trustee of Baker-Dearing Educational Trust, which sits at the centre of the UTC network and focuses on promoting and supporting new and existing UTCs.
He visited Doncaster in March as part of the business event aimed at encouraging more organisations to get involved in the UTC and help shape its curriculum.
He said: "I am looking forward to September 2020 when Doncaster University Technical College will join the other 50 UTCs across the UK.
"It will train local young people from the ages of 13-19 to become the technicians and engineers needed in the Fourth Industrial Revolution.
"Local employers and both the University of Sheffield and Sheffield Hallam University have pledged to support this UTC as they know it will help meet the need for highly skilled workers.
"The involvement of business is absolutely key and critical to the success of the Doncaster UTC and I was really pleased to see for myself how much industry in and around Doncaster are already behind the project."
Key existing business partners of the UTC, such as Pennine Stone and Hitachi, were also on hand at the event to provide an insight into its benefits.
Jack Pendle, engineering director at Volker Rail, welcomes the UTC. He said: "Building the next generation rail engineering workforce for Doncaster will require talented young people with a good grounding in STEM subjects."
Hitachi Rail employs 350 people at its Doncaster operation. Pete Fletcher, emerging talent specialist at the company, says UTCs are important when it comes to the group's apprenticeship recruitment.
Applications from students with a UTC vocational background are "fast-tracked" for assessment.
Fletcher believes a "good framework" for vocational education now exists but there is frustration that the message is still not getting out to parents and schools.
"There is a real challenge about getting the message out there, but from the UK's point of view we have got to do it. We've also got to get skilled pupils thinking about careers sooner."
Fell says: "Industry has been asking us for a number of years to find a way to build the next generation of skilled technicians, engineers, scientists and designers and the UTC is the answer.
"We are determined to give Doncaster an educational progression route that will help to provide a workforce for the future and ensure its economic sustainability in the advanced engineering, rail and digital design sectors."
Nuala Fennelly, cabinet member for children, young people and schools, at Doncaster Council, is a champion of the partnership approach. She points to businesses and schools in the area working collaboratively "to tailor local vocational learning provision and to explore alternatives to traditional routes to work".
She added: "We are also ensuring that our higher education and lifelong learning provision meets the needs of local businesses and emerging sectors."