£31m contract to help redevelop university campus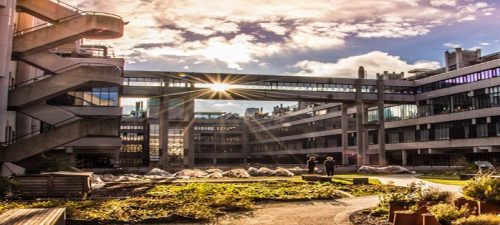 Engineering specialist SES Engineering Services (SES) will make a return visit to the University of Leeds to work on a £31m project as the university continues with its campus redevelopment programme.
Working alongside main contractor, Styles and Wood, SES has added to its order books with this latest contract to provide a full range of mechanical, electrical and plumbing (MEP) services on the major refurbishment of the university's Faculty of Biological Sciences.
Occupying five buildings on the university's main campus, the faculty continues to enjoy steady growth in demand from the number of students wishing to study there, and this has created a need for additional space for both students and staff.
The majority of refurbishment works centre around the faculty's Garstang and connected Astbury buildings. In total 8,500 sq m of space will be upgraded.
Once upgraded, the services within these buildings will be connected to a recently completed modular teaching building, which provides the faculty with its much-needed extra teaching and research space.
Critically, SES says it must keep all building services live throughout the project, up to and including the switch-over from old to new.
SES has completed two projects for the University of Leeds, with a combined MEP value of £17m since 2015, including the Laidlaw Library and the complex refurbishment of The School of Chemical and Process Engineering, which subsequently won several industry accolades including the RISE and CIBSE Yorkshire awards.
Steve Joyce, SES' Business Director North and Scotland, said: "We are delighted to be making a welcome return to the University of Leeds, working closely with Styles and Wood, to install the full range of building services on such a significant project.
"Key to our success will be SES' extensive experience of similar projects for other universities, on complex upgrades to buildings that must remain in occupation to prevent potentially damaging lapses in both teaching and research.
"SES' success in the sector has been acknowledged with a plethora of awards and I'm confident that by adopting the same focused approach, we will achieve a timely delivery of the scheme, which is due for handover in winter 2020."
Commenting on the further improvements to the faculty, Professor John Ladbury, Executive Dean of the Faculty of Biological Sciences, said: "This investment will create an environment to facilitate a much-needed clinical-biomedical exchange that brings patients to the heart of our research.
"These new lab spaces will facilitate collaboration that will harness our existing biomedical strengths across the university and align them with clinical patient-specific need, so we can drive forward existing and future discovery bioscience to meet global challenges in human health.
"Our teaching will be impacted by this enhanced research capability, and we will continue to inspire our students with a research-led education delivered by tomorrow's innovators."
\
'); } } }); googletag.enableServices(); }); googletag.cmd.push(function() { googletag.display('div-gpt-ad-1455904060045-0'); }); googletag.cmd.push(function() { googletag.display('div-gpt-ad-1455904060045-1'); }); googletag.cmd.push(function() { googletag.display('div-gpt-ad-1455904060045-2'); }); googletag.cmd.push(function() { googletag.display('div-gpt-ad-1455904060045-3'); }); googletag.cmd.push(function() { googletag.display('div-gpt-ad-1455904060045-4'); }); googletag.cmd.push(function() { googletag.display('div-gpt-ad-1455904060045-5'); }); googletag.cmd.push(function() { googletag.display('div-gpt-ad-1455904060045-6'); }); googletag.cmd.push(function() { googletag.display('div-gpt-ad-1455904060045-7'); }); googletag.cmd.push(function() { googletag.display('div-gpt-ad-1455904060045-8'); }); })