Family Business: Agility and flexibility are key to success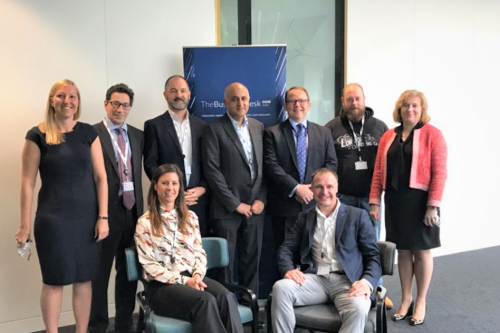 Embedding flexibility and agility into Northern family businesses is what allows them to be successful and to play a vital role in the region's economy.
As part of a round table focused on family businesses across the region, business owners and leaders said they were quick to seize on opportunities and often embrace a working culture where employees have a "common purpose".
Guy Armitage is managing director the York Handmade Brick Company, which was set up by his father. He believes there are major advantages to being family run.
The business created 300,000 specially designed bricks for the base of The Shard in London, an example, he said, of the flexibility being a family business brings.
He said: "We can take the risk. We can make quick decisions more easily. There is agility to what we do that the big companies don't have."
And he added: "We also have a long-term commitment to the industry and we share a certain attitude about how we do business, which I've picked up from my father."
Richard Donner has worked at his family business The Wakefield Shirt Company for over half a century and has no intention of retiring as he approaches 80.
The company has a long history of overseas sales, facing up to challenges along the way. He described being a family business as "so much fun". He said: "You can be cheeky and take a risk."
Polly Staveley is managing director of fourth generation family insurance business TL Dallas, which is celebrating its centenary.
She said that she joined the family business from a large organisation with multiple layers of bureaucracy, adding: "I wanted to be in an organisation where I was more able to be involved in decision making."
Staveley said her father used the expression "you have to have skin in the game". She added: "We are not just there for our pay check, it is about pride and longevity."
The business had begun an employee share scheme to help them also have that skin in the game. "It is trying to share that feeling among the staff so they will feel they are part of the journey as well."
She said: "It is a very lonely place at the top of any company, but particularly in a family company. Not only do you have the weight of 110 people's jobs bearing down on your shoulders, you also have 100 years' of family history."
Andrew Johnson, managing director of Ripon-based Hemingways Marketing, said he regarded himself as a "steward" of the third generation business.
He said: "We always put the idea of that spirit of a family business right at the heart of our business. One of our challenges is making sure we retain that as we grow."
He added: "One of the joys of a family business is you can see a trend, follow your nose and see what comes from it."
The business has diversified and changed "quite radically" and is now involved in sales, e-commerce and distribution.
Johnson added: "Family businesses either work really well, or they don't work at all. My father in particular has been very open to change."
He said the challenge was having all the different levels of corporate governance needed, while still maintaining the essence of a family business that makes it "attractive to work for and with".
Chris Black, managing director of jukebox manufacturer Sound Leisure, said being in a family business was about looking how to carry it on for the next generation. Being a family business was a strong selling point for future employees and good for the workforce, he reflected.
"There is passion there, 100 per cent," he added. "It's not just because it is a family business, you either work for a good business or a bad one."
Naveen Ahmed, founder of Leeds-based The Parklane Group, believes these are challenging times for family-run companies but added that running a family business was extremely rewarding.
And he also said that good family businesses work with "respect and trust". Ahmed went on: "It is about longevity, taking the business from one generation to another. That's the challenge."
John Slumbers, operations director at Huddersfield-based Lords Brewery, a first-generation family business, said that one of the reasons family businesses work so well is that "quitting is not an option".
And he added: "If one of you is down, you drag them up and keep going. You have got to find the strengths and weaknesses within your family."