Brewery boss discusses potential industry impact of Covid-19
Award-winning Harrogate brewery, Rooster, is like many across the county and country facing a difficult period as a result of Covid-19, but remain positive.
Despite fears throughout the industry about the impact of the current crisis on independent brewers, Ian Fozard, owner of Rooster and the national chairman of Society for Independent Brewers (SIBA) says he and his sons are positive they can survive this situation. But he's keen to emphasise, "it's going to be tough for all small breweries particularly those with tight margins."
Rooster like many independent craft breweries has been hit hard by the closing of the pubs and bars as a result of Covid-19. Ian described how with 80% of the brewery's production going to the pub trade either directly or via wholesalers, that it just dropped off instantly last Monday after the Prime Minister urged everyone to stay home.
As a result of this Ian and his sons, Oliver (Head Brewer) and Tom (Commercial Director) knew that they needed to do something different; and in the space of 24 hours their newest idea – the take-home taproom – had gone from concept to available to purchase via its website.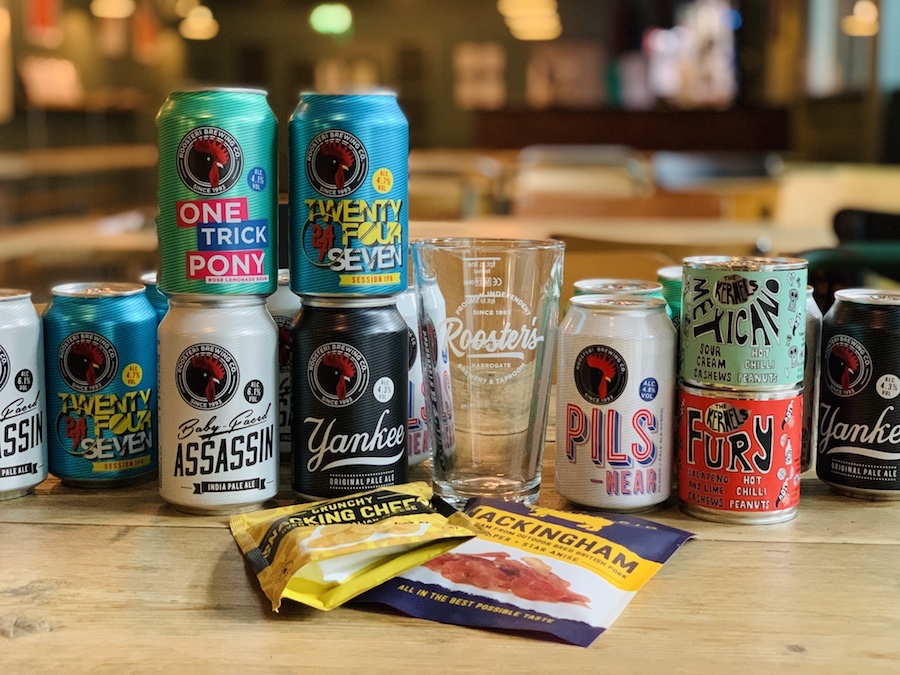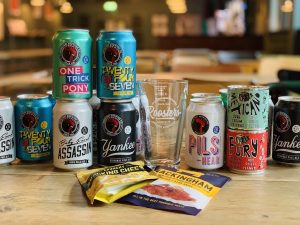 The takeaway package features a 15-strong selection of its core-range of award-winning vegan-friendly beers, four premium quality pub snacks, and details of how to access a specially curated playlist, developed by revered beer writer Pete Brown with each of the beers in mind. In addition, each case includes a Rooster's embossed beer glass and a pub quiz comprising of 50 questions.
What's more the brewery decided that their locals shouldn't be punished for isolating and so gave everyone in Leeds, York and Harrogate free delivery by the brewery themselves.
Since the ban on pubs and gatherings Ian said that they have seen a "dramatic increase in customers going through their online shop" but that it still only accounts for a small part of their business, but that it "is certainly helping them to weather the storm".
When asked whether lockdown had affected things yet at the brewery aside from the taproom closing, he was quick to say, "no". The brewery is operating with skeleton staff at present and Fozard anticipates that it will continue to produce beer throughout the period, just on a "very low scale". As a result the business expects to have to furlough some staff, making use of the government's scheme and protecting jobs that would otherwise be lost.
Despite his support of the government's measures, he is critical that the package of support announced for pubs, the retail and leisure industry does nothing to support the supply chain. He also explained how SIBA has been lobbying Government to defer beer duty or offer some relief from the payment of beer duty however this has already been rejected.
He added that beer duty in particular will be a challenge for many breweries. Citing that he's heard of a number who are "deferring payment in order to preserve cash flow with a view that they'll worry about any liabilities once they know the business and staff have been saved."
Ultimately for Fazard, the current situation has come just as he was starting to feel optimistic about 2020. In 2019 the brewery completed an £850,000 investment which saw it move to a new 20,000 site at Hornbeam Park in Harrogate and open its taproom.
He said: "Having opened the taproom last summer, I expected sales to dip a little in January and February however they've been really strong in the last few weeks and growing. So we were actually looking forward with some optimism to this year."
Looking to the future he added: "It's hard to make any predictions, as we don't know how long it will last. Our aim is to eke out an existence, but this may mean we need some equity investment when we come out the other side and they'll clearly be opportunities for investors in this and other industries.
"A lot depends on the landscape when we come out. God forbid if half the breweries in the country no longer exist, you could postulate that there's opportunities for a business like ours to prosper. But it will be difficult coming out of hibernation and a lot will depend on the government's attitude to any deferred taxes and how quickly businesses can get back up and running."
However as the conversation draws to an end and he says that he's pleased the take-home taproom has gained traction, that it is certainly helping the business and wanting to thank all the people who are trying to buy local.