Regeneration partnership closes in on 1,000 home milestone
A regeneration partnership is shortly due to complete its 1,000th new home in Sheffield.
Efforts to re-open all four of Sheffield Housing Company's (SHC) live construction sites are underway, in line with Government and Public Health England guidelines and based on the Construction Leadership Council's Safe Operating Procedures.
This is to ensure safe environments and practices for staff and sales office visitors prior to their return.
The 1,000th property will be built at the Eclipse development in Manor, where SHC is currently completing the next phase of 181 two, three and four bedroom homes.
SHC is a joint venture development company established by Sheffield City Council, private sector construction partner Keepmoat Homes and Great Places Housing Group.
Simple Life – part of Sigma Capital Group – and energy and regeneration specialist ENGIE are also working with the housing company on the initiative to provide homes of all types of tenure in the city.
Delays caused by the national lockdown mean Eclipse will not be finished until early next year.
Once built, it will be the tenth development delivered. Combined with SHC's other schemes, it means there will be more than 1,100 new, two to six bedroom homes.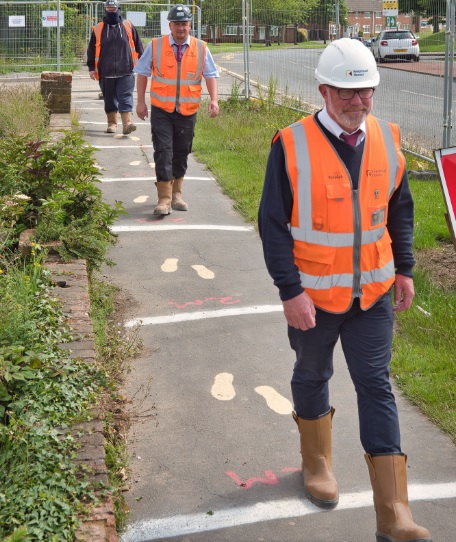 Around 8% are for affordable rent, delivered by Great Places; 20% are private rent, through Simple Life and the remainder are for sale.  The average price of the homes across the city is around £170,000.
SHC says it intends to build over 1,000 more homes, which will should mean it will construct up to 2,300 properties on 23 sites across the city by 2025.
The company's entire development programme is currently benefiting from over £3m in funding from Homes England and £1.5m from Sheffield City Region.
Steve Birch, development manager at SHC, said: "It's extremely rewarding for the partnership to be reaching this significant milestone.
"However, as well as delivering nearly 1,000 homes, we have been wholly committed to supporting and helping the communities in which we work to thrive.
"This has been achieved through providing training opportunities, apprenticeships and jobs, which has helped retain individuals and families in Sheffield, boosting micro economies across the city."
Councillor Bob Johnson, cabinet member for Transport and Sustainability at Sheffield City Council, added: "It's great to see this milestone being reached and so many new houses delivered to help meet Sheffield's growing housing needs.
"In these challenging times, people have come to appreciate their homes more than ever and it's essential that looking ahead to the future, we continue to provide affordable, quality housing for our expanding communities."