Job losses on the way at historic attraction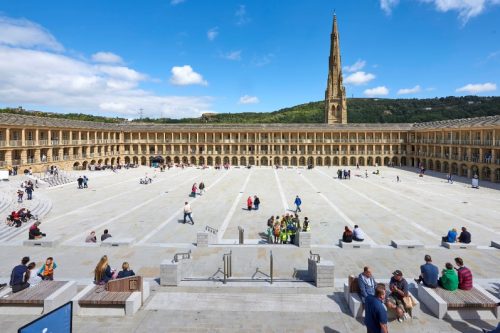 The Piece Hall Trust, in Halifax, says it has begun consulting with 40 staff over potential redundancies.
The trust, an independent charity which manages this landmark heritage destination, says it has been hit hard by the pandemic, with its operational income slashed by 80%.
In a statement released yesterday, Nicky Chance-Thompson, chief executive of The Piece Hall Trust, said: "Whilst we have successfully and safely re-opened and are seeing more visitors returning each week, we are faced with making difficult short-term decisions to ensure a successful long-term future for the Piece Hall.
"It is with huge sadness that we have begun a redundancy consultation with staff, who we will support closely through this process.
"We remain fully confident that we will continue to play a leading role in the local and regional recovery from Covid-19, and look forward to operating a full programme of events and attractions once again in the near future.
"It is only through resilience that the industry will keep itself going.
"Our doors are very much still open, and we look forward to continuing to safely welcome visitors to the Piece Hall from across the UK and around the world."
A spokesman for the Piece Hall added: "We are consulting with 40 members of staff, from a range of teams within the organisation.
"Whilst this is the total number placed at risk of redundancy, we remain open minded and cannot pre-judge the outcome of this process.
"As well as management and back-office staff, we also have a whole team engaged in a manner of activities, as well as our own food and beverage outlet on-site, and those roles at risk of redundancy are based on the current challenges we are facing – namely a reduction in visitors and being unable to put on events.
"Making staff redundant is not something we take lightly, and we know that each individual will be affected in different ways.
"We are conducting the process with a high-degree of transparency and openness, which we believe is the fairest way to act."
The Piece Hall's individual units are let to shops, restaurants and bars. However, four of the food and drink outlets are directly run by the trust.
The attraction's plaza normally hosts concerts and food festivals, but the trust has been forced to cancel several events planned for this summer.
Since it re-opened to the public in 2017 following a massive programme of refurbishment, the Grade I listed Piece Hall has been a high profile success story for the region.
In August last year it celebrated welcoming five million visitors since its re-launch two years previously – soaring past its original target of 1.6m visitors per year.