Revenue up at heavy engineering specialist despite headwinds
Sheffield Forgemasters, the heavy engineering specialist, has announced its 2019 financial results as the business continues to buffeted by multiple headwinds.
For the year ended 31 December 2019, the business recorded an increase of revenue by 20 per cent to £79.3m and entered 2020 with an order book of £162m.
Despite this the firm's pre-tax profit fell to £0.8m, down from £2m in the previous year.
David Bond, chief executive officer at Sheffield Forgemasters said, ""During 2019 we have focussed on our core UK Defence programmes, achieving much improved delivery performance, and have reduced product arrears for the Steel Processing sector, helping to drive an increase in revenue of 20 per cent.
"Margins came under pressure during the year, driven by a lower level of throughput. This reflects slower than expected order intake from subdued global markets, the impact of the business-wide flood event in November and the challenges of running our ageing plant and equipment."
Looking to secure it's financial position, the firm has also reduced its net debt by 57 per cent to £8.8m,  and extended its lending facilities with Wells Fargo to December 2021.
Steve Hammell, chief financial officer commented, "We have continued to reduce debt levels by a strict focus on cash management whilst maintaining levels of capital expenditure to improve plant reliability. In April we extended our £40m lending facility for a further 20 months to December 2021, providing the financing to deliver on our UK Defence contractual commitments. Having managed a rapid recovery from the flood event, this placed the company in a robust financial position just as the Covid-19 pandemic hit."
Looking at the current financial year, the global pandemic has resulted in the Sheffield-based company enabling home-working for all vulnerable and office based teams and putingt in place strict hygiene measures to safeguard employees at its manufacturing site.
Bond added, "Following the November flood event, our management team have grown accustomed to handling fast moving crises. As the pandemic unfolded, we tried to balance the absolute necessity to protect the health of our employees with the preservation of the business, by maintaining the safe operation of as much of the site as possible."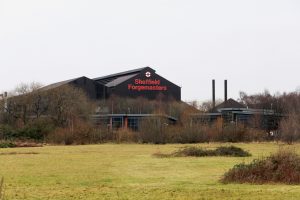 "Despite the strong response to the pandemic and entering lockdown in a much improved financial position, the demand environment has deteriorated and, as for many other UK manufacturers, order intake remains a challenge."
Covid-19 has also resulted in the firm seeing a decline in demand from steel mills and challenges with the oil and gas sector, the latter as a result of the historically low price of oil.
However, despite the short-term outlook appearing challenging Bond said, "We are optimistic about the long-term prospects of the business given its unique capabilities in the Defence Nuclear supply chain and we continue to work with external stakeholders to secure our role on future defence programmes.
"We also see strong prospects in support of the UK Government zero carbon agenda, particularly supplying complex steel products into Civil Nuclear power applications and large off-shore wind structures."